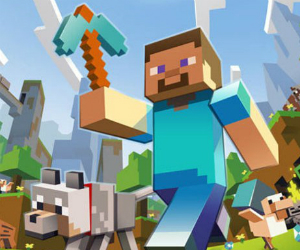 Although the hardcore block building mining community will tell you that the PC version of Minecraft is the better one, that hasn't stopped its Xbox Live Arcade cousin selling like gangbusters. Outselling the PC version in the past year, in fact.
The PC version generated a more-than-respectable 4,177,843 2K12 sales – but this was eclipsed by the best part of a million sales by the XBLA version which clocked in at 5,002,370 download purchases. Both of these were out-performed by Minecraft Pocket, I might add – which shifted 5,899,727 in 2012. That adds up to a staggering total of BLOODY LOADS.
The sales saw a particular spike on Christmas Day – something I can identify with as a Minecraft XBLA download code was part of my daughter's Xmas present haul. In total nearly 500,000 copies of Minecraft were "sold" on Santa's birthday across all formats. Over Christmas week (24th-30th December), over a MILLION copies of the game were downloaded. A MILLION.
Without wanting to baffle you with mpore figures, lifetime Minecraft sales are now around the 25 million mark. that is 25 million download purchases, so Jebus knows how much that translates to in terms of cash money.