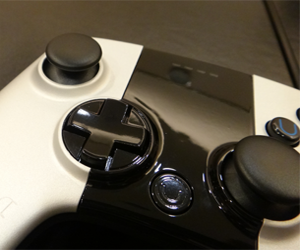 The age of Android based consoles will soon begin with the launch of the Ouya. There's no real indication as to whether or not this "age" will last for very long, but it has people excited for the possibilities.
The main focus is, of course, on said console and the folks behind the Ouya are keen to get everything right. One of, if not the most important thing to get right is the controller. After garnering feedback from developers and Kickstarter backers, the system's controller has been tweaked, somewhat – as we learned via VG247.
On the Ouya Blog, it was revealed that many things have been given a little upgrade; the analog sticks now having rubber tops for more grip, an improvement on the design of the triggers, the touch pad feeling more responsive and the battery pack fitting in tighter to the controller – the biggest thing is the redesign of the D-pad.
"OK, OK we heard you :). We've changed our D-pad from a 'disc' to a 'cross' style. W00t! Gone are the days of the "accidental" diagonal move. Accuracy and precision are back."
It's doesn't take a rocket scientist to know that these 360-esque D-pads feel crappy. Ouya's interaction with their Kickstarter backers and potential fans is always good to see and long may it continue.