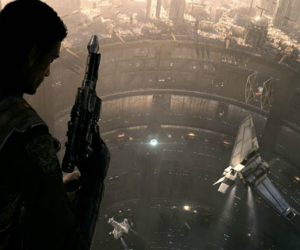 We can flag this one as "rumour" to be on the safe side, but according to VG247, it would appear that a raft of screenshots have turned up on Sony Germany's Facebook site indicating that bounty hunter opus Star Wars 1313 may be due on current generation consoles – and that would suggest that it will be hitting shelves this side of Christmas.
Given how impressive the reveal was at E3 2012, it seems unlikely that current-gen consoles can run 1313 – in fact, it was believed to be a PC-only title up until now. Of course, we've all seen reveal screens and trailers dressed up in extra shiny textures and lighting effects before, so until we receive official confirmation of platform and releases date, it's all just conjecture.
Eschewing the usual Jedi vs. Sith storylines, 1313 will focus on a bounty hunter uncovering a conspiracy in the bowels of Coruscant, using technology rather than the force to take down his enemies. That being said, this is a Star Wars game, after all. Check out the trailer below and make up your own minds as to whether you think this is current-gen, or too much for the PS3 and 360 to cope with.