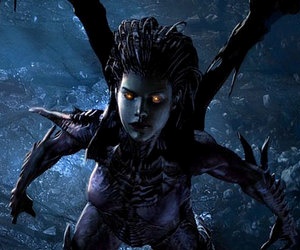 If there's one thing Blizzard know how to do, it's make a damn good CGI video. Their short, stunning promos for World of Warcraft and StarCraft are amazing, and this latest teaser for upcoming expansion Starcraft II: Heart of the Swarm is no exception.
Set two years after the events of Wings of Liberty, Heart of the Swarm will see series mainstay and anti-heroine Sarah Kerrigan assuming control of the Zerg, a species in disarray, which Sarah must unite in order to finally destroy Arcturus Mengsk and the Terran Dominion. If you're not a fan of the Starcraft series, that will have made no sense to you, so I'll attempt to clarify.
StarCraft is a high-concept sci-fi RTS set in a far future universe in a distant galaxy where three races – the Terran humans, the Zerg swarm and the Protoss – are locked in a constant state of war. The Heart of the Swarm expansion to StarCraft II (the second of a trilogy of expansions that began with Wings of Liberty and will conclude with Legacy of the Void) focuses primarily on Sarah Kerrigan and the Zerg species, with Kerrigan as the protagonist having been returned to her human state. The plot will deal with the conflicting sides of her being: on one side she is human, while on the other she is the hybrid Matriarch known as the Queen of Blades.
In gameplay terms Heart of the Swarm will add around 20 new missions to the campaign, and bring in certain changes to help balance the game – including the removal of several units and abilities and the inclusion of replacements, or alterations to existing units.
Check out the amazing new cinematic below.
StarCraft II is available now for Windows PC. StarCraft II: Heart of the Swarm will be available on March 12.