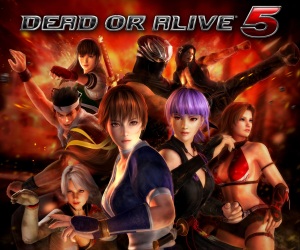 The Dead or Alive series may have a reputation for being more about its slightly questionable bouncy physics engine, but Dead or Alive 5 it is definitely a deep fighting game with a great rock, paper, scissors-type fighting style.
It also hasn't been shy of bringing fans of the series more DLC packs to add  to their game, and now it is time for the release of the ninth costume pack for Dead or Alive 5 – that's right, NINTH – the Fighter Pack. This pack will add eleven new costumes, for the characters; Hayabusa, Brad Wong, Jann Lee, Bayman, Gen Fu, Hayate, Rig, Eliot, Bass, Zack, Akira (all of the male fighters, basically). These costumes are all based upon Wrestling or Cage Fighting outfits, being inspired by action in the ring.
The pack is out now for PlayStation 3, but due to a delay to the distribution of overall game update version 1.03A on Xbox 360 – which is required for the compatibility of the new DLC – the Xbox 360 version of costume pack nine has also been delayed. There is currently no set release date for the Xbox 360 DLC, but we will keep you informed.
See the new costumes in the gallery below:
[nggallery id=1320]
Dead or Alive 5 is available now for Xbox 360 and PlayStation 3.