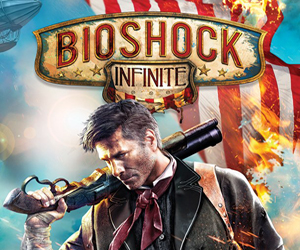 2K are offering fans a chance to win the special edition of BioShock Infinite, by using their detective skills to snap a picture of a Booker Dewitt fugitive poster, found in select indie stores throughout the UK.
Put simply, there will be 100 selected indie retailers (good on 2K for choosing indie stores, too) receiving a limited edition "Wanted" poster to go in their shop windows, and if you can find one (store locations at the bottom of this article) and tweet it, you will be entered into the draw to win one of the BioShock Infinite Ultimate Songbird Special Editions of the game.
The posters will be on display from March 1st to April 1st and if you find one, you'll want to use the hashtag #BioShockInfinite. Even cooler, arguably, is that the store manager who is displaying the winning poster will net a £1000 cash prize to split with their staff. Indie power!
So, first up – check out our preview of the opening hours of the game, then take a look at the poster, below, so you know what you're looking for.
[nggallery id=1343]
Here's the (huge) list of locations where you can find a poster. I'll see you at the Southampton location, okay folks?
Airdrie
Ashby-De-La-Zouch
Ashford
Ayr
Birmingham
Blackburn
Brechin
Brighouse
Brixton
Callington
Cambridge
Cheltenham
Chester Le Street
Clevedon
Cradley Heath
Croydon
Dereham
Doncaster
Dover
Dumfries
East London
Falmouth
Farnham
Fishponds
Fleet
Flint
Folkestone
Folkestone
Gerrards Cross
Glasgow
Glasgow
Hamilton
Hinckley
Hove
Irvine
Keighley
Kendal
Kilmarnock
Kirkwall
Leicester
Llanelli
Macclesfield
Maidenhead
Manchester
Melksham
Middlesbrough
Motherwell
Newark
North End
Nottingham
Oswestry
Paisley
Ponterfract
Rhyl
Romford
Rotherham
Rushden
Saffron Walden
Seaham
Sheffield
Shildon
South London
Southampton
St Helier
Stoke-on-Trent
Stornoway
Swandlincote
Telford
Thorton-Cleveleys
Truro
Walsall
Wells
West Drayton
Wigan
Wigston
BioShock Infinite will be released on March 26 for Xbox 360, PlayStation 3 and Windows PC.