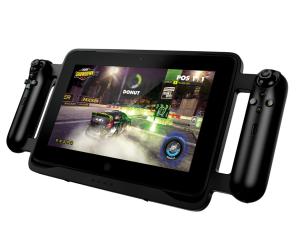 There's another well known video game console maker that has the slogan "It only does everything" (or a close approximation), but the Razer Edge device is a PC gaming dream. Part tablet, part PC, part steam box, and now, award winner.
You see, in Las Vegas during CES 2013 (on January 11th to be precise), the Edge grabbed the best of show award, best gaming device, and people's voice awards.
"The fact that PC gamers were able to make critical engineering decisions in designing the most decorated device at CES 2013 is amazing on its own," says Min-Liang Tan, Razer co-founder, CEO and creative director. "Razer didn't win these awards alone – the PC gamers of the world have won it together with us. We've emphatically said to the world at large: PC gaming is alive and kicking!"
On first glance it looks like any other tablet, until BOOM the keyboard makes an appearance. Then you can throw it under a HDTV and play on the big screen. It even comes with controllers that fit either side making it a mobile steam box, of sorts.
In fact, rather than me talk it up, take a look at the pair of videos Razer sent us over, then hit the comments below and tell us how much you want one. The Razer Edge will be released this quarter in the USA, starting at $999.