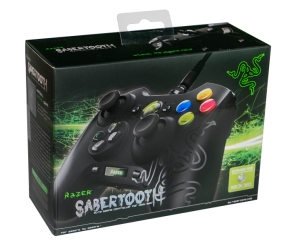 Product: Sabertooth
Manufacturer: Razer
Price: £74.99
Premium peripheral manufacturer Razer have been at it yet again, working on a new Xbox 360 and PC controller designed for the Pro-Gaming crowd. Dubbed "Sabertooth", this sleek pad is a successor to the popular Onza line of controllers and offers an array of features that will delight gamers of all abilities.
But with all those bells and whistles comes a higher price than most of the third-party controllers available on the market today. I'm here to find out if the Razer Sabertooth is worth the asking price, and if it has something to offer to those who aren't within the Pro Gaming circle.
First things first, upon opening the box you'll instantly get the idea that this is no ordinary pad, as the controller and all of its parts come in a hard zip-up case for storage and travel. The Sabertooth is held in place with foam while everything else can be stored in a pocket in the case; this type of presentation truly is a cut above the rest.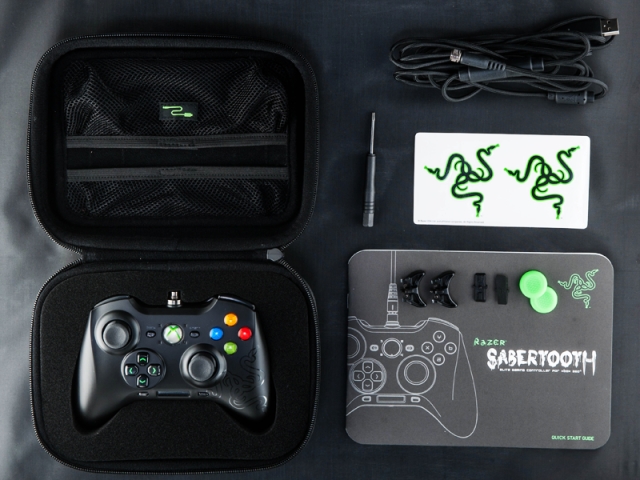 As you can see, the controller comes with two green thumbstick covers (for added grip), a braided cable that connects the controller to your Xbox 360/PC, some Razer stickers, two rocker switches that add extra buttons, two rubber stoppers to plug the gaps when you aren't using the switches, and a small screwdriver to affix the rocker switches to the pad.
Unfortunately the Sabertooth isn't wireless, but the removable braided USB cable is a nice touch for those with cable-management issues. It plugs into the controller while a nut screws the cable on so it doesn't fall out. As with many controller cables these days, there is a part near the USB end of the cable that splits off in case the controller is tugged too hard.
The Sabertooth itself is a lovely pad to look at and to touch; its matt, rubber-like finish feels great and prevents slippage. As there are no batteries to worry about, it's light and easy to hold. In terms of ergonomic design it's almost no different to the original Xbox 360 controller design, but it just feels nicer all around – I'd go so far to say it's probably one of nicest things I've ever held in my hands.
There are two green rubber analog stick covers contained in the package, and these provide a greater deal of grip to the sticks themselves. When they aren't in use, the standard analogue sticks have a slightly course, concave design to them, but I definitely found it more comfortable when using the rubber covers.
In terms of buttons, the Sabertooth's backlit face buttons are absolutely fantastic. They are insanely responsive, requiring little effort to be pressed, culminating in a delightful click when pressed down.
When it comes to Xbox 360 controllers, there is one aspect that is always hit-and-miss: the D-Pad. For the Sabertooth, Razer have designed the D-Pad directions as separate buttons as opposed to being on a disc like many other pads. For games that use the D-Pad as one-touch controls for weapon selection and ability activation, this design is perfect – but of course, don't expect to be playing beat-em-ups with this pad (and to be honest, if you want a fighting pad you'd be better off with one designed for that function, such as an arcade stick).

As the Sabertooth is designed for Pro-Gamers, you can expect a certain amount of customisation and luckily Razer have provided some interesting features. For a start, there are six customisable buttons, two of which reside near the standard shoulder buttons, while four are dealt with by two removable rocker switches that can be pressed with your middle finger. These buttons are easily programmable through the Sabertooth's simple OLED display.
Yes, that's right, a small, bright green OLED display allows you to configure various options. From this menu you can assign buttons to each of the six extra buttons, change the sensitivity of the analog sticks, turn the backlit buttons on or off or switch the rumble on or off. You can even assign these settings to two different profiles. Even though the display is small, the menu is simple enough to be navigated.
Although the extra buttons can only be programmed to act as one button (sadly, no ability to program button combos here), the ability to make the rocker switches act as face buttons frees up your right thumb for analogue stick use, and is a useful addition when you get the hang of it.
Before we get to the verdict, let's just summarise with the Sabertooth's technical specs:
2 shoulder multi-function buttons (MFB)
4 removable multi-function buttons (MFT)
4 backlit Hyperesponse action buttons
OLED screen for feature customization
Non-slip rubber surface
Quick-release USB connector
Detachable 10 ft/3m lightweight braided fiber cable
Carrying case
2.5mm microphone jack
Approximate size : 110mm / 4.33" (Length) x 154mm / 6.06" (Width) x 57mm / 2.24" (Height) Approximate weight: 288g / 0.63 lbs
VERDICT: I won't beat around the bush here: even without the programmable options and extra buttons, the Sabertooth would still be one of the most comfortable pads I've ever had the pleasure of using. From the moment you grip your hands around it, you can't help but enjoy using it. It may well be designed for FPS-playing Pro Gamers, but the Sabertooth performs well with most types of game and the customisable features are just the icing on a very delicious cake. It's lack of wireless connection may be a turn off for some, but that's just the nature of third-party Xbox 360 controllers. On the bright side, it's wired nature means you can easily use it on your PC as well.
However, these luxury features naturally come at a high price. Costing somewhere between £70 and £80, you'd have to be really serious about gaming to splash your cash on a controller, making the Sabertooth a hard sell for the average gamer. But, as they say, with this device you really do get what you pay for.