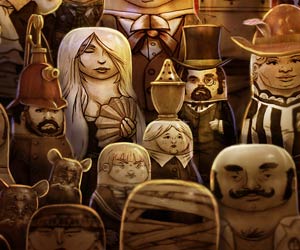 Have you played the delightful Double Fine puzzle game featuring Russian dolls? You know the one…where cutscenes look and feel like an old timely film and charm is bursting out its seams…If you haven't, that saddens me.
Gladly, Sony and Double Fine must have sensed my aching heart and put the goddamn game on sale!
Right now, if you boot up your PS3 or head on over to the SEN Store in your browser, you can pick Stacking up for a measly £1.99 – which we saw thanks to VG247.
It's a thoroughly enjoyable jaunt with really solid humour and terrific ideas. Seriously, if you haven't played this before, you now have no excuse.