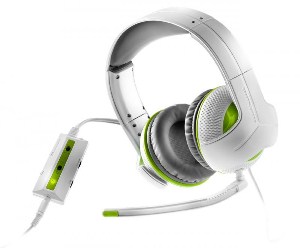 Product: Thrustmaster Y-250x Gaming Headset
Manufacturer: Thrustmaster
Price: £62.99
There's no denying the difference that a decent headset can make to your gaming experience. The depth of immersion is so much greater when you feel as though you're in your character's boots, picking up every rustle of movement, every strum of laser fire, every falling chunk of mortar from the building you just gleefully levelled. The problem that most gamers face, however, is finding a decent headset that they can actually afford to buy without trading in the console that they want to use it with.
The new Y-250 range from Thrustmaster sits just on the right side of affordable, and offers a product that can compete comfortably with anything else in its price range. I got to grips with the Y-250x – designed with the Xbox 360 in mind, though not for use exclusively with Microsoft's console – to find out just how much bang they deliver for your 60 bucks.
First of all, they look brilliant in the box. Ice white and emerald green (as opposed to red and black, or red and blue for the PC and PS3 versions respectively), they look almost space-age but, most importantly, they look expensive, like they're worth your money. Out of the box, to be honest, they fare slightly less well. They're a stylish product, but they're bulky – and compared to some of the more slim-line headsets out there, they look cumbersome. That said, it's a testament to Thrustmaster's designers that they don't feel cumbersome when worn.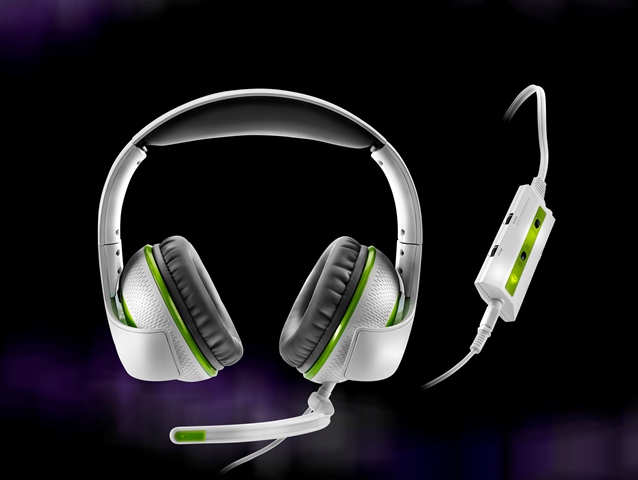 I had them on for a good three hours the first time I wore them, and although they look big and meaty on, they felt incredibly comfortable – to the point where I all-but forgot I was wearing them thanks to the foam-padded headband. 50mm speakers are nestled inside a pair of adjustable, cushioned cups that sit so snugly on your ears that they're unlikely to irritate even during longer sessions – but I should point out that I'm hardly pin-headed, and I didn't have to adjust them at all to get them sitting comfortably atop my dome. People with bigger heads than mine (and there must be a few) will have no problem, but people smaller than me (and there are considerably more than a few), might struggle to get them to sit right. Also, given their large size and bright colouring, I would suggest adding them to your "inside" outfits, and wouldn't recommend strolling down to the supermarket in them.
This particular model is designed to function specifically with the 360, hence the white and green colour code – although newer 360's are rocking a black and green scheme so it doesn't coordinate as well as Thrustmaster might have hoped. It comes with the necessary wires to connect it by USB to the console, and then by a 2.5mm jack into the control pad and a 3.5mm jack into the headset's volume controller. Used this way it all felt slightly uncomfortable given that I had the headset's 5.20m cable hanging between my legs (chortle), and the smaller chat wire connecting the control pad to the volume remote draped across my lap. However, when I finished chatting and disconnected the 360 controller, then plugged the headset's USB lead and jack directly into my 42-inch TV, the sound quality was exactly the same. There may be slight discrepancies between the two, but my ears couldn't detect them. The major plus of this, of course, is that no matter which console you're playing on, you can simply connect the Y-250x through your TV and thus negate the need to buy a separate headset for each console. If you remove the volume controller from the set-up, the headset's standard 3.5mm jack also renders them perfectly workable on the PlayStation Vita or Nintendo 3DS, or the average Smartphone or MP3 player. If you're a gamer like me with a house full of gadgets and consoles and handhelds, the Y-250x is an ideal buy. The only thing specific to the 360 with this particular model is the chat function, as it only works through the controller.
But what about the sound quality? Well, thankfully, it's excellent. If you like your games with a bit of extra bass, you're in luck, as the Y-250x comes with double electro-acoustic bass amplification, all adjustable through a dial on the volume controller. Dialled up high during an intense in-game firefight with the music pumping and the bullets flying, it's incredible. I tested the headset out with a few matches of Halo 4 online and lost an hour without realising it just because I was so immersed in the game. While you can't adjust separate in-game volumes using the headset's control – which is a shame – you can adjust the balance between the sound effects and chat, which is a huge plus when playing online.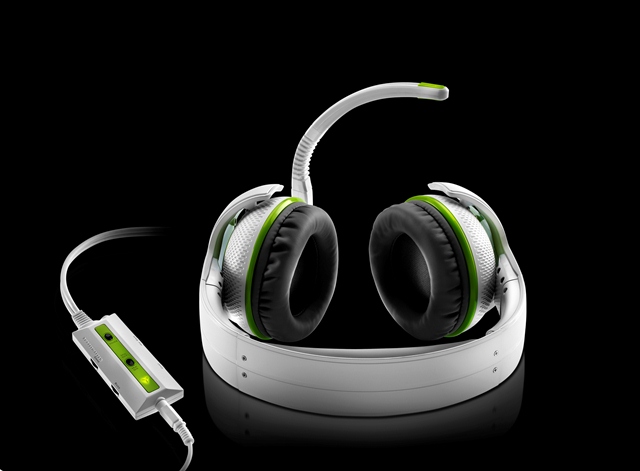 The chat functions are also well-implemented. An unidirectional mic (which can be removed when you're not talking) isolates your voice from the sounds of the game and the room round you, and you can fiddle about with the gain level until you're content that those you're chatting to can hear your every shouted word and hissed expletive clearly. I had some great feedback from my online compatriots who remarked how clear my voice was at their end as we took the fight to the filthy Reds aboard the UNSC Infinity.
VERDICT: Not quite cheap enough to be classed as a budget model, the Y-250x is nevertheless a well-designed, affordable alternative to some of the high-end headsets on the market. The lack of true 5.1 or 7.1 surround sound might dissuade some from spending 60 quid on these when you can pick up a more robust device for a few extra tenners, but you really shouldn't let it put you off. The sound quality and chat functions are both fantastic, and the comfort – even over long periods – offsets the slightly bulky appearance. Also, if you're not a big online chatter (or you only chat over Microsoft's network) the option to use a single high-quality headset across all your gaming and entertainment platforms is great for those with a lounge full of gizmos.