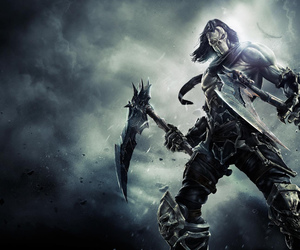 During the THQ auction, Company of Heroes, Saints Row, Homefront and numerous other franchises were snapped up, yet War and Death were left by the wayside.
No one bid on Darksiders or the game's developer Vigil Games, leading to the studio closing its doors. This surprised many people because Darksiders and particularly Darksiders II were both well received, critically – even if sales weren't what THQ hoped for.
Following this, Crytek CEO Cevat Yerli approached former Vigil boss David Adams to head up a new studio in Crytek USA. Adams took the offer and is now CEO of the developer, whilst also overseeing a lot of the staff that worked under him at Vigil as they now work under the Crytek banner, also.
The remainder of THQ's unsold properties will be going to auction in the near future and Adams is keen to make a move on it, as he confirmed on Twitter:
"Looking to buy @Darksiders IP back from #THQ. The IP belongs in the hands of its creators. #PS3#Xbox"
Destructoid confirmed this with Vigil co-founder and principal designer at Crytek USA Ryan Stefanelli, who said:
"When the Darksiders IP goes up for auction, Crytek will be bidding for it. Not much more to say since the rest is left up to courts and legal shenanigans, but we're all excited at the prospect."
Darksiders II was most certainly an improvement on the original and the series doesn't feel finished after two games. I sincerely hope that Crytek USA do pick this IP up and get the opportunity to continue the story of the Horsemen.