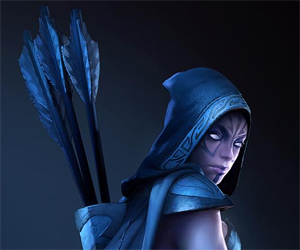 Dota 2 registered a peak of 297,000 concurrent users yesterday, over 10,000 more than the previous record set by go-for-a-walk sim Skyrim.
As spotted by Polygon the multiplayer 'MOBA' game, that sees two teams of players tacking control of powerful heroes in a virtual arm wrestling match, has set the new concurrent user record on Steam and shows that the increasingly popular genre is showing no signs of shrinking.
The game frequently out-performs every other game on Steam in terms of player numbers. At the time of writing it has almost seven times the amount of people enjoying it as the game in second, Football Manager 2013.
And even with this staggering performance it's still frequently overshadowed by the unfortunately acronym-ed and unfathomably popular League of Legends, which boasts player numbers in the millions.
Dota 2's performance is staggering. Partly because it is still in beta, but also because of its constant growth. Peruse this chart here and you'll note that Skyrim set its record on release and quickly shrunk, while Dota 2 is pushing ever higher with each passing day.
I don't really get MOBA games, they seem like a lot of work and a lot of effort for a conclusion you can likely see within a matches first five minutes. That said seeing their growing popularity almost makes me want to give them another shot. Almost.