PETA to Attend StarCraft II: Heart of the Swarm Launch Event at GameStop Because Zerg Have Feelings, Too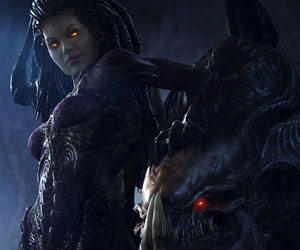 Not content with having a go at Assassin's Creed IV: Black Flag, the People for the Ethical Treatment of Animals are taking another swing at video games.
StarCraft II: Heart of the Swarm will be out on March 12, and of course, there are a few stores that are opening up at midnight tonight, in anticipation of the expansion's release.
One retailer is a GameStop in Irvine Spectrum Mall, California. If you're heading down there to pick up Blizzard's title, remember that PETA will also be in attendance from 9pm, March 11. Thanks to Polygon, we've learned that the group will be there because players must remember to"have compassion for all beings". Yup.
Director of marketing at PETA Joel Bartlett said that this campaign – named, "Zerglings Have Feelings, Too" – has a message and that message is to remember that Zerg should be understood and empathised with. Now, for those that aren't up to speed, Zerg are the game's baddies and they're aliens. Big, bad, ugly aliens. In the upcoming add-on, Zerg queen Sarah Kerrigan is the protagonist.
Bartlett had his best speech writers on the case when they wrote this little ditty;
"To paraphrase a great philosopher, the question is not 'Can Zerg reason?' nor 'Can they talk?' but 'Can they suffer when attacked with a Perdition flamethrower. PETA is full of StarCraft players, but we've always had empathy for the Zerg — and for anyone who is killed without consideration because they don't speak our language."
If aliens do exist and we're not the only life-form in this big ol' universe, no wonder they haven't come visit for a cup of tea, yet. When certain members of the human race can look at a game like StarCraft II and spout this bollocks, extra terrestrials are better off staying on their own planet.
StarCraft II: Heart of the Swarm will be released on March 12 for Windows PC and Mac