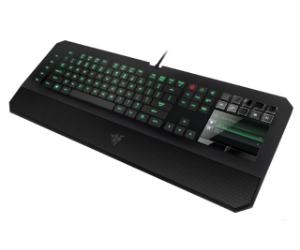 Product: DeathStalker Ultimate
Manufacturer: Razer
Price: £229.99
When you think of PC gaming peripherals, especially input devices, there's one name that comes to mind almost immediately: Razer. Founded in 1998 by a team of engineers and marketers, the company has specialised in high-end gaming peripherals ever since. They've come up with some crazy ideas, some that haven't worked (Razer Hydra anyone?) and others which definitely have (Razer Switchblade, for example). There has always been one thing that's held most people back from taking the plunge and ordering themselves a slice of the razer pie: the price. As high-end gaming hardware you'd expect a fairly hefty price-tag, but Razer products are almost always the most expensive peripherals you can get your hands on. Are they worth the cost though?
The latest keyboard in Razer's already-impressive lineup of gaming keyboards is the DeathStalker Ultimate. The ultimate version of the DeathStalker model, it comes complete with a five inch multi-touch touch panel built right into it. I know what you're thinking, because I was thinking the same thing: why would I want a touch pad in my keyboard when I've got a perfectly fine gaming mouse sitting less than a foot away? There are plenty of uses for the touch panel in the DeathStalker, from checking your emails and posting on Twitter all the way through to watching videos either from a local file on your computer or from YouTube. Yes, you read that correctly, you can watch YouTube videos while you're using the keyboard for other means. You can pretty much throw your productivity out of the window if you're using the DeathStalker Ultimate as a main keyboard for your computing needs.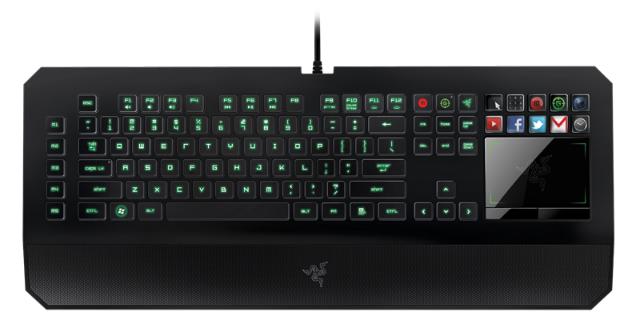 Speaking of using the DeathStalker for your basic computer needs, if you're using the keyboard with a Windows PC then you've got it easy; however, if, like me, you've got the keyboard connected to a Mac, then you're not going to have as much fun with it. Despite all of the appropriate drivers and software being available on the Mac, nothing ever seems to work as well as it does on the Windows PC. The switchblade UI doesn't work at all – it doesn't even appear – not even for the games that are capable of running on Apple's operating system such as Team Fortress 2 and Counter Strike: Source. The biggest disappointment when it comes to using the DeathStalker on the Mac is the fact that there seems to be a huge amount of input lag, so much that it was genuinely frustrating to use the device to type when I wasn't booted into my Windows partition on the Mac. I know what you're going to say: "Why even bother using a gaming keyboard on a Mac?" And I understand what you're saying, but if I pay $250 for a keyboard then I expect it to work on everything if there are drivers available for it. I wouldn't buy a car and expect it to only work as long as it's sunny outside. It's the same principle.
I understand that my scenario is a relatively rare one in the PC gaming world, and the majority of people are going to be mostly happy with their purchase if they come home with a Razer DeathStalker. The Switchblade UI is the first thing that you'll notice, complete with a selection of applications that make certain tasks a little bit easier in some of your favourite games (the application for Star Wars: The Old Republic being a particular favourite of mine, as it displays combat information in real-time – something that's important in MMO's if you want to have the best character you possibly can). The Switchblade UI is impressive for the most part, but there aren't a lot of applications available for it – there isn't even a World of Warcraft or Call of Duty one – and the process to become a developer or even play around with it is a tedious one. If only Razer opened up the development of applications for the Switchblade UI to third party developers, and made it much easier to release applications, it could really be something special. As it stands, you'll just be waiting for Razer to release applications for the game you happen to be playing, and if you're not playing any of the games that applications already exists for, then you're out of luck for now.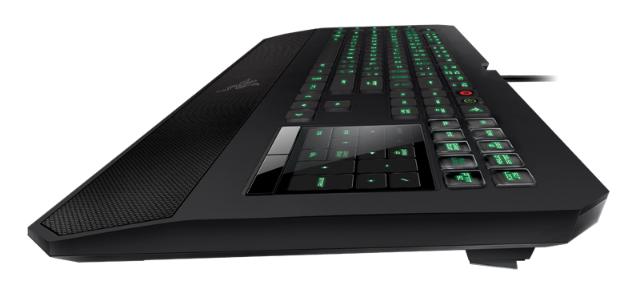 The other thing that gamers will undoubtedly notice the first time they sit down with the DeathStalker Ultimate is the fact that the keyboard uses Chiclet style keys instead of the mechanical ones that most people will be used to. These aren't bad for typing and, when they work, they're not even too bad for gaming, but there's always going to be something missing for a gamer whenever they're not using a mechanical keyboard – it just doesn't feel right, and it's something that has the potential to break the relationship between the PC gamer and their newly purchased keyboard.
PRODUCT FEATURES
Chiclet style key caps
Green LED Backlit keys
1000Hz Ultrapolling
Fully programmable keys with on the fly macro recording
Razer Synapse 2.0 enabled
Dedicated Gaming mode
Anti-ghosting capability for up to 10 simultaneous key presses
Fixed wrist rest
VERDICT: There's no doubt in my mind that the DeathStalker Ultimate is an impressive keyboard: the use of Razer Synapse 2.0, meaning that players can take their keyboard anywhere and automatically have their preferred profile there to use immediately, is an obvious boon for tournament gamers who do a lot of travelling. Combine that with the fact that creating a macro is as easy as pressing the record button and inputting the commands – no programming required – and you're well on your way to understanding just how powerful a peripheral the DeathStalker Ultimate is.
Unfortunately, however, it has some pretty major downsides that keep it away from the top spot. The closed nature of the Switchblade UI development means that a lot of the games people may want to play just aren't supported; the Chiclet keys will always feel slightly inferior to a mechanical set and the fact that the device barely even works as a keyboard for Mac computers will turn some people off. Still, these are all problems that can be fixed – with the exception of the Chiclet keys, of course – so we can only hope that Razer change the way things are done somewhere down the line and make purchasing the DeathStalker Ultimate somewhat more worthwhile. That said, watching videos on your keyboard is never going to get old.