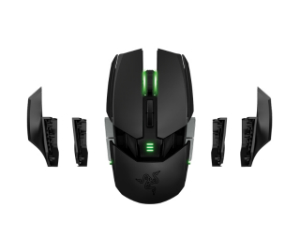 Product: Ouroboros
Manufacturer: Razer
Price: £129.99
So, you've just gotten your perfect gaming rig, you've picked up a decent gaming keyboard for all of your movement needs, but there's just something missing. You've guessed it: the final thing you need is a gaming mouse that has the ability to increase that kill/death ratio to levels that you didn't even know you were capable of. One company has a selection of mice that might not be able to do the impossible – you've got to have the skill in there to begin with – but Razer certainly hope that their selection can help get you to those lofty heights. The Razer Ouroboros, one of the latest offerings from the hardcore gaming peripheral specialists, is an ambidextrous gaming mouse that has all of the offerings that you'd expect – with a price tag to match. Is the increased cost worth it?
The first thing that people will notice with the Razer Ouroboros is the frankly ridiculous box that the device comes in. When the peripheral turned up on my doorstep for review, I thought that I'd accidentally order some depleted uranium during a drink-fuelled Back to the Future-fest a few weeks before. Opening the case soon alleviated my fears as, instead of radioactive material, I found a mouse and a selection of modification options, along with a battery and a cable. Razer have clearly gone all out when it comes to the presentation of the Ouroboros, and that's before the device even gets plugged into a system.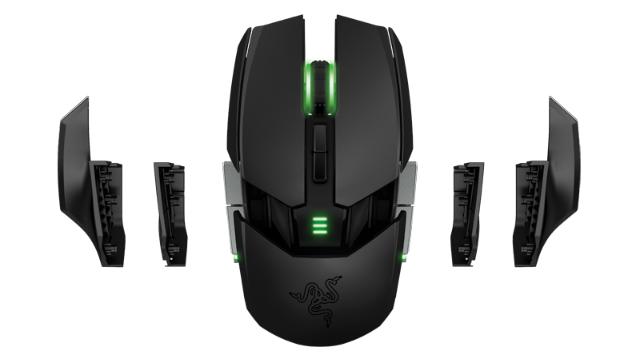 Lets get the bad things out of the way first. The mouse doesn't really play nice with the Mac operating system. While everything works as it should, as a mouse at least, the sensitivity seems way off when compared to the same DPI on the Windows partition of my iMac. This meant that I was continuously dropping the sensitivity on the Mac and then raising it again for Windows. This wasn't a massive deal – changing the sensitivity is just a matter of clicking a single button – but it's something that wore a little thin after only a couple of uses. Similar to the Razer DeathStalker, while there are software and drivers available for the Mac for the Razer Ouroboros, there hasn't been as much work put into it, so it only seems to work in fits and starts. A couple of times the mouse wasn't even detected in Synapse so I had to restart the system in order to get it to work. Again, not a massive issue – and one that was probably caused by the large amount of swapping and changing I was doing for tests – but it's something that was noticeable through usage.
Now, on to the good points, the most obvious positive is the fact that the mouse is ambidextrous. Too many gaming mice, including the Cyborg R.A.T. 9 that I reviewed last year, only really suit right-handed gamers. Left-handed users have had to be content with either learning to use their right hand for gaming, or sticking with mice that aren't really designed with gaming in mind. The Razer Ouroboros does away with that way of thinking and puts right-handed and left-handed gamers on an equal footing without sacrificing any comfort for either preference. If players do feel that some customisation is needed in order to get the mouse to fit exactly into their hand, then the usual array of customisation options is available. A quick snap and the palm rest can be extended and rescinded to fit any hand shape; the different thumb rests that come with the peripheral can be attached to the device through a selection of simple magnets – that are actually rather strong and don't have any problem holding the thumb rests onto the mouse without any movement whatsoever – and before long you've got yourself a mouse that fits exactly into your hand however you want it to, whether you're left or right handed – something that we don't get too often in the gaming peripheral world.

Another nice feature that we don't see very often is that the Razer Ouroboros can be used as either a wireless mouse, or a wired one. The USB cable that connects to the back of your PC usually sits inside a wireless receiver/docking/charging station, communicating your moves wirelessly from the mouse to the PC. However, if you find yourself running out of battery in wireless mode (indicated by a selection of lights down the spine of the mouse) you don't have to stop your gaming session to recharge. Simply remove the USB from the back of the charging station and attach it directly into the top of the mouse. You'll now be in wired mode (which might be preferable to some gamers for precision) whilst charging the mouse and continuing your gaming session. A simple feature that will undoubtedly come in handy during those long tournaments.
As with any gaming mouse, the device really comes into its own when you start to play with the software associated with it, creating your own macros to enable you to perform with a single click actions that used to take you a couple of seconds. This is where the Synapse software comes into play, too, as any Macro you create, along with any settings that you make, are saved to the Synapse cloud – so if you plug your brand new Ouroboros into any PC and log in to your Synapse account, all of your commands, macros and settings will be there waiting for you to start playing. No more trying to remember what macros you've spent the last couple of months creating just so you can write them all out again.
PRODUCT FEATURES
Customizable ergonomics to fit all hand sizes and grip-styles
8200dpi 4G Dual Sensor System
Gaming-grade wireless technology with dock
Razer Synapse 2.0 enabled
11 programmable Hyperesponse buttons
1000Hz Ultrapolling / 1ms response time
Up to 200 inches per second / 50g acceleration
Approximate Size: 122 mm to 137 mm / 4.80″ to 5.39″ (Length) x 71 mm / 2.80″ (Width) x 42 mm / 1.65″ (Height)
Approximate Weight: 115 g / 0.25 lbs. (without battery) to 135 g / 0.29 lbs. (with battery)
Battery life: (Approx) 12 hrs (continuous gaming)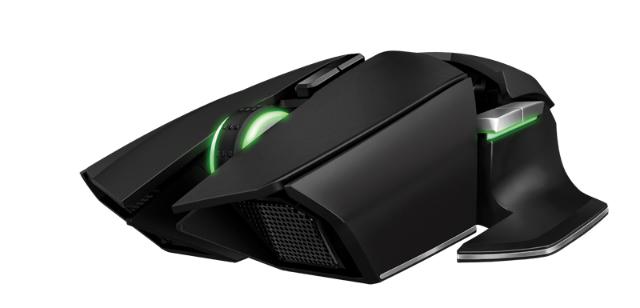 VERDICT: There's no doubt that the Razer Ouroboros is one of the best gaming mice available on the market at the moment. The ability to switch between wireless and wired modes, the inclusion of the Synapse software and all the modding options mean that this mouse should be seriously considered by tournament players and hardcore PC gamers in general. It's even more impressive if more than one person is going to be using the mouse too, as each person can have their own Synapse profile and will be able to modify the physical mouse to their own needs in just a matter of seconds thanks to the use of magnets instead of screws. The Razer Ouroboros is an expensive piece of kit, and something that only serious gamers should really consider, but there's no doubt that the device oozes quality from every pore. £130 might be a little expensive, but every penny of it has been put to good use.