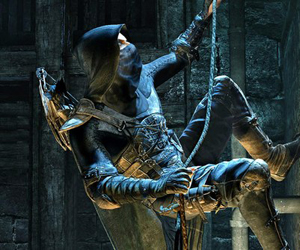 Fans of stealth game, rejoice!
The last game in the Thief series came out in 2004 and now Square Enix has revealed that Garrett is coming back  in 2014. Announced for PC, PlayStation 4 and "other next generation consoles"  – hmmm, I wonder what they could be eluding to there – the newest game in the franchise is not Thief 4, but simply Thief.
As reboots are the "in thing", this particular re-imagining was announced as Game Informer's cover story for their April issue. The first person action-stealth title is being developed by Eidos Montreal and has been in the works for quite a few years.
I never got around to playing any of the original Thief games, but I'm instantly pumped for this one. Eidos Montreal are the studio that developed the fantastic Deus Ex: Human Revolution, so that's me invested, straight away.
More details should surface over the coming days/weeks and as soon as they do, we'll be sure to let you know.
Thief will be released in 2014 for Windows PC, PlayStation 3 and other next-generation consoles