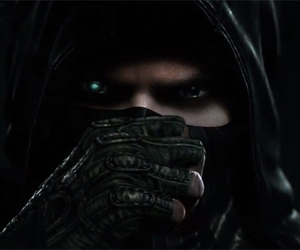 The first official trailer for the Thief reboot was released yesterday and rather than focus on what they saw, fans took more notice of what they heard. Or, didn't hear, I suppose.
The man who's been synonymous with Garrett has always been Stephen Russell, however the trailer revealed that Russell – just like Hayter – would not be coming back to reprise his role in the beloved stealth series.
In an Eidos Montreal community interview, Narrative Director Steven Gallagher and Audio Director Jean-Christophe Verbert explained the reasoning behind Russell's absence:
"Stephen was considered quite heavily. We actually had him in for some preliminary vocal recordings in fact."

"it was actually very early during development at that time that we had him involved, before we made the decision to record our actor's voices and their movement at the same time using a full performance capture technique."
With the redesign of Garrett and the fact that they're using full performance capture, they felt that because Russell wouldn't be able to perform his own stunts and that there was a "disconnect" between Russell's voice and the new Garrett.
Thief 4 will be released in 2014 for Windows PC, PlayStation 4 and other next-gen systems