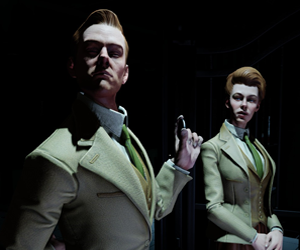 Going into BioShock Infinite, I think the main buzz surrounded Elizabeth. As a character, she was being pushed in marketing and always seemed like the more interesting primary, rather than protagonist Booker DeWitt.
However, upon playing the game, the almost unknown Lutece twins became the stars of the show – at many points.
Their quick, snappy dialogue and comedic delivery is a joy to watch when playing the game. Whenever they come on the TV screen, you know that you'll be entertained.
GameTrailers recently spoke with Jennifer Hale and Oliver Vaquer on how they approached their characters. It's a fascinating insight into the vo recording process behind one of 2013's best games of the year, so far.
BioShock Infinite is available now for Windows PC, Xbox 360 and PlayStation 3