Since the original HD PVR Gaming Edition launched almost 2 years ago, we've seen these capture units from Hauppauge get smaller and higher in quality with each iteration. Last year, we reviewed the HD PVR 2 Gaming Edition, which we found to be a fantastic piece of kit for capturing video game footage. This year Hauppauge presented us with the HD PVR 2 Gaming Edition Plus, and we took a look to see how they've improved on this already great model.
One of the most highlighted changes appears to be the new Mac support, although this is more of a bundling option rather than anything actually changing on the hardware side of things. Owners of the GE Plus can download the 'HDPVRCapture' software free of charge, whereas standard GE owners must purchase the software at an additional cost.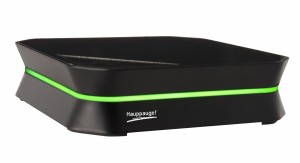 The only real difference between the Gaming Edition and the Gaming Edition Plus is the optical SPDIF audio input, and with it, the ability to record 5.1 channel surround sound audio directly from your console. This could make a huge difference to some professional video game capturers and video producers, but to your average YouTuber, we fear this added feature will most likely go unused.
Other than that, the GE Plus is pretty much the same exact product as the GE that we reviewed last year. It's a great product, sure, but if you already own a GE, there's no reason to upgrade. Fortunately, the price hasn't really been affected. The GE Plus is available for £139.99 / $174.70 from Amazon (UK | US).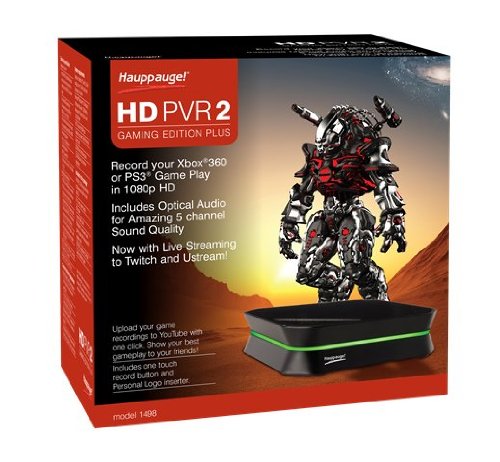 Where these Hauppauge units really come into their element though, is with the relatively new StreamEez software and it's ability to stream directly to Ustream or Twitch. By tapping the large button on top of the GE or GE Plus, you can begin instantly streaming your gaming experience to the World Wide Web. This functionality may well become outdated in the next generation of consoles, with the Xbox One supporting built-in Twitch streaming and the PS4 opting for Ustream, but Hauppauge still provides a great option for streaming from your Xbox 360, PS3, Wii (U) and even Ouya consoles.
The boxes are fairly small on a desk or by a set-top box, so if you're capturing from a stationary location you'll be just fine. However, this isn't a portable solution as the GE Plus still requires an AC adapter. The real USP for the GE and GE Plus are their live-streaming capabilities and ease of use.
We recorded some gameplay footage to demonstrate the visual quality of the GE Plus. You can check out our recordings of a few Ouya titles including Red, Chronoblade, and Polarity below.
Bundled software applications
ArcSoft ShowBiz, features Hauppauge Personal Logo application to "burn" your logos into your recordings

Video capture for recording your game play
Video editor to trim your videos
Upload videos to YouTube
Included in the HD PVR 2 Gaming Edition and GE Plus packages
HD PVR 2 Gaming Edition high definition H.264 personal video recorder, USB 2.0 with built-in record button
6V 1.6 amp power supply
USB cable – 9 ft.
HDMI output cable – 6 ft.
PS3 Component AV Cable
Hauppauge A/V component adapter
Installation CD-ROM
Quick installation guide
Note: HD PVR 2 will not record video from HDMI with HDCP copy protection. If you are recording PS3 gameplay, use the included PS3 component video gaming cable.
HD PVR 2 hardware specs
Hardware encoder

H.264 AVCHD high definition video encoder, with record resolution to 1080p30Recording datarate: from 1 to 13.5 Mbits/secRecording video formats: AVCHD (.TS and .M2TS) plus .MP4

No delay HDMI passthrough:

HDMI in to HDMI out – up to 1080p60
Component Video in to HDMI out – up to 1080i60

Input/output connectionsSize: 6 in wide x 6 in deep x 1.5 in high

HDMI in, from HDMI sources without HDCP such as Xbox 360
Component video in, with stereo audio
S-Video and composite video in, with stereo audio (optional cable not supplied)
HDMI output

Power: 6V at 1.6 amps
Weight: .75lb / .34 kg / 12 oz
Recording formats

1080p60p (recorded as 1080p30)
1080p50p (recorded as 1080p25)
1080i60
1080i50
720p60
720p50
480p60
480i60
576p50
576i50