When New Star Soccer won a BAFTA earlier this year, it wasn't just a victory for its creator Simon Read, but a victory for mobile gaming and for the little guy. "I guess this has been ten years in the making," he said when he accepted the award, "Ten years of ups and downs."
In the face of giants like FIFA 13, F1 2012 and Forza Horizon, nobody really believed Read's cute mobile game stood a chance. This latest incarnation of New Star Soccer tasks players with control of a single player through his football career. In-play it's like a touch-screen game of Subbuteo, but there's much more you can do off the pitch. Bigger clubs pay more money which you can spend on fast cars, big houses, fancy gadgets… or just waste – it's entirely up to you.
Simon Read's struggle and underdog status made his win that March night the most memorable of the show, and certainly the most surprising. Five months on, how exactly has the big win affected a developer who is still coming to terms with his success?
"I guess I feel that I have really actually achieved something in my career," Read told us. "So that gives me confidence and justifies the belief I had in New Star Soccer during the past 10 years."
A certain level of pressure comes with the success, but Read believes it's not much different to the pressure he felt before. "It would have existed even if I had not won the award, simply because the game has been more successful than I ever dreamed it would be and I don't want to mess up the next version."
That next version of New Star Soccer on mobile is the 1.5 update coming in September. Promising the introduction of headers, night time matches, an option to focus on defence or attack during a match, retirement, and different stadium sizes – it will also add new boots, shop items and dilemmas for your player to face. "On the more practical side," Read says "You will see 3 save slots, support for different screen resolutions such as that of the iPhone 5 and new languages."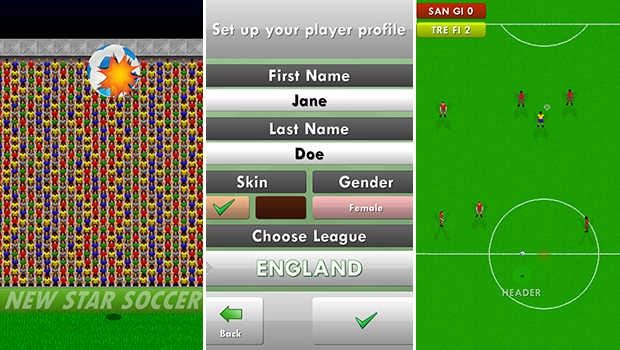 Players will also be able to play as a woman, which is something depressingly rare in sports games and which has never been included in a football game of such high profile. Read believes it was a necessary decision, however. "If you know that there is a female audience out there then it's absolutely something that developers should implement, but it can be difficult to justify the extra effort when the fanbase is so male dominated."
"Quite early on I started getting emails and tweets from female players saying that they loved the game, even if they didn't like football itself, so I knew I needed to add a female option."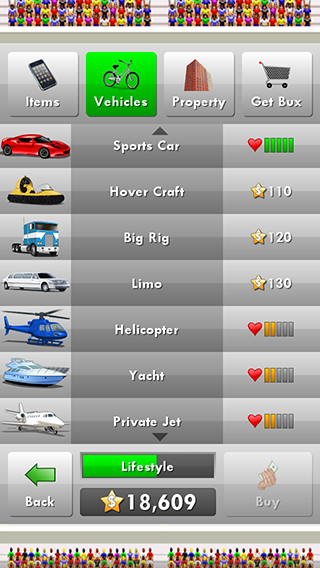 Taking New Star Soccer to the fabled "next level", while staying true to a core idea is going to be a big challenge for Read. The world of football video games is divided between the FIFA and Pro Evolution Soccer titles of the world, and the managerial simulation offered by SEGA's Football Manager series. New Star Soccer offers a middle ground, but isn't as deep as either. An increase in depth isn't really an option in a game of this scale, so what advantages does NSS have over its deeper competition?
"I think tying in the action elements that allow you to really influence the outcome of a match rather than just sitting back and tinkering with tactics and substitutions ultimately makes the game more fun than your typical manager game," he says.
"I also believe football fans dream of scoring goals and playing in world cup finals rather than managing the team, which is why I've championed this particular style of football game for so long."
Read has spoken before about tackling new sports beyond the upcoming NSS update, but everything is still in the early stages. "Pretty much any sport could be 'New Star-ified' but I haven't decided upon the next one yet. Ice hockey, American football, and Golf are all being considered. I also have a real urge to make a boxing game but I haven't quite figured it out in my head yet. There is potential for mobile versions of New Star GP and Tennis too but we'll have to wait and see."
A console version of the New Star Soccer may also be on the cards according to Read. "It's something we are thinking about at the moment but nothing concrete has been decided. I think a Vita version could be nice and I am a big fan of the device. The focus right now is trying to replicate the UK success of NSS in other parts of the world. After that we will think more about the future."
New Star Games' previous titles were PC releases, but the big hit Read had been waiting for came with a move to mobile, where Read's grand idea finally found a place to call home. We asked if he believes mobile represents the best opportunity for up-and-coming developers looking to make their big break. "I wouldn't say it is the only way forward, but there will definitely be a lot more success stories on mobile over the next few years. It's a level playing field where the small, even one-man devs, can compete with the big boys."
Many would assume someone who struggled as Read did for ten years would have had their fair share of low points, but Read says he never seriously considered giving up completely. "I have been a full-time indie since 2006 and since then there have been some very lean months. I don't think I would ever have given it up completely though. I would have gone back to programming in my spare time, doing it just because I love making football games."
Those times, for now at least, are in the past for the now-award-winning developer and since his win he's had plenty of time to enjoy games that aren't his own. A perfect chance to play something different right? Well… "Football Chairman on iOS currently has me gripped and I am looking forward to seeing how well NHL 14 implements its new career mode."
"Besides sports game I like to try a bit of everything but I don't have nearly enough free time. I've been playing a lot of 3DS games lately; Animal Crossing, Donkey Kong and Fire Emblem have consumed many hours."
As our interview wound down I asked Simon whether he had any predictions for the upcoming Premier League season. Like most people he believes it's a battle between Man City and Chelsea, but he's also hoping his beloved Tottenham get in the top four mix as well, probably at the expense of my beloved Arsenal. Good luck with that!
Finishing up in typical God is a Geek fashion I asked the all-important question. Ketchup: cupboard or fridge? "The cupboard. Salad cream goes in the fridge though."
Good man.