Part of the reason XCOM: Enemy Unknown was so highly rated is that its style is so unique and its personality is so prominent. The exceptional balance, detailed environments and air-tight mechanics are second to none, particularly on modern consoles, and the wonderfully cruel perma-death is, at times, actually heartbreaking.
Having spent a certain amount of time wallowing in development Hell (for reasons I've no intention of going into here), 2K Marin's 3rd-Person Shooter, The Bureau: XCOM Declassified, is an attempt to transplant some of Enemy Unknown's effortless "wow" into a Sixties-flavoured cover-shooter. While the developers fall some way short of the lofty heights reached by Firaxis, there's still reason enough to celebrate The Bureau's much-delayed release.
The Bureau is very much "Enemy Unknown on the ground", but with enough caveats to create a whole set of pros and cons for such a description. First of all, it's set in 1962, 15 years after the legendary Roswell landing and smack bang in the middle of the Cold War. It's almost an alternate history, as an alien empire begins an attack on the Earth and mankind attempts to fight back with whatever we have got at our disposal. As with Enemy Unknown, the invasion isn't a secret one; it's loud and violent and global, and in fact, several notable historic figures are mentioned as having perished in the attack (J. Edgar Hoover being one of them).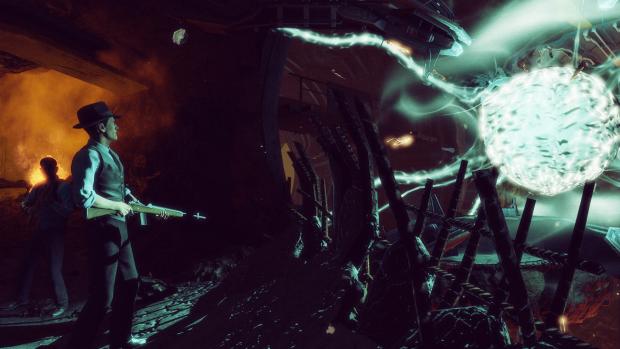 You play William Carter, an alcoholic widower with an aversion to authority who makes up his own rules but gets the job done (you know, the kind of macho character who in real life wouldn't hold a position of responsibility in a coffee shop, let alone in the defence of our species). As the game begins Carter is transporting a mysterious briefcase to Myron Faulke, a G-man with several years of experience studying our extra-terrestrial visitors. Attacked and apparently killed moments before the invasion begins, Carter is somehow resurrected by the contents of the briefcase – an event that leaves him with a strange connection to the invaders.
After saving Faulke's life and fighting his way clear of the bombarded base, Carter is recruited to the newly-formed XCOM as one of two field team leaders, and immediately sets about saving the planet by swearing (occasionally quite shockingly), shooting and bucking authority. While fighting the alien forces on the ground, you'll also need to solve the mystery of the Sleepwalkers, human beings infected by a virus that turns them into docile zombies, easily herded together by the invaders.
You'll switch between forays into the field and jaunts around XCOM Command. Eschewing the side-on "ant-farm" base layout of Enemy Unknown, The Bureau's headquarters is much more interactive. Housing an infirmary, a laboratory workshop, a Skyranger bay (with a separate hangar in which a bunch of whitecoats are working on a captured flying saucer), an armoury and firing range, a ready room, op centre and communications hub, the headquarters is a huge area that at first takes some getting used to as you jog around, talking to your various teammates in a similar (though dumbed-down) manner to Mass Effect.
Spending time with the supporting characters can often lead to in-house investigations or minor operations (side quests) in the field, or even just divulge a little back-story. There are also expositional documents scattered everywhere that flesh out the invasion and the behind-the-scenes goings-on at XCOM that you can choose to read or ignore. A dialogue wheel is a nice addition but largely pointless, as there are very few moments when the wrong choice leads to any kind of consequence, and these are all at specific, scripted points. Small choices affect the story in small ways, but there's none of the cataclysmic consequence of a BioWare game. Also, it's fair to say that the characters are fairly safe: eccentric scientist, tough-talking femme fatale, slightly paranoid yet stern commander and chief, wise-cracking yet courageous recon pilot, you know the drill…
The story funnels you down a set path, from escaping the base at Groom Range through capturing and interrogating an alien intruder to taking the fight to the ETs, and despite a handful of side concerns such as the optional minor operations, there's nothing you can do to really influence the plot. It feels like a missed opportunity at times, as The Bureau appears to present moments where player choice could have definite impact, only to remove the consequence of your choices completely. A few of the in-house investigations are presented almost as puzzles, but there's no fail state nor real incentive to bother with them. Completionists and RPG fans will get a kick out of them (I know I did), but they're not essential.
While you can chat to your comrades and generally explore the backstory of the universe in the base, the real meat of The Bureau is to be found out in the field – and it's here, quite predictably, that it becomes something a little bit more special.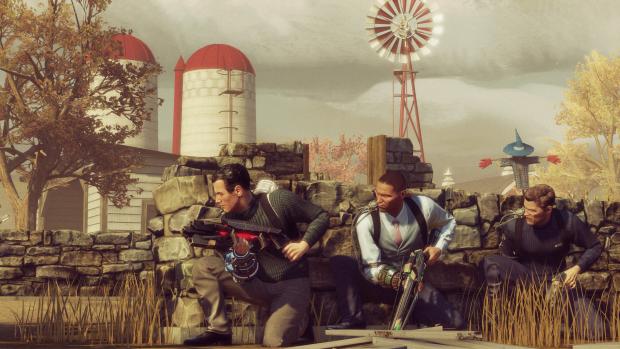 You begin your field excursions by selecting a team of two other agents to accompany you. These men can be named by you and you get a choice of ten heads and colour combinations for their outfits, and when you first recruit them you even get to choose their vocation. Commandos are frontline soldiers, Recon agents are long-range snipers and scouts, Support agents can eventually learn to use buffs and drop energy shields on the party, and Engineers can deploy stationary turrets and place landmines. Upon their initial creation, you can pick a perk for each class, such as the ability to take more damage or heal themselves in combat. Once in the field, skills and perks are unlocked as each character levels up, with Carter having a maximum of 10 levels and the other agents a maximum of 5.
As an attempt at injecting some of Enemy Unknown's tension into The Bureau's firefights, it's only mostly successful. If it fails at all, it's because of two key aspects: firstly, you can replace a dead agent immediately during the fight by radioing your Skyranger pilot, Barnes, to drop in reinforcements; and secondly, you won't care as much about these characters as you do about your team in Enemy Unknown. In Firaxis' game there's next to no AI, so every decision taken and move made is yours and yours alone. Not only do your squad members take a long time to cultivate into badasses, but you become accustomed to their personalities, their individual level of ability, what they can be trusted with (and I swear there are secret calculations in that game that carve out a close approximation of actual personalities for your troops), and it's all your fault if they die horribly in battle. In The Bureau, levelling a character is easy (you can even send them on "Despatch Missions" where they level up without you), as is outfitting them, and they don't have cool nicknames. Also, they're pretty stupid. When you've watched your main Engineer run directly into the path of a rampaging Muton or stand over a sizzling grenade for the eighth time, believe me, you won't give a damn if they die or not. In fact, you'll probably chuckle when they do.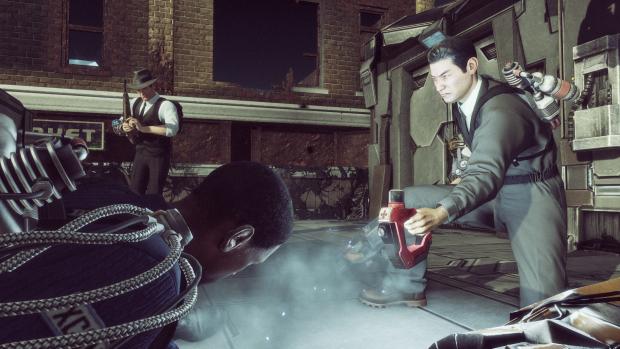 Of course, later in the game if you're left with only Level One agents you're going to struggle like crazy, so there is a legitimate reason to keep your best agents alive, but it's nothing to do with emotional attachment. If you see them go down in the field, you have limited time to reach them and revive them (or command your other agent to do so), before they bleed out and die. While Carter has a Heal ability on cooldown (and can unlock a deployable drone to heal all allied units), there's no way to revive an agent without getting there. Luckily, while your teammates may not be all that bright, they do come with an impressive array of abilities once you've levelled them up enough.
Commandos can use a Taunt command to snatch "threat" away from a wounded agent, while Support operatives can deploy shields and Recon agents can activate holographic decoys and call in aerial bombardments. Only being able to select two allies per mission means that you do have to think tactically and decide what kind of play-style you're going for beforehand. Sadly, there aren't that many missions to go on. The main story contains around six to eight hours of gameplay, with side missions padding it out to around 10. A system of scanning the map to find random missions to go levelling and scavenging in would have been welcome, but as it is you can only unlock side missions by talking to people in the headquarters. I discovered six, though there may be more to find.
The lack of freedom really does make you feel led at times, and the mechanics are crying out for a more free-form game. Weapons and backpacks are found in missions, and there are lots to unlock. Guns will be mostly familiar to fans of Enemy Unknown, as you begin with things like pistols and shotguns but soon discover laser pistols, plasma cannons and scatter lasers. The backpacks are analogous to loot in other games, and you can usually find at least one new schematic in every mission. When equipped they offer varying buffs such as increased damage against enemy shields or faster cooldowns, and there really is something to suit every class.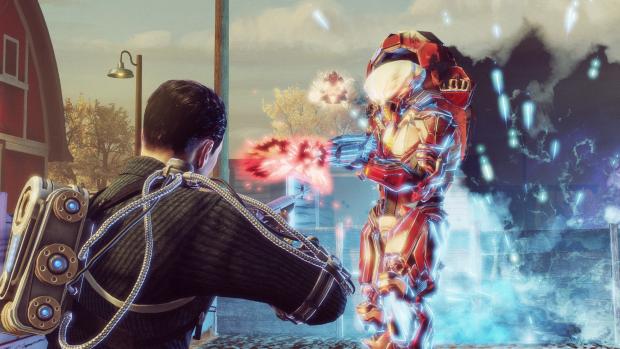 The action itself is fairly derivative of Mass Effect 3. Movement feels almost identical (weighty and not entirely fluid), and the cover system is a carbon copy – as is the abilities wheel that lets you assign actions to each ally individually in the thick of battle. In fact, along with the dialogue wheel and Carter's ability to "lift" enemies out of cover (allowed by his Venn Brace – a piece of reverse-engineered alien tech), the similarities to BioWare's game are hard to deny – which isn't a bad thing, but does hamstring the originality.
In audio-visual terms, it's all very XCOM-ish. Nods to Firaxis' strategy game are everywhere, and the fact that it's set in the same universe is always obvious. The take-off and landing animations evoke memories of Enemy Unknown, and the alien weapons and even the aliens themselves are the same. You'll mostly face "Greys", the little bulbous-headed Sectoids, but they're often led by Outsiders, a higher caste rarely shown in Enemy Unknown outside of specific missions involving downed UFOs. You'll also see various Muton types (here depicted as tank-class enemies that take an age to kill), and bothersome drones. Now and then, you'll face a Sectopod, a walking battle-tank that also showed up in Enemy Unknown.
The aesthetics are pretty decent, though not mind-blowing. Faces are recycled around the base and the aliens are obviously and conveniently identikit, but the environments are quite well detailed, presenting an eerie depiction of what Apple Pie America would look like if you set it all on fire and constructed giant alien energy plants in the middle of Homecoming festivals. Unfortunately, the environments don't play much of a part in missions, with nothing destructible or malleable, and lots and lots of convenient waist-high walls and overturned cars. The voice acting is fairly solid throughout, and the lip-synching is mostly bang on the money – it's just a shame the characters aren't always saying interesting things.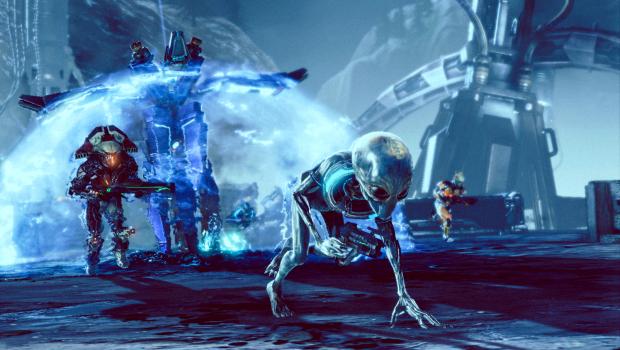 VERDICT: Even without multiplayer, there's scope for at least two playthroughs and enough variety and excitement in every fight that you won't get bored, so it's safe to say that The Bureau is value for money, especially if you're a fan of the universe. If only 2K Marin had loosened the reins a little to allow for a deeper and more customisable experience, this might have been an instant classic to stand beside Enemy Unknown.
The Bureau: XCOM Declassified is a good shooter occasionally elevated beyond that by its subject matter. Unfortunately, every time it has a really good idea, someone else has already done it. The action, squad system and dialogue wheel are almost point-by-point imitations of those seen in Mass Effect 3, and the perma-death element just doesn't have the impact that it has in Enemy Unknown. While the mechanics are solid and the firefights are always great fun and just on the right side of challenging (at least when played on Squaddie – or Normal – difficulty), 2K Marin just don't take enough risks to hit the big time here.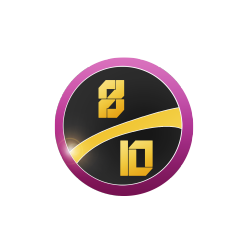 VERY GOOD. An 8/10 is only awarded to a game we consider truly worthy of your hard-earned cash. This game is only held back by a smattering of minor or middling issues and comes highly recommended.