When it comes to PC gaming on the move, there has always been only one company that people generally go to first: Alienware. Sure, the laptops there are pretty expensive, but with laptops you can't use the age-old argument of "It'd be cheaper if you built it yourself". You can't build a laptop yourself, that's just a fact, so if you're going to buy a laptop with the idea of gaming in mind, then Alienware should be your first stop. Since they were bought by Dell a couple of years ago, there's a dizzying array of customisable options too, from the processor all the way through to whether or not you want a mousepad with your shiny new gaming rig, and the rigs in question have only been getting better and better over the past couple of years. The latest Alienware Gaming Laptop line is absolutely no exception. When we had the chance to have a look at the 14-inch version of the new line, we jumped at it; seeing what was under the hood, what it was capable of and just getting down with some of the latest (and most demanding) games available – at the end of the day it is a gaming laptop.
3DMark Benchmarks
If you're serious about testing any kind of PC designed primarily to play games, the first port of call should always be FutureMark's 3DMark (at least in my opinion). It's a piece of software that, when it's run its course, gives you a definitive number for you to compare against other computers. So that's what we did with the New Alienware 14 Gaming Laptop: we installed 3DMark, ran through the tests and compared our results. Each of the following benchmark tests were carried out, in their entirety, three times, the averages are what we recorded into the graph.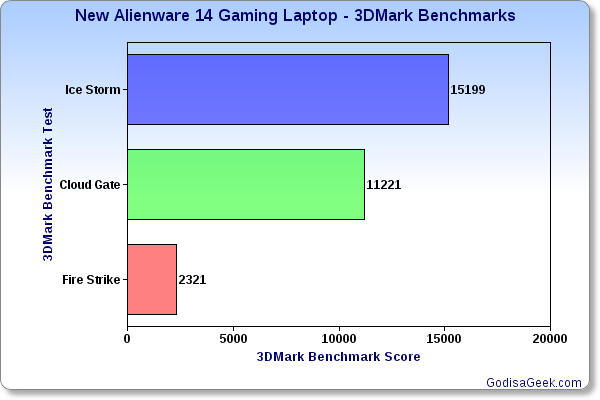 As you can see from the above graph, the scores are pretty much what we'd expect from a gaming laptop, performing the best in the mid-range stuff. That being said though, the laptop doesn't do too bad at the high-end stuff either. Granted, you're not going to get a perfect score from such a small machine, especially one with a graphics card that is arguably already out of date, but it doesn't do too bad at all (as you'll see later on when we benchmark a couple of games on "Ultra"). The one issue I did have was with the low-end benchmark test; the laptop appeared to massively underperform on this test (when compared to my personal year-old Alienware laptop), despite how many times I ran the test. The conclusion I came to was that the driver in use wasn't officially supported (as the laptop is so new, so the driver installation process can't see it as a viable option for install) and this caused it to perform below expectations.
PCMark Benchmarks
As well as making sure that the laptop performs as expected when it comes to video games, we also have to take into account that people will be using their new purchase for something other than playing games on (I have no idea who these people are, but I've heard they exist). With that in mind we also fired up another of FutureMark's benchmarking applications, PCMark, which performs a bunch of tests suited to more more everyday uses of any computer, gaming laptop or not.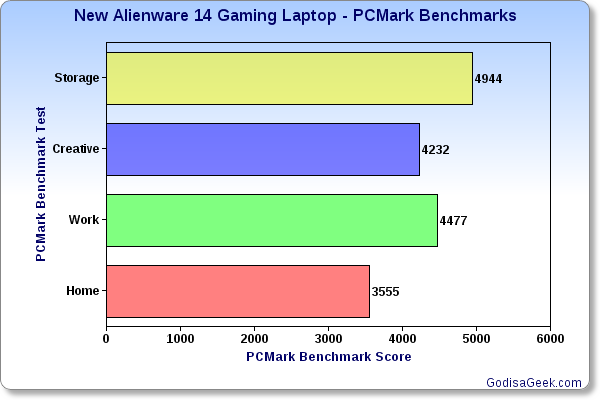 These results aren't really useful when comparing them to each other, but if you're in the market for a new laptop and you'll be, for example, doing a lot of creative stuff, then you can take the score here from the "Creative" tab and compare that against the review of other laptops you may like the look of. Hopefully that will inform your purchase, something which is always good.
Given that the New Alienware 14 Gaming Laptop is just that, a laptop, we also checked the capabilities of the machine's built-in battery. It's worth mentioning at this point – despite it not being recorded in any of the graphs – that the battery takes just less than three hours to go from fully discharged to a fully charged state. The following graph shows how long the laptop lasted (in minutes) before putting itself to sleep while performing a variety of tasks relating to each area.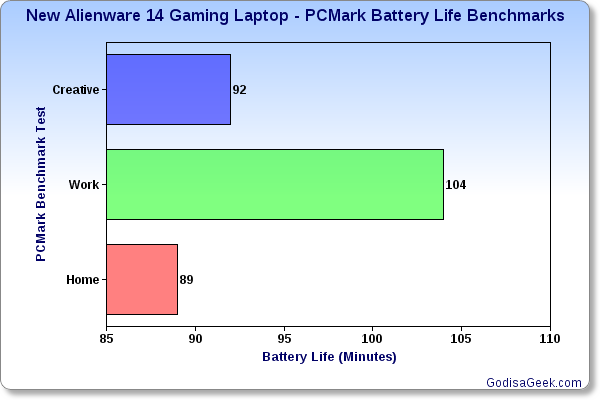 As you can see, the battery doesn't last too long at all if you're intending to do intensive stuff. I even performed my own test of watching a three hour long YouTube video (yes, they exist for some reason) and the battery lasted just about as long. However, it should be noted that this was with the default settings of brightness, WiFi, etc; as with anything that's running on a battery, lowering the brightness of the screen and turning off things that aren't needed will drastically improve the battery life. If you're intending to do anything intensive though, and you leave everything on its default settings, then you can expect to get in the region of 90 to 120 minutes from the laptop. Not bad, but could have been better.
Gaming Benchmarks
If there's one thing that people care about doing on an Alienware laptop more than anything else, it's playing games. With that in mind we ran some of the most intensive games we have through the machine, on a variety of different graphical settings, to see just when the New Alienware 14 Gaming Laptop started to give up the ghost. We ran the tests against this year's Tomb Raider, BioShock Infinite, Crysis 3, The Witcher 2: Assassins of Kings, Battlefield 3 and Metro 2033. All of the tests were conducted under each game's default settings, the only setting that was changed was the graphical setting.
Tomb Raider (2013)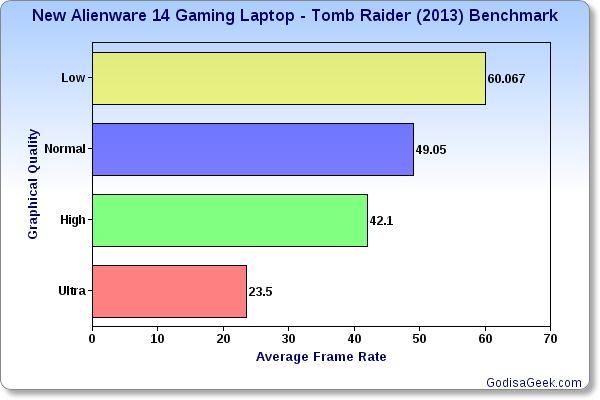 BioShock Infinite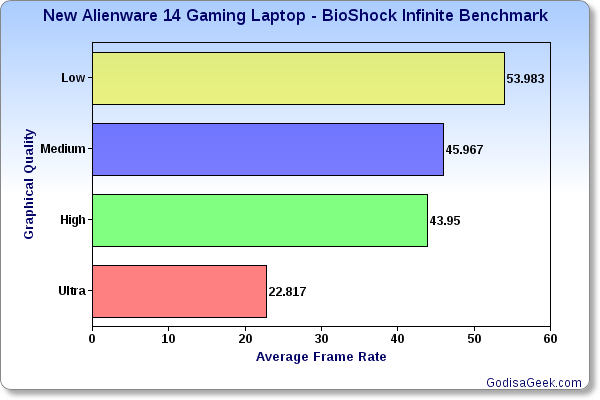 Crysis 3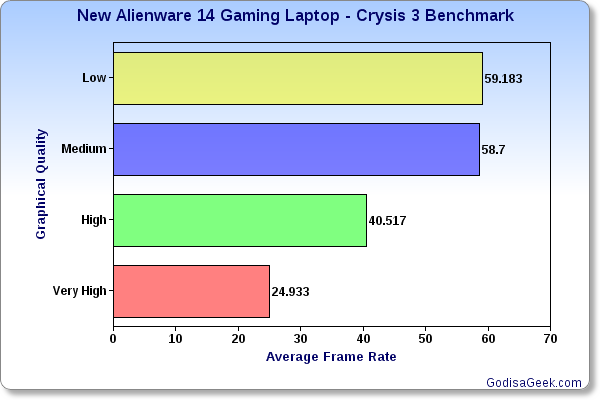 The Witcher 2: Assassins of Kings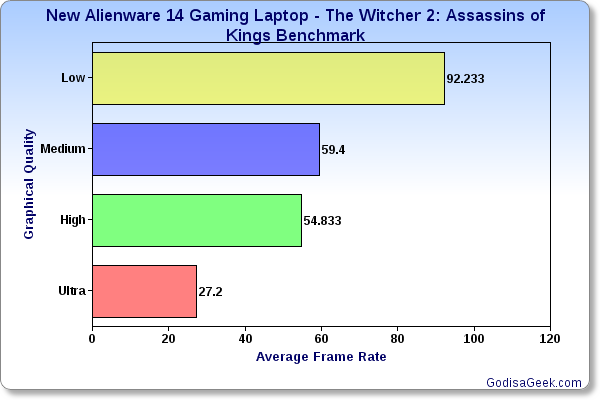 Metro 2033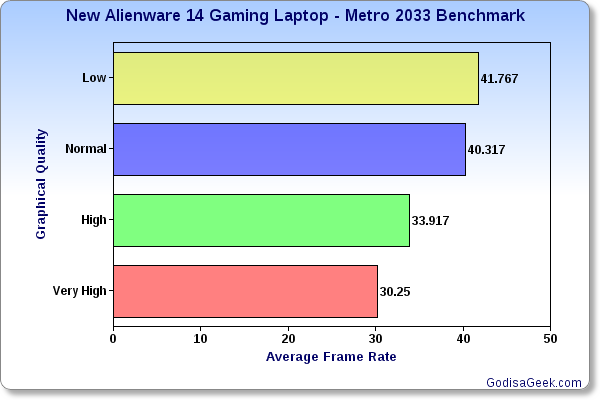 Battlefield 3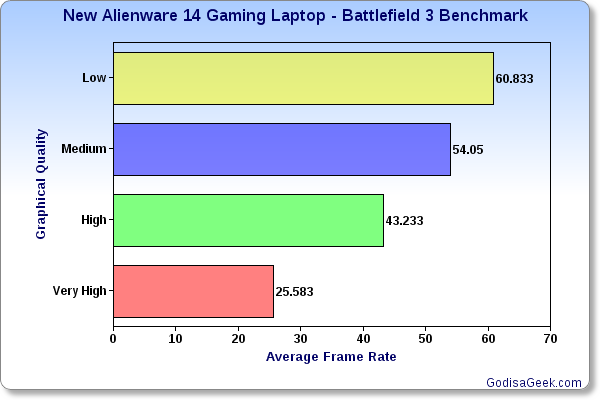 As you can see, the Alienware 14 doesn't have much of a problem running these games on the medium/normal settings, but the frame rates start to drop drastically when you push them up to the high and ultra settings. You could probably run the game well enough to play on the high settings, but if you want to get any level of long-term enjoyment then the middle-of-the-road graphics settings are your best bet. That might disappoint some people, but remember that we're talking about a 14-inch laptop here, one that you can take with you anywhere you are and still play these games in good enough quality to enjoy them without any huge drops in frame rate. I'd call that a win.
SPECIFICATIONS: (The specifications detailed are for the basic model of the New Alienware 14. However, as with most laptops from Dell, you can customise many of the components to fit your own specific needs. Check the website for the full range of custom options):
Intel® Core™ i7-4700MQ Processor (6MB Cache, up to 3.4GHz w/ Turbo Boost)
English Windows® 7 Home Premium (64 BIT)
14.0 inch (355.6 mm) WLED HD (1366 x 768) Anti-Glare Display
8GB Dual Channel DDR3L at 1600MHz
Slot-Loading 8x SuperMulti Drive (DVD±R/RW)
NVIDIA® GeForce® GT 750M with 1GB GDDR5
VERDICT: The New Alienware 14 Gaming Laptop is an impressive piece of kit, but then again you'd expect that from something that costs at least a grand. If you're a gamer in the market for a new laptop, then the Alienware 14 is definitely worth a look, and if you're the kind of gamer who likes to move around a bit – whether that's around the country, or even just around the house – then the Alienware 14 is going to fit all of your gaming needs for the next few years, as long as you're happy just keeping the graphical settings on high to medium. You're not going to push games into the Ultra settings, not for too long anyway, but we're here for the gameplay, not just the pretty images on the screen, right?.
Gaming has become very popular and because of this so has gaming on computers. Online gaming is dominated by online casinos, whose growth year on year is incredible, the ease of use coupled with our desire to always want more has made them a huge market have taken full advantage of. These sites have become popular for the ease in which players can access their favourite casino games. They no longer need to physically go to a casino, instead the odd bet here and there is a much more appealing option. Online casinos are available 24/7 and the internet has helped make this attractive proposition possible. If you're a fan of games, you could play the best slot games online from the comfort of your home at LuckyNuggetCasino.com/online-slots. Casino games have been growing in popularity, these games are easy and entertaining. By providing a product that appeals to more people it also has helped to allow access to online gaming. As a result, more people are seeing value in this way of accessing gaming. Many are finding that they can experience the fun of playing online casino games. This is through visiting their websites and playing the games available online, as most of them allow you to play them in browser there is never any trouble with getting them to work.