Most of us see paper as a standard item in everyday life. You can write on it, draw on it, or for some of the slightly more creative or child like among us, fold it to make a crude aeroplane shape and then throw it at colleagues. However, the folks over at Media Molecule see paper in a different light, one that shows its full potential and one that is translated into Tearaway.
Everything in the world of Tearaway is made of paper, or at least it could be in real life. Everything from characters to environments (and even snow) is made of the stuff and, amazingly, it acts in a realistic way. If a bit of paper isn't stuck down properly at the corner it will be raised slightly in the air, walk over it and it drops to the floor due to the weight, then walk off and it raises again. Use the touch screen to fold a part of the environment and it crumples up exactly like in real life. It sounds like a stupid thing to say about a world made of paper, but the world is realistic.
Guiding your character through the paper craft environments is a joy. The simple controls, including touch, are brilliantly designed for the world. Somehow the team at Media Molecule have managed to take advantage of almost every feature of the Vita, but none of them feel forced – there's no holding the Vita up to a light here folks. Tap on the Vita's rear touch pad, in certain locations, and your finger pops through the Vita and into the paper world allowing you to directly interact with it. If the sun becomes present in a cut-scene or gameplay then you can be sure your face will appear right in the centre thanks to the Vita's front facing camera. Opening a present is done by pulling the bow on the front touch screen, which is also used for interacting with the environment and creating a safe path for Iota or Atoi.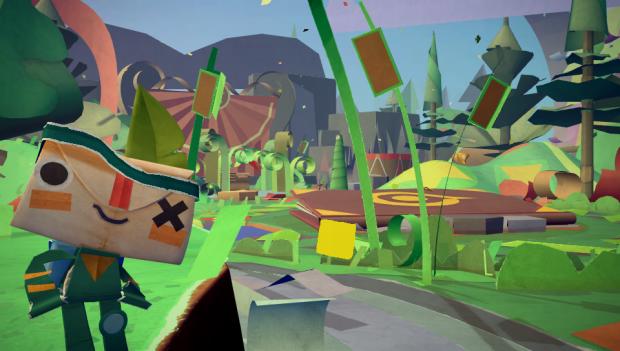 Iota and Atoi themselves are envelopes, with limbs and a body, but their appearance can be fully customized. By the end of my hands-on with the game I had Iota wearing some glasses that were clearly too small for his eyes and he had at least 5 different leaves sticking out of his head at random angles. Oh, and he had a massive Harry Potter style scar across the middle of his face. Someone with a ounce of artistic talent could easily edit their character to be unique and stylish. I, however, have no artistic talent. Sorry Iota.
Thankfully I can show you my Iota by using the online web-service that allows you to view any pictures you take in the game in your web browser – you can see a gallery of my best photos at the bottom of this article.
What's that? How do you take pictures in game, I hear you ask. Within the first 15 minutes of playing the game you are handed a paper camera, which can be used at any time. Instantly the potential of the camera is realised, in this beautiful paper-craft world why would you not want to take as many pictures as possible? Different lenses and filters can be purchased which all change the possibilities of the camera. If you are trying to get a shot of an elk running across a meadow then you best invest in the high-speed lens. Want to take a full on Instagram style selfie? Then you best hit the selfie button and equip one of the many Instagram-styled filters, ranging from sepia to wild-west and the brilliant colour negative.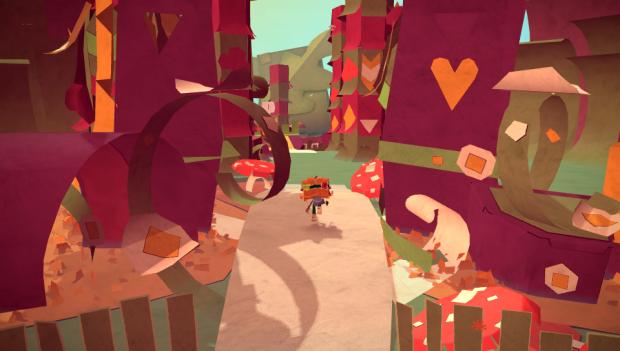 The camera is a wonderful inclusion, and I spent at least half a hour trying to get the perfect shot of a tree in the snow with a bird flying above it, which may sound like a complete waste of time, but you should see the final picture I got: it could win awards. Give me a camera in a shooter and I wont touch it once, nobody likes pictures of brown environments. Give me a camera in Tearaway and I will spend hours perfecting each picture, searching every corner of the environment for the perfect photo opportunity, and taking a few selfies along the way.
What the camera really does is reinforce the fact that the paper-craft world is the start of the show. Spending hours looking through the camera trying to get the perfect shot is a testament to how beautiful the world is. The use of paper could have gone horribly wrong, but it hasn't. In fact, it couldn't have been implemented any better. Everything in the world looks as if it could be made in the real world, just by folding, cutting and sticking paper – and it probably can. Never have I seen a world so wonderfully and realistically created. I wish I could have stayed in it longer.
Tearaway is exclusive to PS Vita and will be released on November 22nd. Check out the gallery of photos snapped by Mike in the gallery, below.
[nggallery id=1647]