Day four has come to a close and thus the Playoff Group stage has come to a close. Six teams have been eliminated, two are guaranteed entry into the upper bracket in the main event and the 8 teams will battle it out over the next two days to try and gain a place in the upper bracket.
At the top of the table by the end of the first proper phase was ViCi who went 12-3, closely followed by Evil Geniuses on 11-4. DK were the only other team to go into double figures in the wins column with a record of 10-5 securing them 3rd place. 4th place went to IG on 9-6.
Next up was a 4-way tie for 5th place with NaVi, Titan, Liquid and Cloud 9 all securing 8-7 records. The stat wizards over at Valve compared the teams head to head records to decide the final placing's. NaVi came out on top and secured 5th place, Cloud 9 took 6th, Liquid took 7th and finally Titan took 8th.
*THE FOLLOWING PARAGRAPHS CONTAIN INDIVIDUAL MATCH SPOILERS*
The lower end of the table was where the really interesting stuff occurred. In the first series of games LGD's win over Cloud 9 meant that NaVi.US, Fnatic and Empire were all eliminated. With four teams already eliminated both Alliance and Mouz had the chance to force a tiebreak by winning both their games. Mouz managed to dispatch NaVi.US whilst Alliance took down NaVi in a rematch of last year's grand final. This meant that if Mouz and Aliance won their next game both would go to a tiebreaker with LGD and NewBee.
Mouz took on the already qualified Liquid. A push heavy lineup with an unusual Windranger pick saw them stomp Liquid within 17 minutes and they didn't concede a single kill. Thus resulting in Mouz heading into a tiebreak. Alliance had to face EG to make it into the tiebreak. The pre match controversy was rumors that EG would intentionally lose to allow their sister team (Alliance) to get into the tiebreak. This however was proven to be false after a convincing win from EG, thus eliminating Alliance.
This resulted in the group stage ending with NewBee, LGD and Mouz being tied for 9th with 7-8 records. Alliance ended 12th with 6-9 as did Empire who ended 13th and Fnatic who went 14th due to the head to head records between the teams. NaVi.US ended in 15th on 5-10 and Arrow came last with a 2-13 record.
The tiebreak between NewBee, LGD and Mouz saw each team play each other. The team with the most wins would take 9th and the team with the 2nd most wins would take 10th whilst the least amount of wins would go home in 11th. If all three teams won one game they would all play each other again until there was a clear winner. Mouz somewhat threw away the first game and allowed LGD to take the first win. LGD vs NewBee saw a horrible start for LGD that quickly lead to NewBee winning the game. With LGD and NewBee both on one win Mouz needed to win against NewBee to force another round. Unfortunately it was not to be, Mouz lost the match meaning NewBee take 9th having won two games and LGD took 10th having won one.
Fortunately those that placed 14th and upward didn't go home empty-handed. Mouz took 11th place along with $37,452 and Alliance got exactly the same amount for finishing 12th. Empire and Fnatic took home a still respectable $21,401 each for finishing 13th and 14th respectively. Both NaVi.US and Arrow go home empty handed.
Next up is the 'Bubble Race Brackets'. There are two separate brackets each of which will feature three best of three series. One team from each bracket will be eliminated whilst the rest will be placed into the winners of losers bracket of the main event depending on how they do. The images below show the bracket format.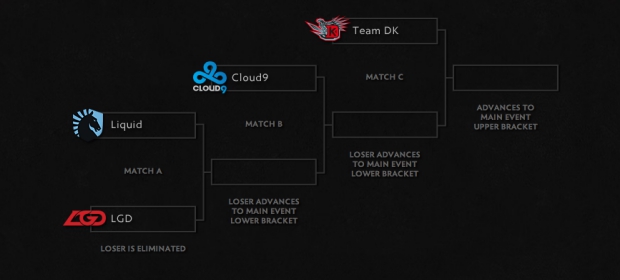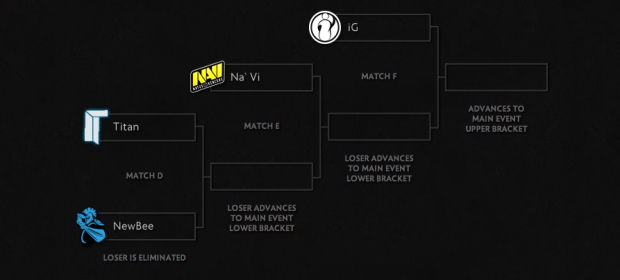 The actual Dota that took place yesterday wasn't the most entertaining, although IG vs ViCi was solid as was the Alliance vs NaVi game. Check them out if you really want but there were some much better games on day three you could watch instead.
Dota Cinema is also reporting that Team DK player LaNm is going to retire from professional play once The International concludes.
Below are the final group standings.