The biggest eSports event to ever happen is mere days away. The International 4 will see 16 of the best Dota 2 teams in the world battle it out over two weeks and the winner will receive over $4,700,000. But there is currently one problem, we only know 15 of the teams that will be competing, the final spot is still up for grabs. This spot will be given to the winner of the Play in Series, a single elimination tournament which features the four teams who came second in their qualifying groups.
The teams taking part in the Play in Series on July 8th are Virtus.Pro, MVP Phoenix, CIS Game and Team Liquid. The mini tournament will consist of three games, in the first round Virtus.Pro will face MVP Phoenix and CIS Game will face Team Liquid. The winner of each of these games will then face each other with the winner of that match going into the main TI4 event.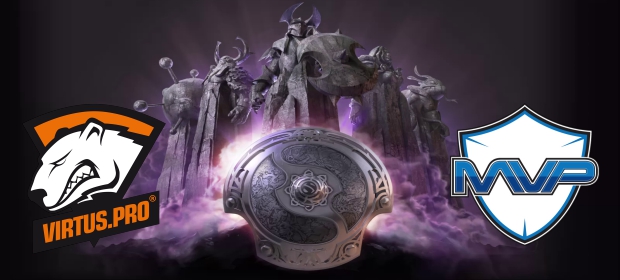 Virtus.Pro Vs MVP Phoenix
It's fair to say Virtus.Pro were the biggest surprise in all of the qualifying events. Almost everyone had written them off, even I said in my Predicting the Qualifiers article that they stood little chance. Despite having a fairly shocking few months prior they managed to make it to the final of the European Qualifiers by defeating the only team in the world who went undefeated in the group stages (Rox.Kis). In the final they went two games up against Mouz but an impressive comeback saw Pajkatt and co secure the guaranteed spot in the main draw.
MVP Phoenix impressed in the SEA qualifiers although the whole competition was somewhat of a let-down. Both Orange and Scythe were disappointing which left Arrow and MVP Phoenix at the top of the pack. In the final Arrow comfortably beat MVP 3-1 and honestly MVP looked a little out of their depth.
As for my thoughts on this matchup I have to say that Virtus.Pro will win. They were impressive in the qualifiers and actually looked like a top tier team at times. My limited knowledge of MVP Phoenix comes from the qualifiers where they looked okay against other SEA teams and their performance in Star Ladder 9 where they were destroyed by almost everyone. MVP just don't have the ability to match up against top western sides and I feel their lack of experience in playing western teams will cost them.
Virtus.Pro to win 2-0.
CIS Game Vs Team Liquid
Wow, where to start on this one. CIS had a fairly uneventful qualifiers, with both themselves and LGD booking a trip to Seattle, (and thus being the only qualifier group I predicated correctly). However whilst all the other teams have been practising like mad in the last few weeks CIS have been trying to secure entry to the USA and haven't been able to prep fully for the event. The visa saga has seen them apply for visa's 4 times and only be accepted once. The stress and lack of practise is sure to have an adverse effect on the team.
Liquid however have finally found some sort of stability. Sure they are still nowhere near the quality they once were but the new roster has had time to settle and they are finally playing as a proper team again. An entertaining US qualifier saw them place second behind NAR (now NaVi.US) and even then they had quite an impressive performance. More recently they have looked stronger, but still not great.
This match is going to be an interesting one. On paper I would probably go with CIS to win, purely because they have been more consistent and I feel they have a stronger roster. However the visa issues and lack of practise may cost them, and with Liquid effectively being on home turf they have a lot going for them. I'm going to say CIS will just take the series, but only just.
CIS to win 2-1.
The Final
So based upon my previous predictions the final of the Play in Series will be Virtus.Pro vs CIS. A controversial choice I'm sure.
I'm sat here debating in my head which to choose. Prior to the visa issues I would have CIS winning the whole thing comfortably but I have a horrible feeling they have lost too much prep time and they have to be somewhat stressed about the whole situation. Virtus.Pro however have looked strong and have a great roster. One thing I am sure of is that this will be a full three game series. No way is either team taking this 2-0.
Right I have made a decision, Virtus.Pro will take the series 2-1. CIS will fall just short and miss out on the main event. Virtus.Pro will make it into the second phase but won't go much further than that.
Whilst I am still not convinced by my own decision about the final I am sure that the Play in Series will have some of the most entertaining Dota of the whole event. The stakes are so high, if you lose you have effectively wasted a trip to Seattle. Be sure to watch when the event kicks off on Tuesday and be sure to stay tuned to God is a Geek for a whole load of coverage of The International 4.
Have I got it right or am I a total idiot? Let me know in the comments below and throw in your own predictions as well!