With the great shift to the shiny new generation of games consoles, comes something a little less enviable: you need new accessories to go with that expensive new console. Having reviewed umpteen headsets over the years, here, it's oddly exciting to be in a new generation, not only to see which developer will try and push the envelope first, but also to get new toys to plug into the PS4 and Xbox One. We're yet to take a look at any fightsticks, so we're having a look at one of the elite (pun not intended) brands in the headset market, Turtle Beach.
And it's safe to say that the name of this product is no joke. Elite in every respect (price as well, I'm afraid), it's a glorious celebration of audio. Playing PES 2015 on PS4 with the Elite 800 was like experiencing it for the first time again. As a father of two, a lot of my gaming time is relegated to late nights, so a headset is a must-have piece of kit, and hearing the crowd explode as I scored a stunner actually made me jump the first time it happened.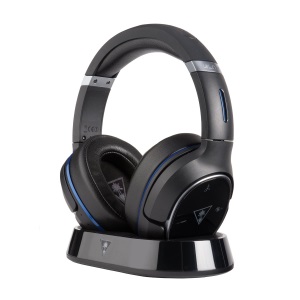 But it's not just sports games, of course. The bass of the 800s is pant-messingly deep, so much so that it made me recall the brown noise from South Park. Actually, lord only knows what would happen if you use Timmy in South Park: The Stick of Truth. I know one thing: I'm not brave enough to test that. But yes, know that the Elite 800 sounds as incredible as you'd expect from a high-end headset.
One of the biggest draws will be the wireless factor. It's very much a case of "first-world problems", but nobody wants to have wires trailing from them as they kill online internet people in whichever shooter they are currently playing. The Elite 800 is entirely wireless as a headset, connecting to a hub that is small and inoffensive. It's a small cradle that will sit discreetly in most setups, only really taking up room when the headset itself is docked. Magnetised chargers are on the base of the right earphone, and they are strong enough that you can definitely tell when it's in place.
The dock itself isn't wireless, obviously. One optical cable will need to go between the PS4 and the dock (there's an additional optical audio out from the dock to go to your amp, if you don't have a HDMI amp receiver), and a USB cable powers the dock from your PS4. Herein lies a minor bugbear that feels a little unfair to blame on Turtle Beach, though: the PS4 only has USB ports on the front of the console. What this means is that to use power the dock you need to have a cable trailing from the front of your PS4 at all times. It's a small frustration, and as I say, it's not really Turtle Beach's fault at all.
It's well built, and has four subtle buttons on each earpiece. The standard fare are here (microphone mute, game volume up/down, chat audio up/down, etc), but there is also a preset cycle button to allow you to customise the sound depending on what type of audio is being sent. Messing around with this gave differing results, but in truth I think that most people will eventually switch back to the standard settings, unless watching a movie via your PS4.
Obviously it's a comfortable headset to wear. Comparing it to the Turtle Beach PX4, in truth I found the older headset slightly more comfortable, but I have a fairly large head, and I'm a creature of habit. It's not uncomfortable, and that's the important thing, but it was a snug fit for me. One small point to note is that rather than going for the detachable microphone that seems to be the standard, instead the Elite 800's microphone is hidden inside the unit. Therefore, no mic will jut out in front of you, and you won't have to adjust an awkward flexi-arm.
When all is said and done, if you're in the market for a high-end headset for your PS4 (though it does work with PC, PS3, and mobile devices with some included cables), you can't go far wrong here. On the other hand, at well over £200 it's a very expensive prospect, and there's no way round that. However, if you want to get 7.1 audio wirelessly from a PS4, I don't think there's too much competition on the market right now that will rival the audio quality on offer. The Elite 800 will help you immerse yourself in increasingly realistic worlds with the audio delivery. A discreet mic and a classy look round off the package, which means you're finishing reading this and left wanting one. I'm sorry. But hey, it's nearly Christmas.
Review sample provided by Turtle Beach.