Getting the opportunity to visit EA for any reason is often a bit of a treat, but getting to go there and walk away with a palpable sense of excitement about a game that you simply cannot wait to play again? Colour me very happy indeed. I was lucky enough to spend some quality time in the edgy Frostbite-driven cops 'n' robbers fun that is Battlefield Hardline. Far from being a military themed shooter, Hardline places you in two very different roles – Police Special Response Units, or down and dirty law-breaking criminals. Visceral and EA had set up for those in attendance to join a beta multiplayer, which took in a few of the very impressive maps and some of the diverse game modes on offer, which you can probably play very soon after reading this.
Some of the pre-release blurb speaks of this being "the fastest Battlefield ever". My impression is that, yeah, it pings along at a fair old lick (check out our video at the bottom of this article for proof of the 60fps silkiness on PC). None more so than during the first of the modes I played: Hotwire. Careering around the stunning Dust Bowl map (a sun-baked desert outpost) the Police chase down the vehicle-stealing criminals in a thrilling, breakneck shootout on wheels. The aim is basically to commandeer target vehicles and then put the pedal to the metal. The criminals have to deliver vehicles to a particular place on the map, while the police have to stop this from happening and either destroy or take control of the TWOC'd rides. It is terrific fun, with the cops swooping down in helicopters, and missile launchers blowing up SUVs filled with baddies.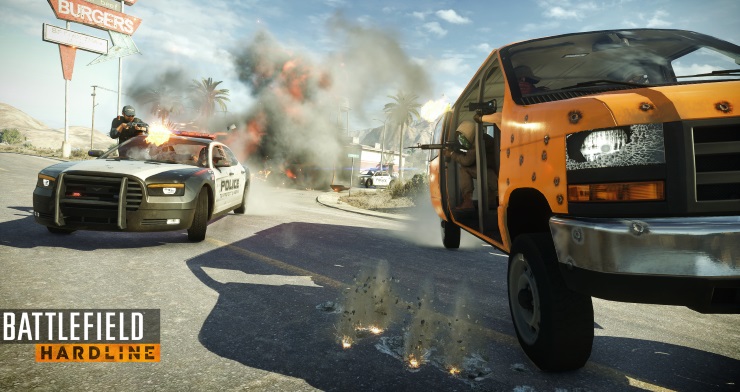 The Hotwire action moved on to the equally impressive Downtown map – a sprawling cityscape with plenty of scope for crazy driving stunts. Hotwire is impressive because of the sheer variety it brings. One minute you could be sat in the back of a Police car, spending shotgun rounds out of a smashed window at the enemy Sedan you are neck and neck with. The next moment you are driving a stolen car yourself, and squish a hated copper at high speed against a crash barrier. You can get out of the vehicle you are in and progress on foot if you wish. But why would you want to do that?
The second mode we experienced was the superb Heist. A well constructed effort which, although very much a capture the flag variant, presents a killer and very entertaining bank job scenario. Criminals have to blow their way into a vault and extract two packages of sweet, sweet cash to predetermined points on the map. The law enforcement officers have to prevent this from happening, and can hinder the thieves by disarming the explosives being used to get into the vault or intercepting the packages – but ultimately the Police win by killing the perps one by one until they have no tickets left.
During Heist mode I had a good tinker around with loadouts. The staggering amount of firearms on offer, and the ways you can customise them are brilliant. Whether you are a smoke grenade kind of guy, or prefer the home-made simplicity of a Molotov, there is an incendiary sub-weapon for you. Fancy pink zebra print along the casing of your assault rifle? Knock yourself out. All of your faves are there – tazers, lengths of metal pipe, rocket launchers; it is seriously impressive.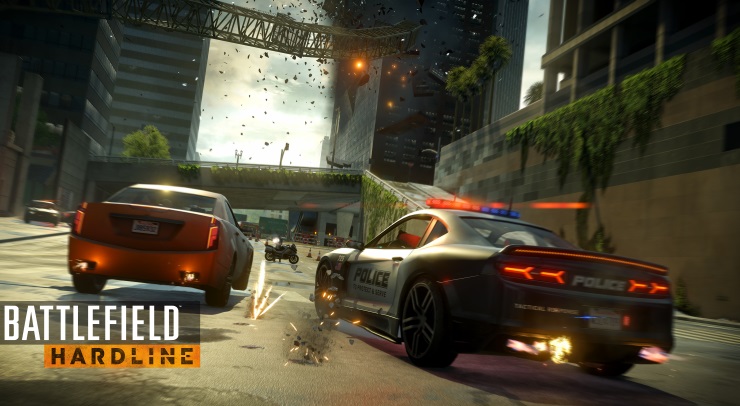 Speaking to some of those involved in development, there will be a lot more than just multiplayer thrills from Hardline. Visceral have form for constructing decent single player campaigns in the past, and it goes without saying that I am extremely excited about what may be in store. Just imagine a single player experience operating on both sides of the law, perhaps with a bit of co-op built in, you and your mates executing a bank heist or chasing down criminals together.
As someone who is relatively inexperienced with Battlefield, I walked away hugely optimistic about Hardline, knowing full well that I'll be buying it when it comes out in March. When a game can make me do that solely based around some multiplayer action, you know it might be something special.