With the Earforce Stealth 420X, Turtle Beach are adding a third fully wireless headset to their range for Xbox One. The Elite 800X and 500X already offer almost unbeatable sound quality and functionality and, while the 420X doesn't fully match either in those areas, it offers a cheaper alternative that still manages to deliver some of the best feedback attainable to gamers.
Less involving than its more expensive stablemates, the 420 comes paired out of the box with a USB transmitter that plugs straight into your Xbox One. Twenty minutes of charging later and you can be experiencing fantastic sound quality from the other side of the room. It doesn't boast the robust line-up of preset functions enjoyed by the 500x, but its ease of use makes up for that.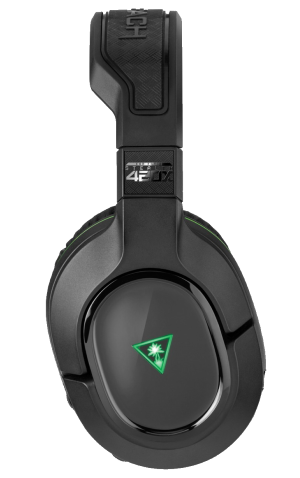 It comes with the standard cables, including a 3.5mm jack that lets you use it with any device as long as you don't mind plugging it in. Obviously the mic only works with Xbox One or a PC, but I've been using the 420X with the PS Vita and experiencing no loss of fidelity. The presets available are decent, but they're not quite as crisp and clear with music, and struggle to really do justice to heavy bass and rock. The ambience of a video game, however, especially something atmospheric like a horror or loud and thrilling like a shooter, translates faultlessly through the cans.
Characteristically stylish, the polished black finish and lime green LEDs advertise that this a Turtle Beach headset from a mile away, but the 420X isn't as comfortable for long periods as the 500X I reviewed a while back. It's understandable, given that it's a cheaper design, and I wouldn't have a complaint if I hadn't been using the more expensive model recently. The strap is fully adjustable, and the cans are slightly smaller, owing to less weight – which is probably why they didn't feel quite right to me.
On/off, mute , mic and volume control are dotted across both earpieces and are easy to access and use. Once again, this is less complicated than Turtle Beach's other two wireless headsets, but the extra bells and whistles aren't really necessary for most gamers.
Coming in at around £150, the Stealth 420X isn't cheap, but it is remarkably well-priced for a fully wireless gaming headset of this quality. Turtle Beach never fail to deliver, and if you're looking to improve your gaming experiences, and you prioritise comfort and affordability, there are few alternatives, if any, that offer this level of quality at this price.