This War of Mine: The Little Ones really struck a chord with me. The idea of playing as a civilian affected by war is a great concept to play with, instead of the typical path of a muscular one-dimensional soldier whose only goal is to blow things up. Whilst taking notes for the review, I started to write down every thought that the characters had, every bit of story and everything that happened to my characters as I progressed through my first play through.
I thought it might be quite beneficial for anyone that is interested in playing This War of Mine: The Little Ones to read about what happened to me during my first play through. I wanted to document it because of its affecting nature, but I also wanted you to see what happens if you aren't fully prepared for the horrors of war.
Before you read on, this article may contain spoilers depending on how you play the game. It is an account of my first play through of This War of Mine: The Little Ones and offers a look at the severity of my choices and the kind of events that may occur when playing. Everybody's game will be different as the buildings you occupy and characters you play as are generated randomly, so your experiences may differ to mine. All the opinions of the characters involved are solely theirs and all of the fiction below is from in-game dialogue and story boxes created by 11 bit Studios.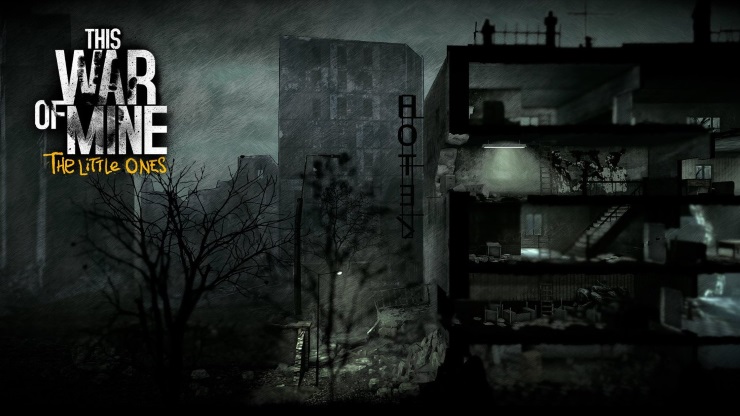 Day 1 – Marko, Pavle and Bruno spent the day building beds so that they aren't sleeping on the floor, but the parts they needed weren't easy to find. In some of the deepest corners of the house stand wardrobes stuffed with equipment that has been there since the house was previously occupied. Pavle had to dig through the rubble with his bare hands because he didn't have a shovel to make it easier, rendering him tired and exhausted. I can see that this is going to be tough – the gun fire in the distance echoes the danger of this whole situation.
Day 2 – Pavle went out tonight and managed to find some wood and spare parts that will help to build a cooker. It will be so nice to have food as the group is starting to get hungry as the days move on.
Day 3 – Marko is by far our best scavenger, but tonight he came home with nothing. He encountered an elderly gentleman who begged him not to take any of their medical supplies because of his sick wife. The guilt was too much and Marko returned with only a handful of supplies. He left all the medicine and bandages alone.
Day 5 – After going without food for so long, Marko went to find some in supposedly abandoned apartment. He never returned. Marko found a ruined villa on the outskirts of Pogoren, but inside he found a family protecting their stuff. I don't know whether he was scared, stupid or both – either way, he wound up dead. They gave him a chance to leave, but he attacked them and they overwhelmed him. They stabbed him repeatedly until he breathed his last breath.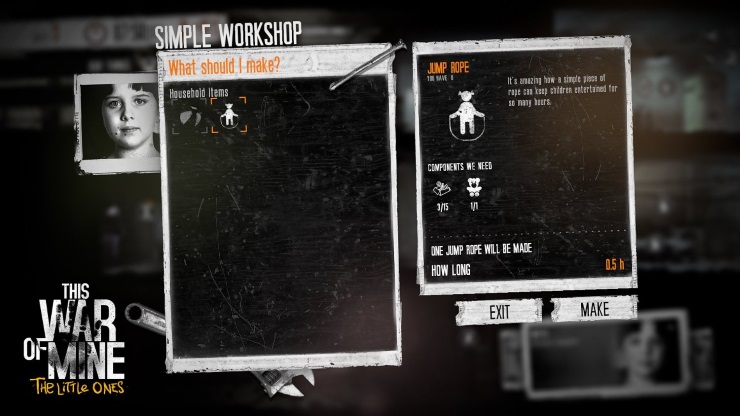 Day 6 – Food is scarce, medical supplies are low and Bruno hasn't had a cigarette in days. Revenge is on Pavle's mind and at night he went back to the villa to find those that killed Marko. He took his knife and in a fit of rage, killed the family. He gathers supplies and headed home, unable to deal with the things he had done. He wondered if it was all worth it and whether he'll ever be able to forgive himself. He used to play football for a living and now he's a murderer. Bruno doesn't agree with what he did, but chooses to work together with him anyway, despite feeling more discordant than ever.
Day 7 – Pavle is suffering strongly with depression and he's started to question why he's even bothering anymore. The building was raided yet again, and it's now the second night in a row that Pavle and Bruno have been raided. Lots of supplies have been stolen and once again, there is no food left.
Day 8 – The night's scavenging was hopeless, and Bruno returned to a dreadful sight. Pavle couldn't take it anymore. His lifeless body hanged from the ceiling. Suicide was the only option he thought he had. He thought he'd never see his wife and son again so he ended it all. Poor guy.
Day 9 – There was a knock at the door today from a guy called Daniel. He asked Bruno if he could look after a young boy called Misha. Misha had lost his family and needed somewhere safe to stay. After all the death, Bruno thought it'd be nice to have a little company so he welcomed the child in.
Day 12 – A few days have passed and Bruno had formed quite a friendship with Misha. Daniel said he'd only be a few days, but he still wasn't back. Bruno built a swing for Misha, and he's spent many hours enjoying playing. It's good to hear children's laughter amidst the gunfire. Bruno even managed to trade a few bits and pieces for food and medical supplies. The house has no protection and they have no weapons, but maybe things are looking up.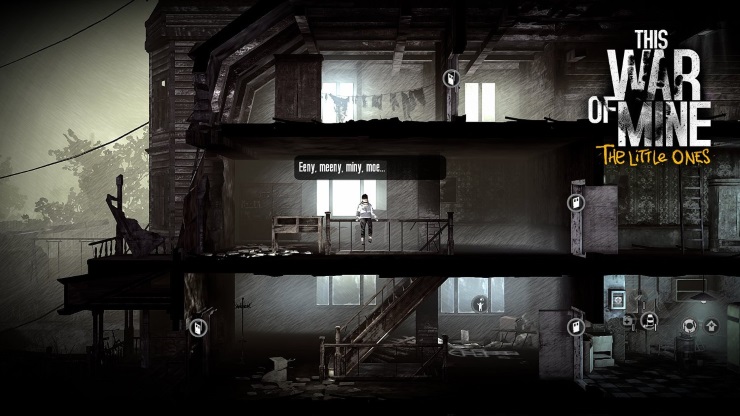 Day 13 – Finally, Bruno received some support today in the form of new friend and ally, Boris. He's slightly sick, but will definitely be able to carry a fair amount of supplies on the hunt. I hope he manages to get the household some food because Bruno is starving, as is Misha.
Day 14 – Just when things start to pick up, the house was raided in the night and Misha and Bruno were severely injured. They have both been trying to sleep off the injury. They have no medicine or bandages to help to get them better. Misha wet the bed and Bruno is talking about bleeding to death. Boris is trying to make the best of it all, but things aren't looking good.
Day 15 – There was another visit from a stranger today and he offered Boris some bandages in exchange for electrical parts. The group can't afford to eat or fortify the building's defences, but at least they can provide something to bandage the wounded. Misha is broken; not only is he struggling with the pain, he's drawing horrific pictures of soldiers murdering civilians and it is making the others uncomfortable.
Day 16 – Upon returning home from another night of scavenging, Boris found that there was nobody in the house. Bruno and Misha had ran away to find help. Boris was left alone. He now had to find a way to survive alone. Maybe it would be easier having only one mouth to feed.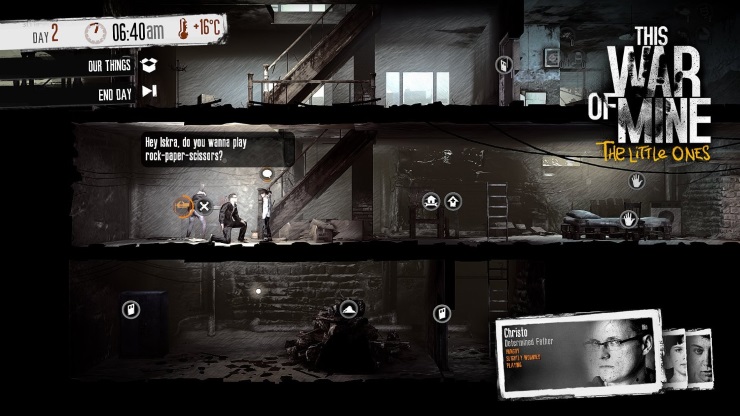 Day 17 – Boris nearly died tonight after being chased out of St. Mary's Church by a gunman. He looked like military and was within feet of Boris before he managed to escape. As if that wasn't harrowing enough, the house was raided and everything was taken; every scrap of food and every spare part – everything. Boris could really do with a break.
Day 18 – In a last ditch attempt, Boris chose to go for medical supplies and food at the local hospital. Within seconds of arriving, he was met by a guy with a shotgun. He looked like a civilian, but nonetheless a threat. "There's more than enough for both of us," he said to Boris. Without a second thought, Boris ran in and took as much as he could. Maybe things were getting better and this cloud had found its silver lining. Unfortunately, as Boris returned, the previous night's entire haul had been stolen. He was never going to get enough parts to build barricades for the doors and windows now, but he had to try. He had to survive.
Day 19 – Boris slept most of the day. He knew he had to make a big push at night if he was going to find the correct parts he needed. He's not had a decent meal for so long, and the supplies that awaited him in a nearby safe house were there for the taking. As he creeped around the house, one of the doors swung open and awoke someone upstairs. Seconds later, Boris had his hands in the air as the stranger held a shotgun to him. "Get out now," yelled the man. Stubborn and desperate, Boris tried to steal a few more items before he left. Sadly, he got shot in the back and the wound was deep, causing a great deal of pain. Bleeding out and without a shred of hope left, Boris returned to an empty home with nothing to his name.
Day 20 – Boris died in the night. This war of mine had taken away everybody and the wind whistled through the empty house. The building was once again uninhabited and the gunshots were still heard in the distance.