NVIDIA's SHIELD TV is a complicated box. In many ways it does all things you could ever want from a streaming box, but it also comes with a minimum 16GB of storage and a SHIELD controller to play games that are actually installed on the device. Of course, those games have to be ones that are downloadable from the Google Play Store, because this is, after all, an Android box, a Steam Box, a games console, and almost a mini-PC all in one. Oh, and it even does 4K resolutions, too. What I'm saying here, is that it's a serious bit of kit.
Yet, for all of this, I find it hard to understand fully who it's aimed at. GeForce NOW is NVIDIA's own game service, and one that lets you stream a collection of "50 classic titles" or newly released games (including games as recent as The Witcher III, but also not including ones like Mad Max, which is coming soon) from their online store, instantly available to play. This service costs £7.49 a month, and you can even get a three month trial today. In that respect, the SHIELD can alleviate the need for a thousand pound rig to run PC games from, assuming you're happy with the library on offer.
But you can stream from that expensive PC to the SHIELD, if you want – and I do, so I did. Using the GeForce Experience is a simple way to do it, too. Running from TV to PC only for a single setup procedure is all it takes, and you can stream pretty much any game from PC to SHIELD. In fact, it even works with non-Steam titles, and will happily run games like Ubisoft's Far Cry Primal through uPlay, which was a welcome surprise. It's basically mirroring your PC at this point, which means with some fiddling around you can probably have it literally be just that, a mirror, which is useful, because there are some more obvious things that the SHIELD doesn't do as well. I had issues with playback of certain videos in Chrome, but PLEX is included, meaning any audio or visual content on my PC could be played with a minimum of effort, too. Another box checked for the SHIELD, then. It's worth noting at this point that I mostly tested the SHIELD via a wired connection, which you should do, too, if you're serious about quality when streaming. It's never going to be flawless, save for those on an obscenely priced business-internet-connection, but nonetheless, it made for perfectly playable gaming, if at a slightly reduced resolution.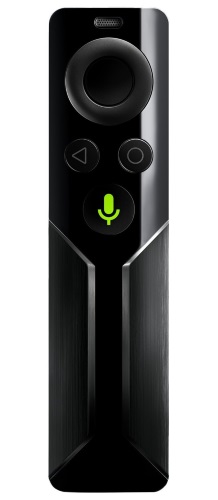 As mentioned, you can download games that are Android compatible directly to the device. The question really, is why would you want to? There's not exactly a huge library of high quality games, and it suffers in the same way the Apple TV would. Yes, you can play Crossy Road and Pac-Man 256 on your shiny new box, but it's easier and better on your phone. You can download Metal Gear Rising: Revengeance, but again, if you wanted to play that game then you already would have. It's not NVIDIA's fault, of course, but I'm just making sure you realise that there's not exactly a tremendous amount of quality in among the free to play mobile games that are all the rage these days.
Sadly, the controller itself isn't quite up to the standard you'll be used to if you've ever used a PS4 or Xbox One. That's not to say it's bad by any stretch of the imagination, it just doesn't quite approach the highest of the high. There's no questioning NVIDIA has tried to make this the best they can, and it does have a rechargeable battery (via USB), but even next to the optional SHIELD remote (which feels expensive, and like an Apple TV remote with its touch sensitive volume controls beneath the voice activation button) it feels of a slightly cheaper quality overall. On that note, the box itself is sleek and stylish, and slotting it into any setup is a breeze. With two USB 3.0 slots, a MicroSD and Micro USB 2.0 slot, there's plenty of opportunity for expanding your storage if you do choose to go for the 16GB model.
Where it excels, though, is in ease of use. The remote, like the controller, has voice command functionality, so you can just press a button and it'll find what you need. I tested this a lot and it almost always nailed what I was looking for, and if you've got the internet speed and a 4K telly, I'm sure you'll be laughing with the SHIELD. Ultimately, the SHIELD TV is a future proofed box that will let you play PC games in a variety of ways, or stream TV at 4K resolutions. It's not a cheap box (around £149 or higher), so you'll pay a premium for it, but if your needs are met in any of the above text, you'll be hard pushed to find a better box.
For those outside of the Apple family, you'll find this a tremendous Android TV unit, and for those of you addicted to Apple's products, you'll be left wondering why it can't let you stream PC games yet. You'll struggle to find a better under-the-tv PC gaming box without spending a lot more money on something like an Alienware Alpha. But make no bones about it, what you're buying into, here, is a a future-proof Android TV, and the best on the market right now.
Review sample including remote supplied by manufacturer.