The Thrustmaster Y-300CPX is a comfortable, affordable headset that has multiple volume controls, full compatibility, and great audio performance. It is by no way the greatest on the market, but its ease of use makes it a great addition to any gamer's hardware collection.
Not only is the headset compatible with PS4, PS3, Xbox One, Xbox 360 (providing the controller has a 3.5mm stereo headset jack), PC and Mac, it now extends its range to the Nintendo family by providing compatibility for the Wii U and 3DS. In addition to this, you can also use the headset for your PS Vita, tablet and Android phone, even allowing call functionality for the latter. It's the perfect headset if you have more consoles than you know what to do with, and even though it's optimised for the current gen, you'll still find it useful for when you need to keep your game of Candy Crush to yourself.
As far as audio goes, the Thrustmaster Y-300CPX manages to provide sharp, well-rounded amplification due to its stable frequency responsive curve. The first game I wanted to try with the headset was Star Wars Battlefront due to the amount of sounds and action you can get from any one game online. Every explosion, pistol and vehicle making a sound was picked up and singled out marvellously, giving the sound effects real clarity when I was running through the maps. The bass didn't drown out the sharper sounds and there is always a perfect balance, but it hit you in the chest and provides a great level of amplification, due mainly to the double electro-acoustic bass sound amplifiers.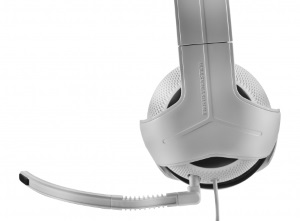 One of the ways I decided to test out the mic was by streaming to Twitch and watching the playback afterwards, helping to detail the responsiveness and effectiveness of its unidirectional mic. The sound I captured picked out my voice and nothing else, helping to drown out all other sounds and giving sharpness to every word. The options to adjust various audio levels worked wonders on the cable's multifunctional control. Like most headsets, you can turn the mic on or off, and you can choose to turn on your voice so you can hear it through the headphones. When you do hear you voice, there is some mild distortion and feedback, but the voice feedback system helps to eliminate any of these problems.
For me, the game volume never reached the levels I wanted, and compared to other headsets it remained a little too quiet at certain points. There were times when I heard cars driving past on the street and my kid's footsteps on the landing and I would have liked a more contained and immersive audio experience.
The Thrustmaster Y-300CPX is comfortable on the ears and the head. It's snug, but never restrictive and the cushions are placed perfectly. Even though the headset is wired, having four feet of cable means you can sit back a fair way from your console and still remain content. It is a great headset and not too heavy either, so you don't feel like you're carrying the weight of four cinder blocks on your shoulders.
I really like the Thrustmaster Y-300CPX. If you want a decent headset at a very reasonable price, it's a no-brainer. You get great comfort, audio balance and performance which are perfect for online streaming and gaming. It lacks a lot of pre-sets and features you may find in the high-end of the headset market, but it still helps to provide you with a solid audio performance whatever you choose to use them for.