I've been looking forward to No Man's Sky ever since it was first revealed all those years ago. In fact, I still remember how truly excited the announcement left me; the vibrant colour, the strange wild life, being able to hop into a ship and leave the planet all in one flowing move without loading screens. It was something completely different and something we've all been wanting to play all our lives. It wasn't until just two days ago, while I was standing on a beach in North Wales at 01:30 in the morning did I truly realise I really can't wait for No Man's Sky.
I'd been in Fairbourne, a tiny, tiny little sea side town in Gwynedd. A village that had three corner shops, a chippy, a bakery, a butchers, a launderette, a bar and grill attached to a pitiful arcade, a dive pub, a café and a very expensive Indian restaurant. A village where trains only come through once an hour at best. A village in which you could quite easily count the total number of houses within it and which you could walk around completely in about thirty minutes if you were taking your time. A village in which a phonebook, if it had one, would be about a single page long and had absolutely no 4G, or even 3G, in the slightest.
What Fairbounre lacked in technological advances it more than made up for in friendliness, peace and utter beauty. Fairbourne is surrounded by the grassy mountains of Snowdonia, is a walk away from a fairytale-esque hidden lagoon in one of said mountains and has a stunning beach that has sand, pebbles, rock pools and the rocky Irish sea. The mist rolled over the mountains as if a giant dragon was breathing light smoke out of its nostrils and I just looked out towards them and then back towards the sea, thinking that Fairbourne is tranquil and utterly lovely.
Apart from the weather.
It rained that grim, fine drizzle, that makes everywhere seem dull and miserable. It blew gales as if we were actually in the middle of Tornado Alley rather than the Welsh coast and the sky was nothing but a slick, gloomy grey, meeting the quicksilver sea in the most wearisome of horizons. It was like this for about five days. Don't worry, I'll link this back to No Man's Sky eventually.
So this fifth day was particularly bad in the weather department and it had been blowing hurricane level winds for the vast majority. We didn't let the weather put us off having a good time or anything during our stay, but minging weather certainly does limit the options on activities. So we stayed inside and pottered about for the day. Just chilling out: drinking, playing board games, sleeping, watching Tipping Point, Egg Heads and Man vs Food. A proper laid back, lazy day as the wind howled like a banshee outside.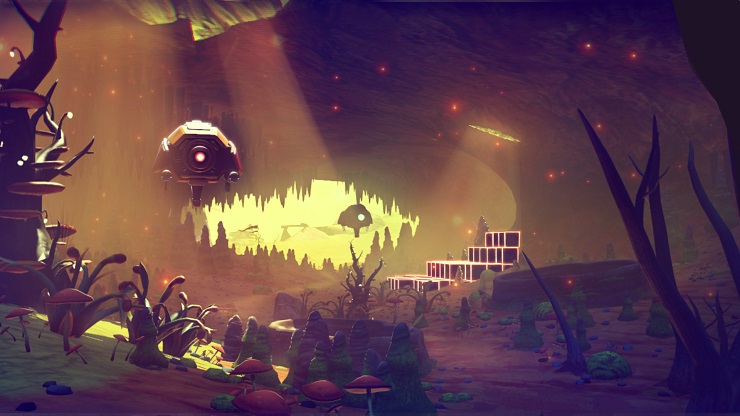 Then as we ventured outside later that night and the wind had gone all quiet, we discovered that the gale had actually blown all the clouds away; for the first time of the week we had a completely clear night sky. Oh, and it was quite warm, too. As I so vividly described, Fairbounrne hasn't got much in terms of anything, and that goes for streetlights, or just lights, too. The town is pretty isolated, at least two miles and a whole estuary away from its nearest neighbour, so the nights are as dark as sin. We walked to the beach, which literally took twenty seconds from our bungalow, and gazed up towards the sky.
Stars.
Everywhere stars. Thousands, millions, billions – all twinkling away in the void. The North Star, the Big Dipper and all the other constellations that I don't know the name of, all on sparkling display. Little embers of exploding dust, gas and particles dying in the most glorious of ways, shining into the darkness. You could see them all. Some beachgoers had left their well constructed fire burning so we went and sat around it ourselves. Continuing to look up, shooting stars ripped across the night. Loads of them. So much so that I don't really know how making a wish upon them every became a thing. I even swear, hand on heart, that I could see the Milky Way.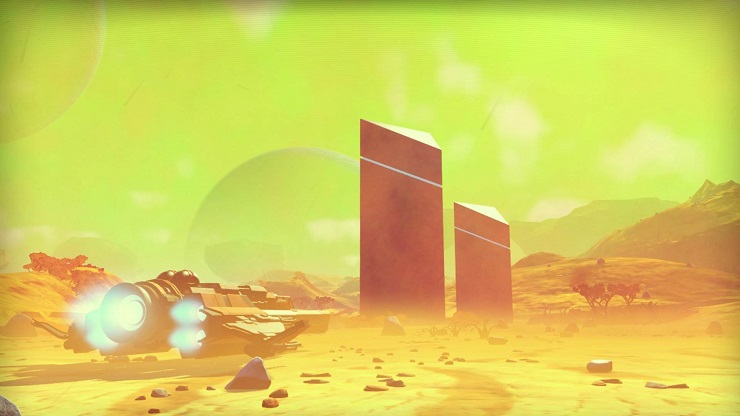 The point is, I was looking up at this awe inspiring sky for ages, as the fire burned beside me and even though I was left stunned by the beauty, I was hit with a twinge of sadness. I'll never go up there, I'll never explore outer space. I was born too late to discover this planet and I've probably been born too late to discover what else is out there in this world.
That's where No Man's Sky comes in. It may not be our galaxy, or any real galaxy, that we all explore in NMS once it's released, but it will be a galaxy. It will be something completely new, weird, undiscovered to go out and find, explore, name. The possibilities are endless, and I simply cannot wait to be able to climb into my little spaceship and just fly on the frontier and see what I can find.
There's been a great deal of talk and controversy over the last few weeks about this game, but I really couldn't care less about any of that. I just want to do something in a game that I'll never be able to do in real life; be an astronaut, fly amongst the stars and be the first person to be somewhere. And isn't that what games are all about?