Xenoblade Chronicles 2 patch 1.5.0 is now live adding Challenge Mode and more for Expansion Pass owners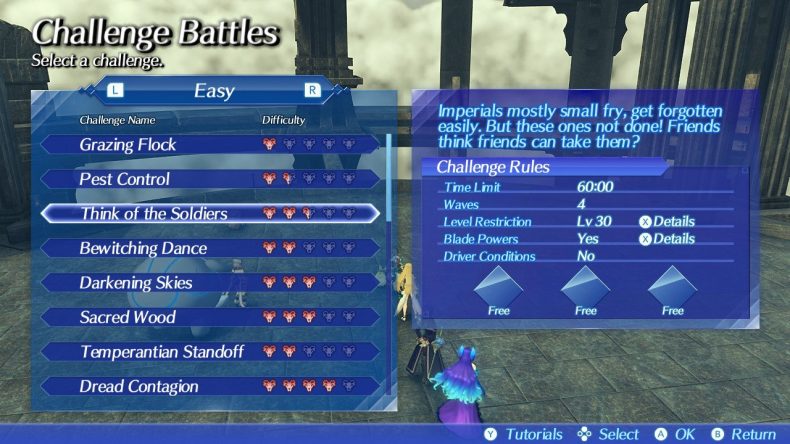 Nintendo just released patch 1.5.0 for Xenoblade Chronicles 2 a few hours ago.
This patch fixes a few issues but is mostly for adding the challenge mode for expansion pass owners.
The full patch notes are below:
Issues Fixed
The fix associated with acquiring Perun's Key Affinity Gift intended to fix the counter for "small good deeds" applied in Ver. 1.3.0 did not completely solve the issue, so an additional fix has been made.
Changes and New Features
New Unique Monster Subjugation Reports have been added.
Defeating a unique monster will record the time it was defeated. Subjugation reports for defeated unique monsters can be found by examining their graves, or by selecting them from a list provided by the battle auditor in Garfont village.
An icon will now indicate when a monster has become enraged during battle.
Added the "Nopon Summons" option to the Expansion Pass menu, which allows access to a new Challenge Battle.
Challenge Battles allow players to cross paths with Shulk and Fiora from Xenoblade Chronicles. They feature a high level of difficulty but offer rewards such as new accessories, Aux Cores, and Noponstones.
Noponstones may be exchanged for items that slightly alter the appearance of the party characters or for Poppi's rare parts. (These changes in appearance may not be reflected in all cut scenes.)
Completing these difficult challenges will grant the player key items allowing Shulk and Fiora to join their adventures in Alrest. Make sure your drivers and blades are ready before taking them on.

Added functionality for "Extra Game Options" newly added to the Expansion Pass. Once received, the following features will be added to the game settings portion of the options menu:
Auto-Battle:
Enabling this feature will cause the character under player control to use arts and blade switch automatically after engaging in battle.
Automate Special Button Challenges:
Enabling this feature will allow button challenges for Special moves to be skipped by causing them to succeed automatically with a "Good" rating.
Enemy Aggression:
Disabling this will prevent enemies from initiating combat. (Does not apply to unique monsters, bosses, quest enemies, or salvage enemies)
September will also see the Story Expansion release at retail as a standalone release. The trailer below has spoilers for the base game so don't watch it until you beat the game.
Xenoblade Chronicles 2 is available on Nintendo Switch.