It feels like the spotlight has moved away from the Battle Royale genre a bit, of late. I used to see it everywhere on social media and on almost every gaming website, even on non-gaming sites when Fortnite took over the world for a while. With Season 10 (or X, as Epic would have us say, because apparently the X is still cool) now live in Fortnite, I still haven't seen the same level of hype and mania as in previous seasons. Could that be because Fortnite has peaked, or is it down to the genre's newness having waned?
I mean, Fortnite is still massive on the likes of Twitch and Mixer (now made even more popular with Ninja's move), but the numbers still seem a lot lower than they used to be. Especially at the start of a new season. It's not just Fortnite though, as PlayerUnknown's Battlegrounds is also seeing much smaller numbers of viewers and although I still like playing the game now and again, even my interest has dropped off recently.
Perhaps that's why nobody is talking about Battlerite Royale. It's been around for nearly a year on Steam, but recently went Free-to-Play and honestly, I find myself surprised that it hasn't had more success.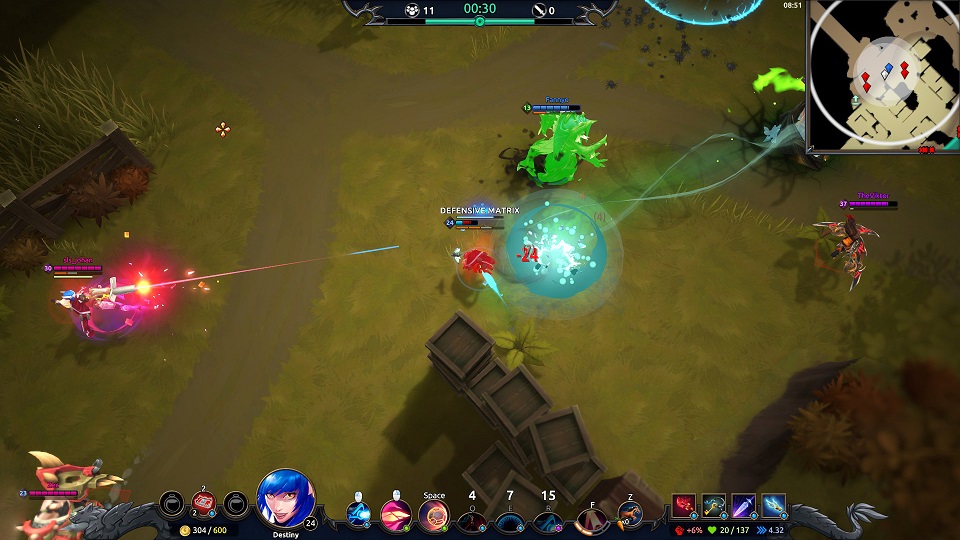 Okay, so it's not your standard battle royale game. It isn't a shooter and it's even played from a top-down perspective, which will immediately throw off a few people. What it is, however, is basically Diablo Royale. It even has that Blizzard art style, which isn't to say that Stunlock Studios has copied the style, it feels more like an homage. There's also a large cast of characters to choose from, each with their own distinct style and their own strengths and weaknesses.
At the beginning of every round, in the lobby as players wait for the match to start, you have a small amount of money to spend on various abilities. Otherwise, you will start with your regular attack (holding the left mouse button, aiming using the cursor in a twin-stick shooter style. This is how I began my first match in Battlerite Royale, with Freya, a melee-focused champion akin to Diablo III's barbarian. I didn't know any better, didn't quite understand the Counter-Strike-esque buying of abilities before the match, yet I still came away from that first match with four kills and finished in second place. Now, that isn't me bragging, it's simply a testament to how easy it is to get to grips with the game.
Every player starts each match on the back of one of two great dragons, looking down on the map in much the same way you would in any of the usual battle royale suspects. Pressing Tab will bring up the map and small, red triangles will show the location of those jumping from the dragon. These triangles will disappear once they hit the ground, of course, otherwise you would always know where other players were and that'd take away the tension as you searched the map for item orbs. These orbs contain single-use items, health potions and new weapons/abilities for your chosen character. Weapons and abilities come in different colours to represent their rarity (and thus their power), and build your arsenal of abilities. These can be swapped out as you progress and find more orbs, or can even be bought/upgraded at merchant stands dotted around the map. This will leave you open to attack, of course.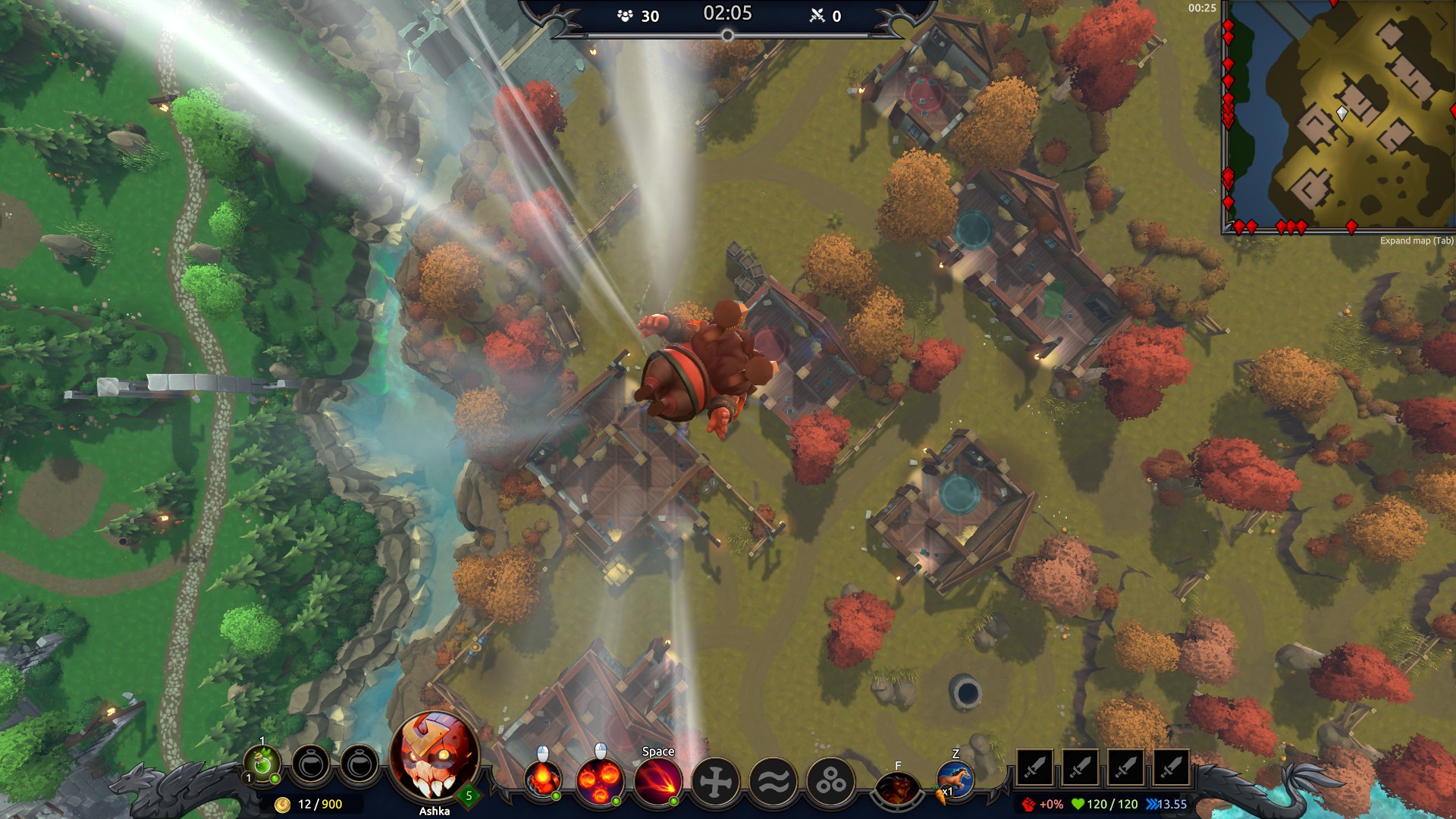 I won't beat around the bush, it will probably take you a moment to get used to the controls. They are simple, with WASD moving your character and the mouse doing all the aiming, but as your abilities increase in number, you'll have to remember which ones are assigned to keys such as Q, E and R. Once you learn the moveset for each character, the key assignments will always be the same, and mousing over an ability's icon will tell you what it does, which is why it does tend to be easy to learn. It just might take you time, early in each match. Until you find the character that best suits your play style, anyway.
I'm still experimenting with the champion roster, though new players will have a limited roster that can be expanded through in-game currency or by spending real money on the "All Champions" pack. These champions are split into melee and ranged categories, with certain ones labelled as easier for beginners. Like Overwatch, each character has their own ability list and that includes an Ultimate, which becomes available through dealing and taking damage. This is often a big attack, needing to be manually aimed with the mouse before unleashing whatever hell is contained within your chosen avatar. It's especially gratifying when you finish an opponent in this way.
I'm really enjoying my time on Talon Island, with its strong colours and fantasy cliches. It even has a snow zone, a desert-like zone and a green, tree-filled zone, completely ignoring any kind of realism in terms of climate. Each area is dotted with abandoned houses, ruins and other buildings, ideal for hiding away those item orbs. It's the same as searching for weapons in PUBG, or chests in Fortnite, just from a fantasy angle. It's big enough that thirty players (the scoreboard suggests there might be room for more) can run around with time to explore, and not so small that you'll be killed immediately upon landing on the island. Well, unless you choose to land near another player who just happens to be better than you. Or luckier.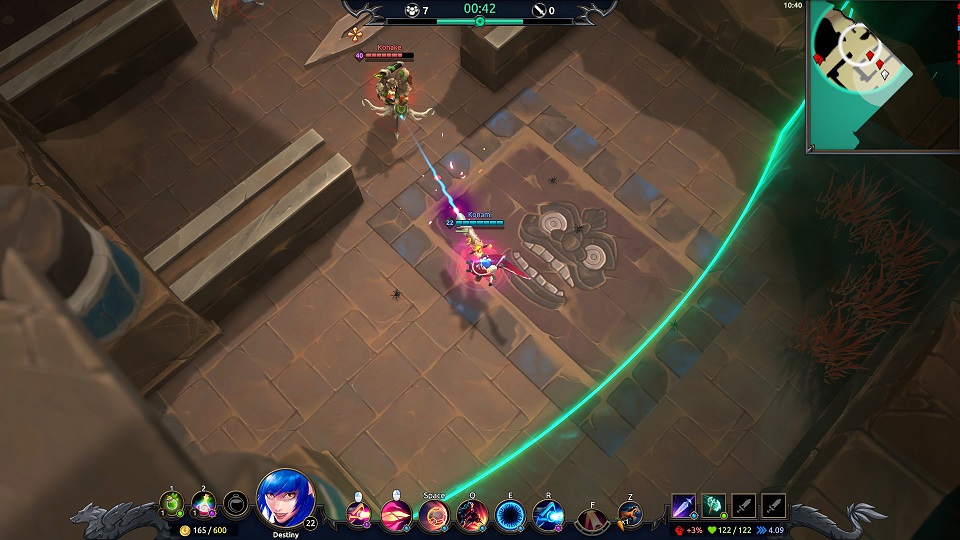 As it's a battle royale, there is also a circle that periodically shrinks. Outside this circle, the Death Vortex will close in, but luckily I haven't been caught in it yet. Fortunately, I have won a match because the other player must have been caught outside the circle. Although I was slightly disappointed that I didn't win through combat, I wasn't complaining. I've never actually won a match in any battle royale game (50v50 in Fortnite doesn't really count), so I was really pleased with the result. What was more surprising was that I was playing a character whose main attack was throwing acorns at her foes, which led to me expecting a quick death. Since then, Blossom has become a favoured character.
Look, I know Battlerite Royale is technically a mashup of MOBA and battle royale, but it felt more like Diablo to me. It's just so playable and feels more balanced than any of the shooters, and it's genuinely fun to play. Fights aren't over in seconds, they generally feel quite tense and rewarding as you circle each other, either running in swinging with a melee character or trying to keep your distance with ranged attacks like I did with Blossom. Of course, better players are still going to manage their different abilities better than I can, but sometimes a bit of patience (and often luck) will serve you well. In some ways, it reminds me of when you have a really good fight with an invader in Dark Souls. Only without the horrifying humiliation of constant defeat.
Whether the battle royale genre has waned or not, whether its popularity has hit a plateau due to it becoming more commonplace, it doesn't matter. It's nice to see a different take on the idea and honestly, Battlerite Royale deserves a bigger audience. Perhaps not being on console hurts its chances, but with relatively low requirements on PC (they're lower than World of Warcraft), coupled with its recent move to Free-to-Play, it can't hurt to give it a look.
As for me, I'll continue exploring the character roster, in search of a second victory. Battlerite Royale is pretty good, folks.