Just outside of Kraków, Poland, this weekend saw the first major international tournament event for Apex Legends: the Apex Legends pre-season invitational, starring the latest battle royale phenomenon from Respawn Entertainment and Electronic Arts. 80 teams were invited to compete for their share of half a million US dollars in total prize money, which was to be distributed across all top 20 finalists and an $8,000 'predator' prize for the top fragger. There was an air of experimentation around this tournament, with EA/Respawn wanting to dip their toes in the water and see if there's an appetite for a large-scale Apex Legends tournament. With the winning team walking away with $105,000, second place taking $75k, and 3rd place nabbing $60k, this was no small fête.
Set in Alvernia Studios, this was truly an amazing venue to host a video games tournament. It has a wow factor that translates well onto the screen at home. Being there in person just adds another level to the awesomeness, it's like you're walking around a DOOM map. Spectator tickets were available for $25 but the audience size was very limited. These were more for the friends and family of the players than your average consumer. The real audience were watching from home as the event was being streamed live across all platforms.
Viewership hovered around 50k on Twitch throughout the event, reaching just shy of 100k views on the final day. YouTube live audiences were very low at around 10k live viewers, but have since hit 400k views for Day 3 VOD footage. There's definitely a demand for this kind of online event. Interestingly, Mixer failed to hit four digit viewer numbers – perhaps something to do with their algorithm or lack of support for live events? EA/Respawn were promoting all channels equally, so it's bizarre to see such a low take-up from the Mixer community.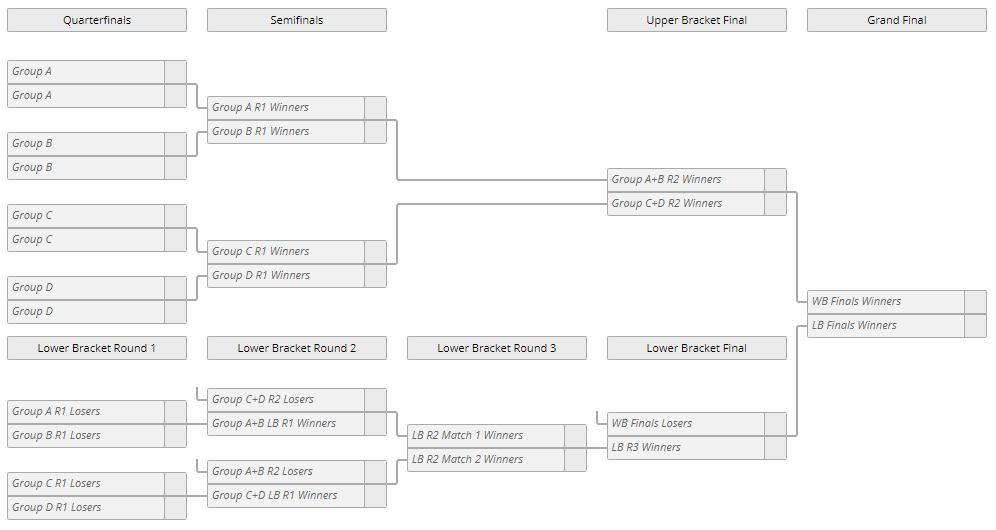 The double elimination winners/losers bracket format can seem quite confusing at first, but it essentially means every team has multiple chances of making it to the Grand Finals. The top 10 teams from each round move up the ladder, and the losing teams shift from the winner's bracket to the loser's bracket. What we ended up seeing was an impressive number of teams in the Grand Finals who had fought their way back through the loser's bracket, and boy did they earn it; some teams had competed in three times as many matches as those who clung on to the winner's bracket. Third Impact, for example, dropped out of the winner's bracket after round one, won in the loser's bracket rounds 1, 2 and 3, followed by the loser's bracket final, then ended up taking home $7,800 in the Grand Finals. Quite impressive.
Battle royale matches can be famously slow to start, with teams dropping into a vast world and scrambling for loot. The first ten minutes of a new round can arguably be skipped – this is your time to go make a cup of tea – but after that things do progress quite rapidly. If there's anything Repsawn could do to speed up those first 10 minutes with an eSports mode that might go down well with audiences. You're bound to get teams who play it safe and camp out, and the addition of the Wattson character doesn't lend well to competitive eSports for that reason, but once the pace has picked up in the latter half of each round it's a joy to behold. Again, there are elements of repetitiveness, with the same 3 weapons being used each game (namely the Wingman, R99 and Peacekeeper), but the playstyle of each team really comes into its own as the circle pushes them all closer together and tensions rise. Here we could see that players had a real knowledge of the map, trying to guess where the circle would end up and nabbing some really crafty spots.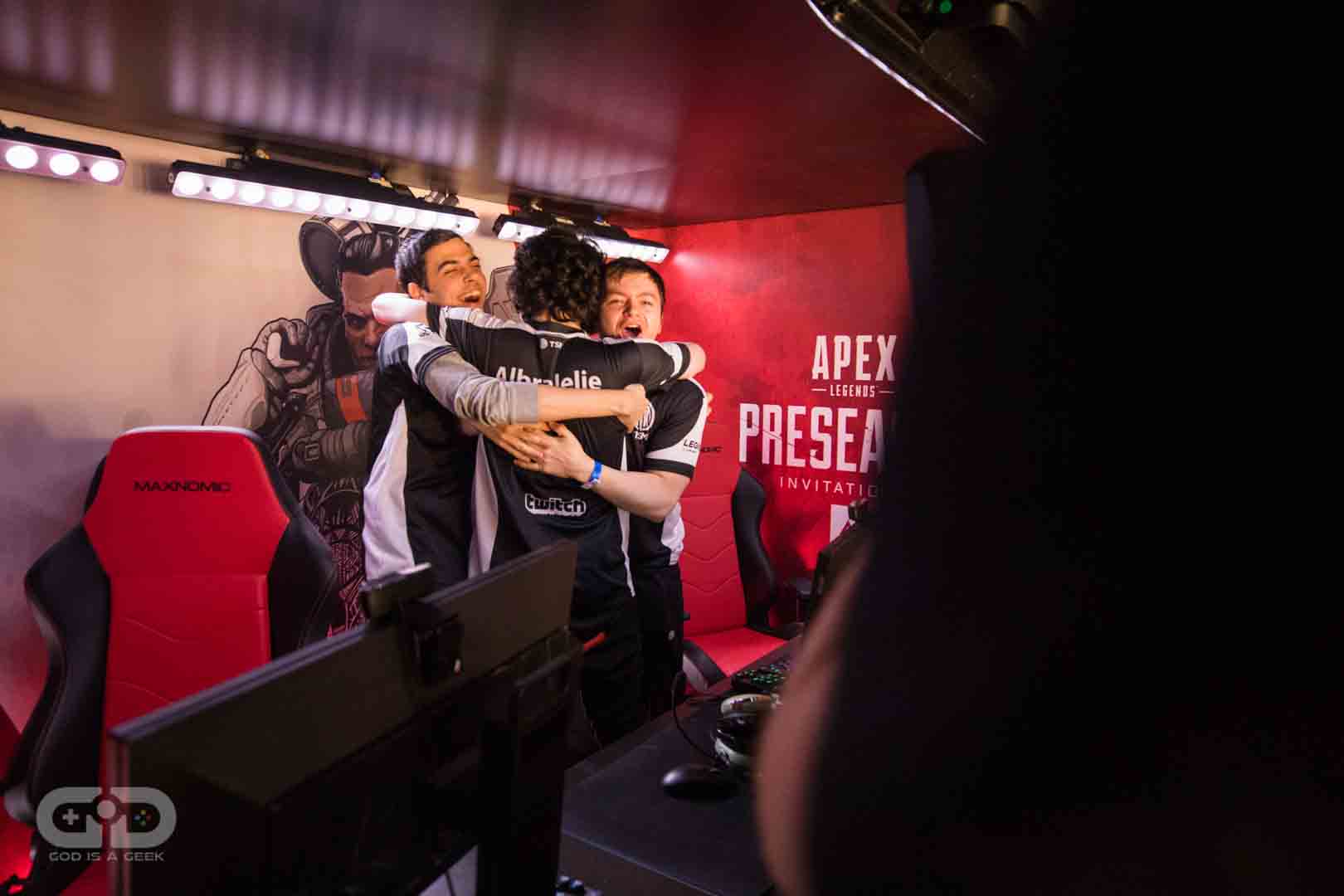 The fact that some players were using controllers during the Apex Legends pre-season invitational – complete with auto-assist – while others were #pcmasterrace using mouse and keyboard was a slight point of contention but other than the occasional dig during the on-stage post-match banter it wasn't really much of an issue. Crossplay is becoming incredibly popular in mainstream video games, and it looks like that could transition over to eSports too.
The most exciting part of the Apex Legends pre-season invitational was without a doubt the Grand Finals. This is a brand new format that is going to have a huge impact on eSports tournaments going forward. Teams needed to earn at least 50 points to be in contention to win. Eliminations earn 1 point each, then points are distributed for each team based on their placement in the round, as follows:
1st place – 12 Points
2nd place – 9 Points
3rd place – 7 Points
4th place – 5 Points
5th place – 4 Points
6th – 10th place – 2 Points
11th – 15th place – 1 Points
16th – 20th place – 0 Points
Once a team has earned at least 50 points they must then win a match in the Grand Finals to win the entire tournament. As the Grand Finals kicked off we expected to see 1 or 2 matches, perhaps 4 at most. Five and a half hours later we had just seen our 10th Grand Final match end with no sign of a winning team in sight. A majority of teams had earned themselves 50 points, but they just couldn't quite grasp a win. TSM came extremely close to a solo win with Imperial Hal almost securing a clutch as last man standing, but it wasn't meant to be. That didn't stop them re-grouping and pulling off the final win a few matches later.
Team Solo Mod won the Apex Preseason Invitational with 100 points after 21 matches, including 11 matches in the Grand Finals! No one can say they didn't put effort into taking home that $105,000, with a 6-hour Grand Final, starting at 5pm and not wrapping up until gone 11pm.
It's worth giving an honourable mention to Team 789 who were fan favourites throughout the tournament, even coming above TSM in first place for the winners bracket finals. 789 are the first team with a female player, Elvira Terimova, to reach the final stage of the tournament, showing that anyone regardless of race, sex or gender can compete at the highest level of eSports.
We've no doubt we'll see more from Apex Legends next year, with regular content drops and another competitive eSports tournament. As long as they keep that intense Grand Final format, we're sure viewers will be in for a great time.
Publisher paid for travel and accommodation.