When the announcement happened about PES no longer existing, I was a little disappointed. While FIFA has more often that not been the better football game, Konami still had a great property on their hand. After learning a bit more about what their new venture was, the core gameplay appears to be much of the same. eFootball 2022 is very much Pro Evolution Soccer, except this time it's free-to-play. The details are still slim in terms of the live service it'll provide, but the gameplay is on full display.
I recently watched a hands-off preview hosted by director of football data & scouting at Konami, Klaus Ganer. I got to hear a rundown of the new gameplay features in eFootball 2022, as well as some other tidbits of information. While a lot of what was said felt like buzzwords and minor improvements to the already stellar football series, there were some genuinely exciting announcements. The main two revolved around a new camera angle and the inclusion of rising and dipping power shots.
CHECK THIS OUT: Is Halo still relevant in 2021?
eFootball 2022 preview: some big changes and additions
The new dual camera zooms in when a player has the ball. After a long cross, pass, or dribble, the camera pans out a little to see the pitch. It looks fluid in transition, but also provides a more immersive viewpoint. Seeing how this looks when actually playing might not be as smooth, but it certainly looks fantastic. On the whole, player animations and authentic pitches, tunnels, and dressing rooms are stunning. Watching Manchester United vs Juventus at the end of the presentation made me giddy. Seeing Ronaldo, Sancho, Greenwood, and Fernandes together will be a thing of beauty.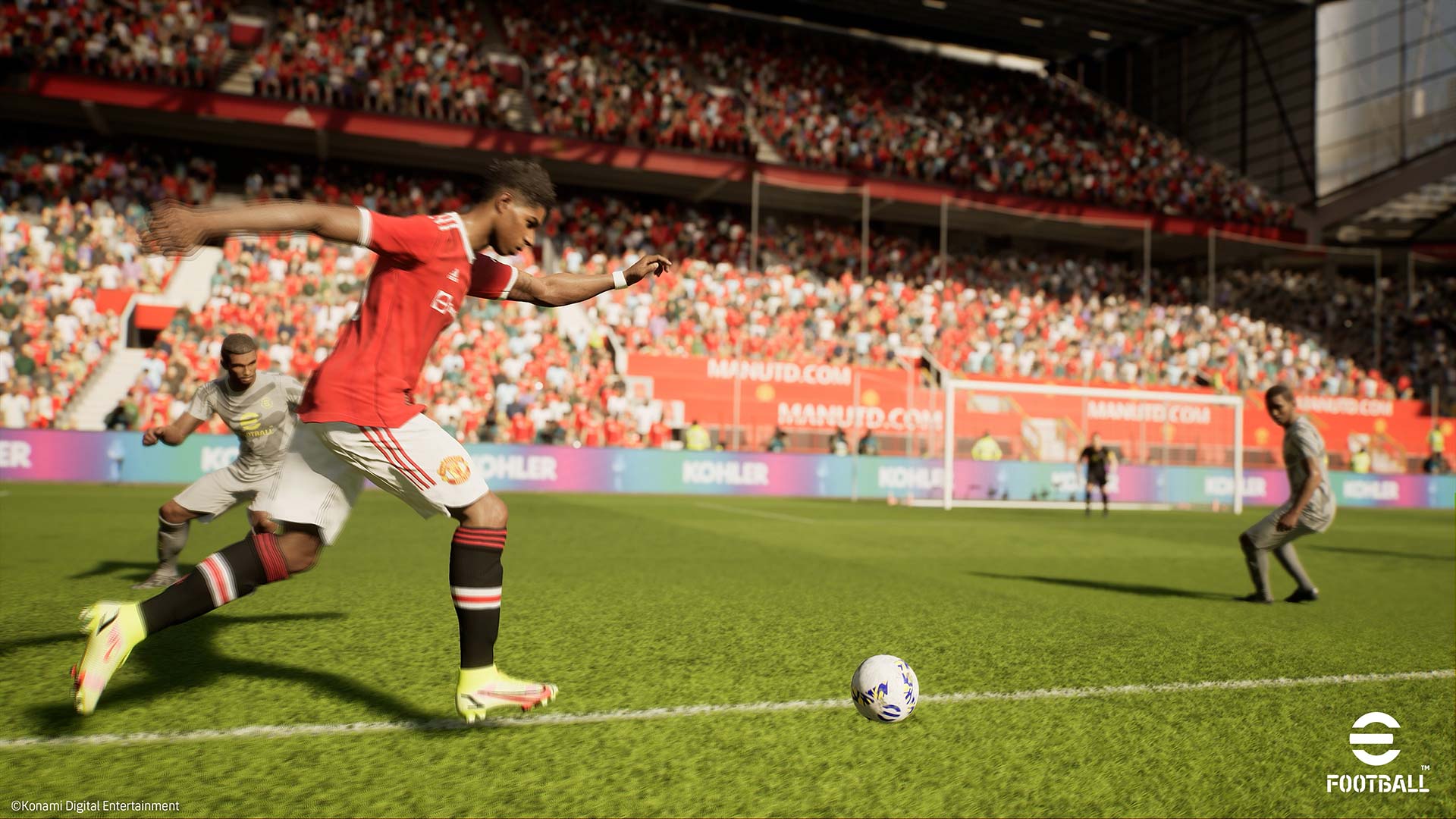 There're always tweaks to gameplay, but the rising and dipping shot looks like a much-needed feature. It allows players to take control of incoming balls much better. With dynamic ball movement, long balls across the pitch will have more variety and outcomes. Watching Marcus Rashford take a shot on goal and see it dip behind the keeper looked cool. I'm very much excited to be able to do it for myself. It was in these passes and shots where eFootball 2022 seemed genuinely different to its predecessor.
Driving the ball through
A new driven through ball looked sublime, especially as I'm a huge fan of playing the ball in front of my strikers. Sharp kicks can open up attacking options and provide new routes to the goal line with a press of R2/RT. 1v1 duels have been reworked, now based on the speed of a player both on and off the ball. Iniesta is the prototype for attacking duels, which will provide players with full freedom dribbling past defenders. Pique has been selected as the defensive prototype, with Konami using his natural ability to offer a range of defensive options.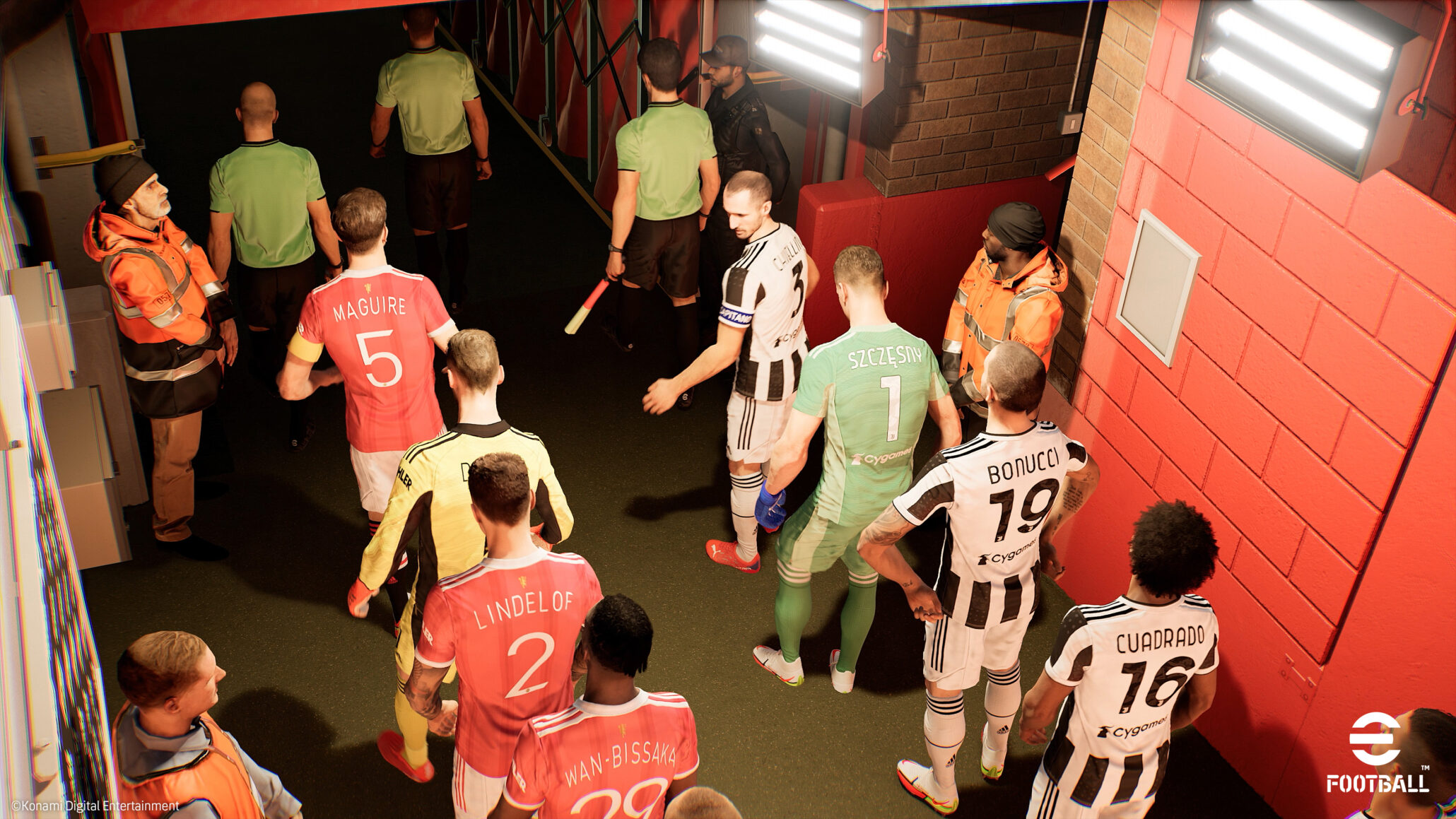 On PlayStation 5, Konami are taking full advantage of haptic feedback and adaptive triggers, especially when it comes to ball touch. Ganer said players would feel every touch and pass. Obviously, it's hard to know this without having a controller in my hand, but it's nice to know it's happening. There're also a range of new tactics for players to make use of in game, such as quick counters to force turnovers, and long ball counters to break deep defensive lines. These tactics help when attacking and after gaining possession, as well as when defending and losing possession.
CHECK THIS OUT: Want to represent God is a Geek? Browse our store and buy yourself something nice
eFootball 2022: Seriously stunning visuals
eFootball 2022 looks stunning. As mentioned earlier, the authentic parts of the changing rooms and tunnels look wonderful, but the action itself is a thing to behold. One of the moments when Mason Greenwood got challenged really impressed me. Despite taking a knock, her recovered his footing and crossed into the box. It looked natural and unique, as if there're so many more animations this time around.
I'm looking forward to playing eFootball 2022. Despite it being free-to-play, the gameplay looks as though it has been greatly improved. The small changes look impactful, with more big alterations as opposed to a tweak here and there. Visually, it's gorgeous. I've always been an astute follower of PES, and I hope they make the big changes to compete with FIFA once again.