Konami has announced the schedule details and participating clubs for the eFootball Championship 2022. It's going to be split into two editions, the eFootball Championship Pro, and the Championship Open.
First things first, here's when the Pro Championship is taking place:
Saturday, 4th June: Draw for matching
Saturday, 11th June – Sunday, 12th June: Group Stage Days 1 & 2
Saturday, 18th June – Sunday, 19th June: Group Stage Days 3 & 4
Saturday, 25th June: Quarter-Final & Semi-Final
Sunday, 26th June: Third-Place Play-off & Final
The clubs competing in this year's tournament will be FC Barcelona, Manchester United, FC Bayern München, Arsenal, Celtic FC, AS Monaco, AS Roma, and Galatasaray. It will of course be broadcast across all Konami's social media channels, and you can even gain in-game items if you watch.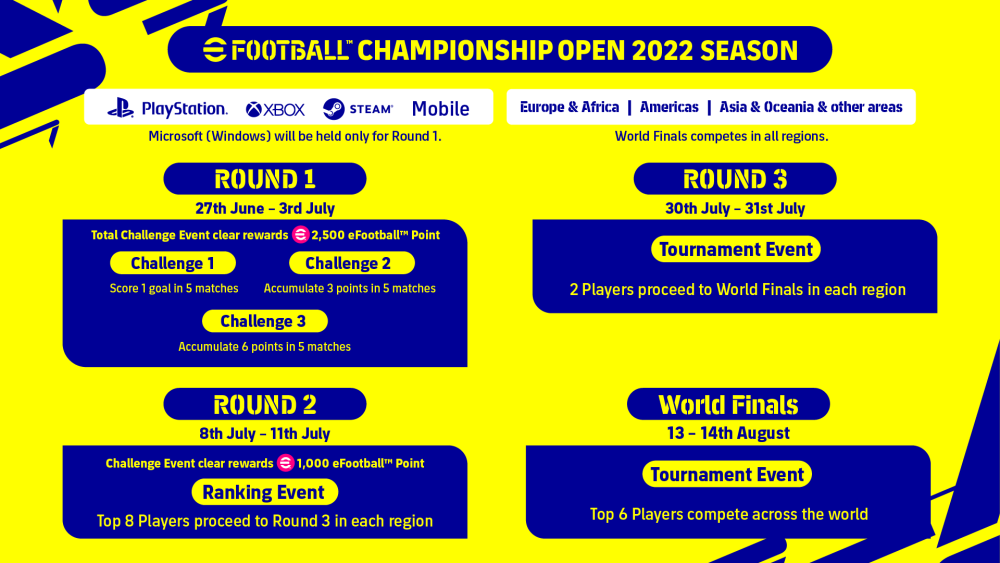 Moving on to details of the Championship Open, which is "a public competition where eFootball 2022 users from around the world can enter and compete across a number of consoles including: PlayStation 5, PlayStation 4, Xbox Series X|S, Xbox One, and PC via Steam. This year, eFootball Championship Open's World Finals will also see users able to compete on mobile as well on both iOS and Android devices".
Details of schedule:
Monday, 27th June – Sunday, 3rd July: Round 1
Friday, 8th July – Monday, 11th July: Round 2
Saturday, 30th July – Sunday, 31st July: Round 3
Saturday,13th August – Sunday 14th August: World Finals
eFootball 2022 is available now for free on PC, PlayStation, Xbox, and Mobile devices.