Amazon Games has today announced it'll be celebrating the one-year anniversary of Lost Ark with new in-game events, valuable rewards, Twitch Drops, and more. The new anniversary event will allow players the opportunity to hunt down birthday cards, all of which have been scattered around Arkesia, and by finding them, players will earn in-game rewards that'll include skins, honing materials, card packs, and other cool stuff.
A new data-packed infographic has been released, which showcases some of the big milestones Lost Ark has achieved in its first full year, hoping that after the anniversary, these statistics will only grow further. Some of these stats include over 99 million Guardians have been killed, 8 billion mounts have been summoned, and 1.6 billion player deaths have occured.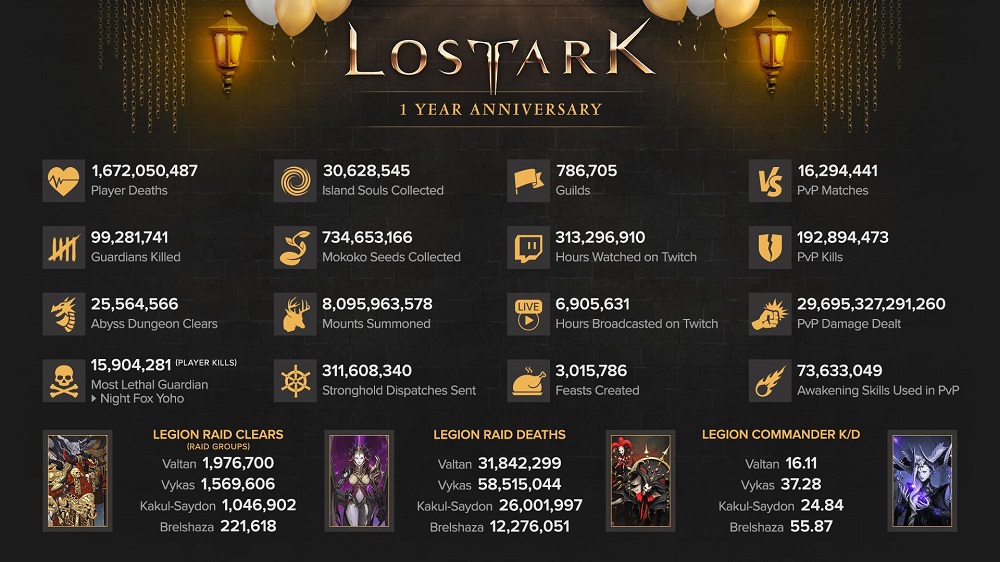 Amazon Games has also released patch notes for this month's update, including the new continent of Rowen, home of new factions Preigelli and Liebertane. Following on from the end of the Rowen world quests, players can choose a faction for open world PvP, with the battle getting more fearsome in March as the Tulubik Battlefield releases.
In our review of Lost Ark, we said, "Lost Ark is a lot of fun, ultimately. Even played alone, it's entertaining; but with other people it comes alive. Learning the correct rotation for your skill cooldowns takes time, while things like Stone Faceting and Weapon-Honing seem confusing at first but soon make sense. But like any game of its type, you need to approach it for what it is, not what you expect it to be. If you do that, there's a massive, sprawling world of adventure to be found. But seriously, bring a wallet the size of a small cottage for all the damn currencies."