PlayStation has confirmed on its blog the specs and features we can expect when The Last of Us Part I hits PC later this month, on March 28, 2023. The game will be available on PC via Steam and the Epic Games Store. The PC version includes the main campaign, the Left Behind DLC chapter, and additional modes like Speedrun Mode, Permadeath Mode, and Photo Mode. Part I's PC launch will also include The Last of Us Part I's suite of accessibility features so that players can adjust the experience to suit their needs and preferences. Whilst the PC version will have the same main content as its PS5 counterpart, there are some additional PC features you can expect.
Check out The Last of Us Part I PC's features and specs video below:
PC Features
This version of The Last of Us Part I is optimized for PC with PC-centric quality-of-life enhancements. It will feature:
AMD FSR 2.2 support
Nvidia DLSS Super Resolution support
VSync and frame rate cap options
Adjustable Texture Quality, Shadows, Reflections, and Ambient Occlusion
The Last of Us Part I also has Ultra-Wide Monitor Support for both 21:9 Ultrawide and 32:9 Super Ultrawide aspect ratios, as well as 3D audio support for an improved experience.
The Last of Us Part I on PC also features DualSense controller support through a wired connection so players can feel haptic feedback and make the most of the dynamic triggers. With support for the DualShock 4 controller, a wide range of other gamepads, and keyboard and mouse, players can adjust their playstyle to suit their preferences. The PC release includes several new control customization options including full control remapping, primary and secondary bindings for keyboard and mouse control, and an adaptive mode that allows players to combine keyboard and controller inputs.
PC Specs
To ensure you have a smooth experience, here are the recommended PC specifications: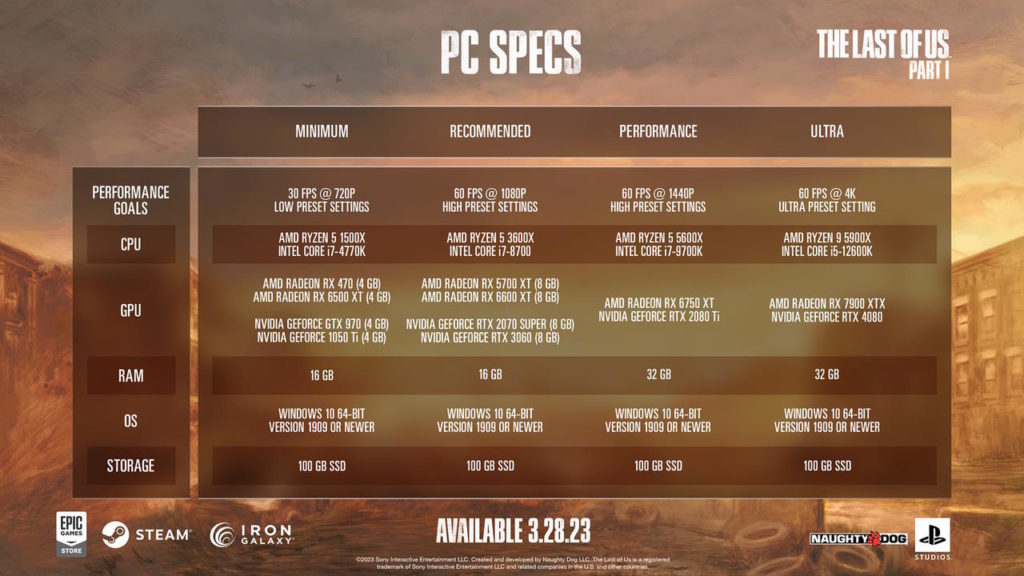 The Last of Us Part I launches on PC on March 28, 2023.