Thanks to publisher Outright Games and developer Cradle Games, we got to see gameplay of their brand new title, Jumanji: Wild Adventures, due out this November on PS4, PS5, Nintendo Switch, PC and Xbox.
Following on from the less-than-stellar Jumanji: The Video Game, Wild Adventures has switched to an isometric perspective and has added some enticing new features. It will allow players to choose to be any of the four main characters as you explore new environments lifted from the films. You can choose between Dr. Smolder Bravestone, Professor Shelly Oberon, Ruby Roundhouse, and Mouse Finbar, and can tackle the game alone or in co-op with friends.
While it won't feature the voices of Dwayne Johnson, Jack Black, Karen Gillen, or Kevin Hart, it does recreate their likenesses from the hit movies. You'll be traversing trapped temples, white water rivers, overgrown jungle paths, and battling against a host of different enemies from the franchise, including pesky baboons.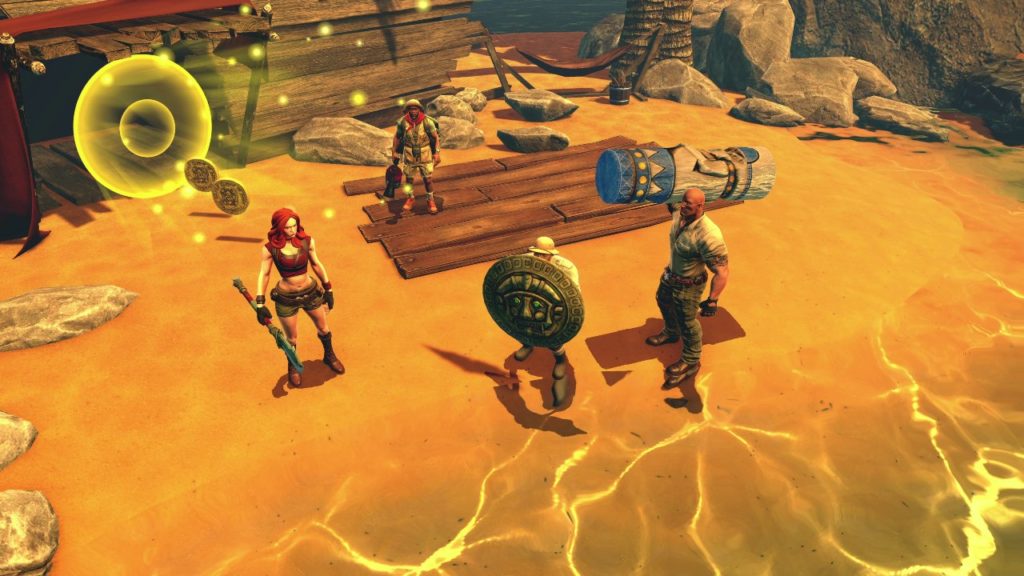 The major selling point here is that there will be three main story bosses, and each time you start a new game, one will be randomly selected to steal the Jewel of Jumanji. You can take them on in any order you like, but you won't know which one has the Jewel until you meet them and battle them.
In the preview we saw character's jumping into a jeep to traverse sections of the map, bouncing on hippos, and kung-fu fighting against monkeys. Each character will have slightly different stats, too, as Bravestone, for example, is more of a fighter than Mouse. We're promised different skills and abilities for all the characters, as well as the option to utilise weapons and other items to survive the adventure.
Although clearly designed with younger gamers in mind, Jumanji: Wild Adventures aims to cater to gamers of all ages. Outright Games were quick to reinforce that although it won't feature a steep challenge for older gamers or parents, the combat and puzzles should be enough to keep them interested – especially with the multiple story paths.
You can see the PlayStation announcement trailer below:
Jumanji: Wild Adventures is set to release across all platforms this November.