In a world where multiplayer titles are closing down, Midnight Ghost Hunt is celebrating a milestone for its player count, having now hit a million players, which makes sense since we said it "could be something truly special", when we first played it back in April 2022.
To celebrate the million players milestone, Coffee Stain has announced a brand new roadmap for the coming months, and it's going to include full controller support (hopefully the controller support means console versions are coming soon), in-van entertainment (while waiting for matches to start), and other updates and improvements. Midnight Ghost Hunt is also on sale via Steam's Summer Sale right now, so it's 66% off until July 13th.
The developer says that "We are planning to improve our overall controller support over the next few months to provide an equally excellent experience for all players, regardless if you are playing on mouse & keyboard or using a controller", and added the team is "working on sleeker menus, better tooltips, and enhanced visual cues to hopefully provide more clarity and convenience".
You can see the roadmap, below: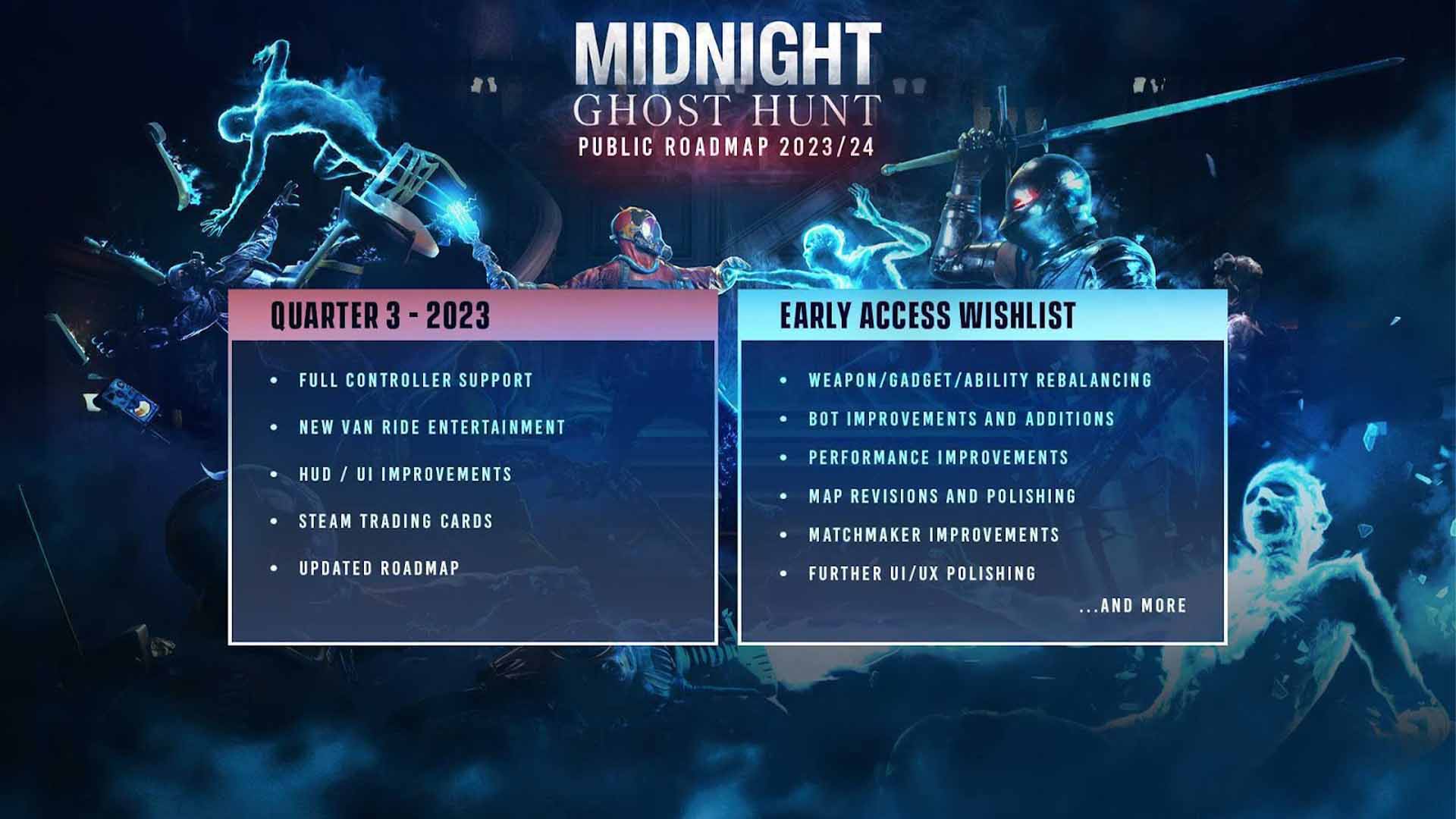 Midnight Ghost Hunt is the 4v4 multiplayer prop hunt game where the props fight back. Hunters track down and destroy Ghosts until the clock strikes midnight, when the witching hour begins and the Hunters become the hunted! Midnight Ghost Hunt launched into Steam Early Access in late March last year to universal acclaim, and has progressed since with a series of consistent content updates, as well as a recent successful launch on the Epic Games Store in June.
In our hands-on time, Lyle said "Midnight Ghost Hunt is the first competitive multiplayer game that's hooked me like this in a long time, and is so incredibly polished for an early access title. Both sides are fun to play as, and the gameplay, loadout options and stages are so creative you'll never want to stop playing. If they can improve the new player experience a little before they hit 1.0, then they'll have created something truly special that everybody should try out".
Midnight Ghost Hunt is out now for PC (Steam, Epic Games Store).