Release Date
August 2, 2016.
I don't really cry at video games; I shed a tear playing The Last of Us and The Beginner's Guide, but experiencing the poignancy and meaning of Journey for the first time resonated with me like nothing I'd ever felt before. I wept whilst playing and I wept once I'd finished. Normally when people call a game 'revolutionary' or 'life-changing', you often feel a pressure to enjoy it and see what everyone else sees, but with Journey, I saw the beauty from the start. It held my hand and showed me what life was all about; it taught me to appreciate the world around me and the importance of love, without ever saying a word. I'll never forget playing Journey and I'm pretty sure I'll never play anything like it again.
Abzû comes from Giant Squid, a developer founded by Journey and Flower's art director, Matt Nava. Although this game doesn't have anything to do with thatgamecompany, it feels a lot like Journey; not in a bad way, it just does. The art style is Nava, the soundtrack has been composed by the highly talented Austin Wintory, and the game carries over some of Journey's game mechanics. It's clear to see how much Journey means to Nava and Giant Squid, and it's a pleasure to play something even remotely similar, but Abzû is its own game and is a wonderful visual treat.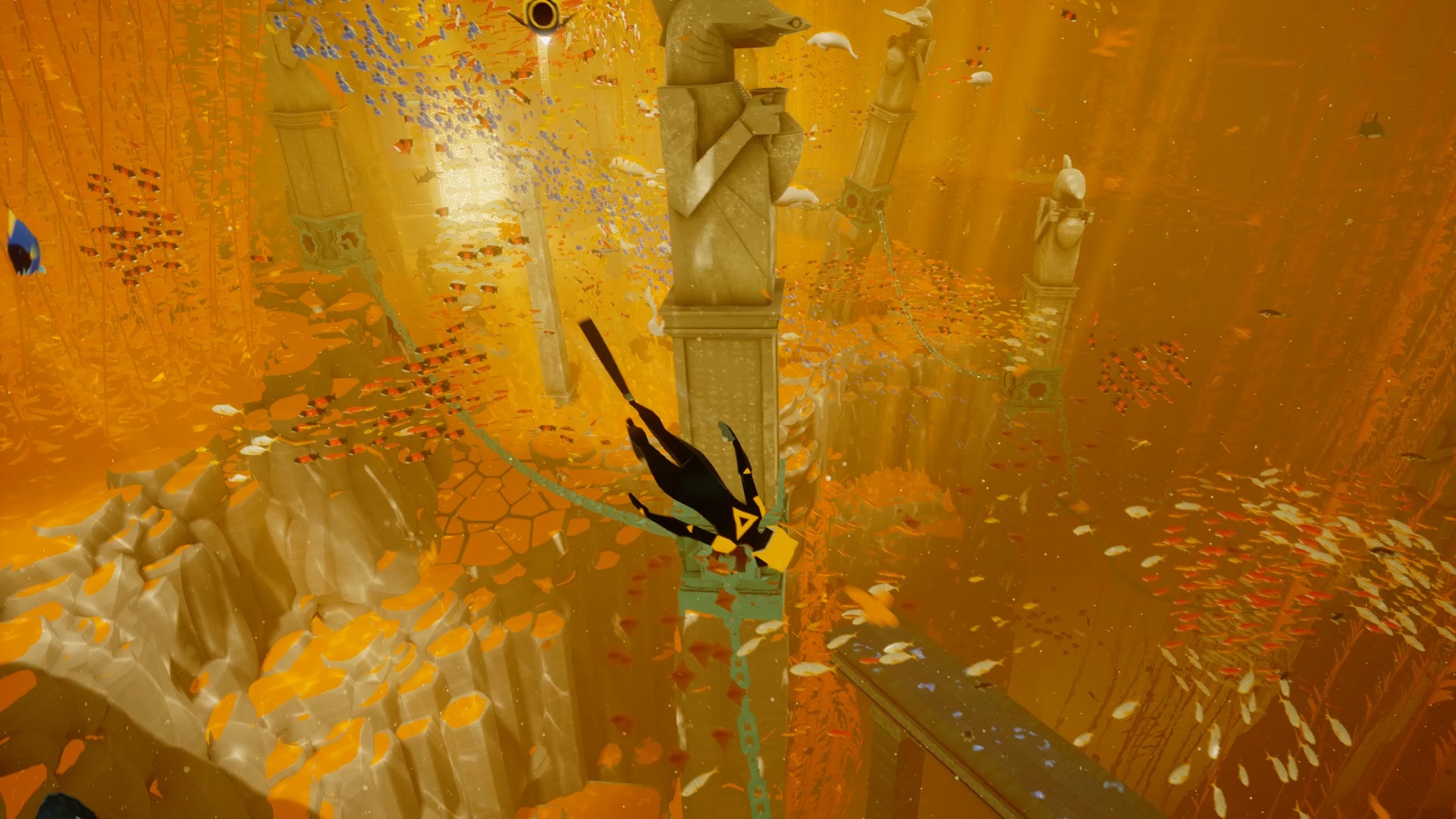 This is a swimming simulator that lets you swim through a beautiful ocean, meeting a wide range of colourful and distinctive fish, whales and other underwater animals. The game is visually perfect; every area is unique and every creature has been scrupulously designed. It is a happy place and a beautiful place you'll never want to leave. As soon as I was able to swim around the first few areas, I couldn't stop smiling. It's remarkable how Giant Squid has managed to build a living and breathing ocean filled with so many working parts: the corals, the fauna, the flora; everything. The way the light hits the roof of the ocean and how the underwater abyss is swallowed by the serenity of darkness. I thought I'd seen the best this generation had to offer, but Abzû has stolen that crown and it should wear it proudly.
Austin Wintory is one of the finest composers in the world today and his score for Abzû is just as memorable as his work on Journey and The Banner Saga. Every movement or setting is complimented by Austin's orchestration and it kicks in when it needs to, as well as slowing down and simmering in the game's more sentimental moments. It's a truly magnificent score and one that deserves to reach the same heights as Jessica Curry's work on Everybody's Gone to the Rapture.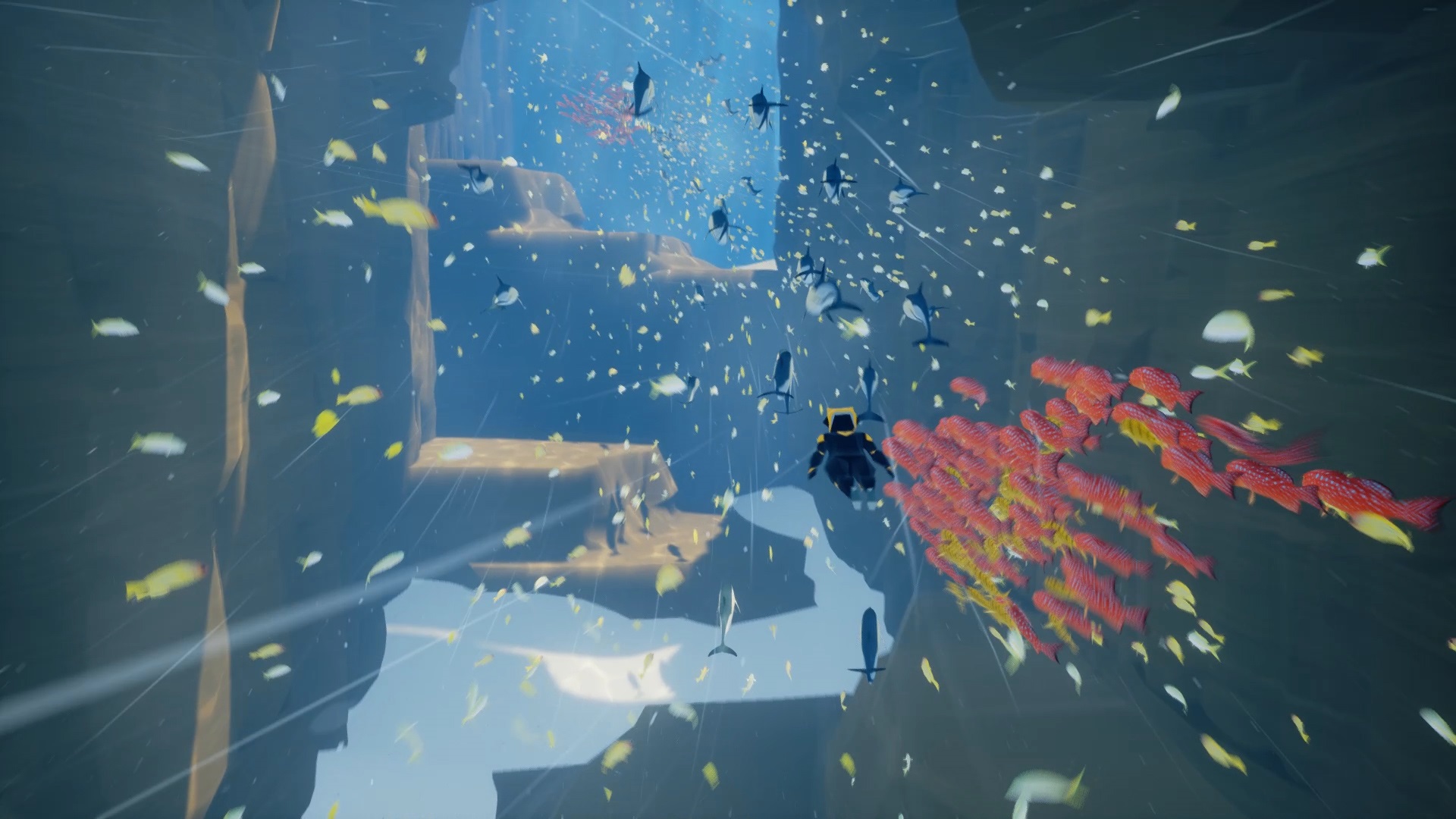 The main purpose is to go from area to area, solving some basic puzzles and finding a way to break down barricades which lead you to the next locale. There's a story in the loosest sense, but to mention anything about it now would be unfair – I'll let you experience it for yourself. It doesn't hit the same emotional peaks as Journey did – far from it – but it's a pleasant tale about not judging a book by its cover and seeing kindness in everyone.
One of the mechanics from Journey makes its way into Abzû and that's the method of communication. Instead of communicating with real players, you talk to the fish, encouraging schools of Picasso Triggerfish, dolphins, sunfish, and other wildlife to swim with you. There are points where you can speak to some little robot companions in the game which can be used on a few occasions to help you progress to the next area. You can also swim with the fishes, holding onto their fins or bodies to explore the ocean together.
There is a clear path to follow, but Giant Squid want you to appreciate the scenery and the experience. Movement is fluid, with only a few disagreements between camera angles and changing directions. You'll often find swimming therapeutic and calming. In most of the different areas, you can rest on a particular rock and meditate; when doing so, you can look around at all the different species of fish and watch how they move and interact with each other. There's a great deal of authenticity in their behaviour, and watching some of these creatures interact with each other feels like they've been taken straight from one of David Attenborough's documentaries.
Abzû is an artistic triumph in every single way and the way it makes you feel as you swim around the beautifully designed ocean is really special. Throughout the entire game, I continually compared it to Journey and it's not something I advise you to do. In doing so, you'll tarnish the overall experience and possibly ruin it for yourself. Don't expect to feel the same way, don't look for a deeper meaning – simply enjoy the ride. Enjoy it for what it is: a breath-taking marriage of exploration and pure beauty.
Review code provided by publisher. PC version also completed.
Positives
Visuals are stunning
Soundtrack compliments the game perfectly
Negatives
Movement can be occasionally awkward
Abzû is one of the greatest looking games in existence, with a simple message at its heart. You'll revel in the wonders of its beautifully designed ocean.