Release Date
11th June, 2015.
There's no pointing beating about the bush here: Dr. Mario: Miracle Cure is a barebones puzzler. No frills and functional, that's it. Viruses populate a bottle and you need to match four or more of a colour in a horizontal or vertical line, and doing so makes that line disappear. The goal being to match those lines with a 'virus' inside so that you remove it from the bottle.
At all times the viruses don't move from their placement, and the pills Mario throws in can be either one colour, or dual coloured. Creating a row of four with a second colour sticking out will result in the other colour falling down until it settles on whatever lies below. Plan this right and you can combo from one into the other. Added to the mix are a selection of power ups, that range from taking out pill segments to bombs that blow up anything in their vicinity.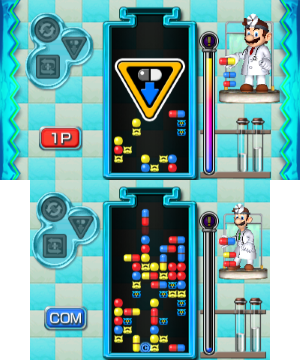 Taking on the default Miracle Cure Laboratory mode sees you tasked with riding fifty levels (sixty if you include ten training ones) of viruses. Throughout this you'll switch between Mario (with his regular pill shapes) to Luigi (and his L shaped pills) to mix up your tactics for clearing the bottle of the little critters infesting it.
Outside of this you have the Custom Clinic, which allows you to play as Mario or Luigi in either an endless mode, games against the AI or just constant levels. Endless mode constantly spawns viruses in, forcing you to keep popping them for a high score until it all becomes too much and the bottle is full. Games against the AI are brother vs brother, with the lines you create causing problems for the opponent, from random pill sections falling to their bottle, or random debilitating effects such as reversing the controls or preventing pill rotation. Constant levels meanwhile, just tasks you with beating levels over and over until you fail. You also have the option of taking on a classic Dr. Mario game, where you use the stylus to drag and rotate the pills, while holding the 3DS sideways, much like the hidden mode from Dr. Kawashima's Brain Training. Not that it offers anything much different apart from the control method.
Unlike Puzzle and Dragons Mario Edition, the characters in this have some charm to them; they don't feel empty like Gungho's versions did. Apart from that, the game just feels bland and lifeless. Menus are boring, the play screens are dull, and touchscreen use is almost completely non-existent. Considering Nintendo's other puzzle output (Pullblox, Boxboy, Mario vs Donkey Kong and even Pokémon shuffle) it's amazing that a game staring their most recognisable mascot is just so plain looking. Function over looks granted, but it's really quite grating.
Add the fact that there are no real refinements to the formula (hoho), and you have something relatively inoffensive, but boringly safe. I've actually struggled here to say much as there's just not much here to be excited or even complain about. It's just one big 'Meh'.
Miracle Cure doesn't really break the mould in any way for the puzzler genre. It throws you a selection of levels and different modes, it gives you several different power-ups, but overall it frustrates and fails to excite. Even the presence of the superior brother (Luigi) doesn't do enough to lift this from being just another (albeit cheap) puzzle game. If you're a Dr. Mario fan then you'll probably find something to like here. But for everyone else there's plenty of other places to invest your time and money.
Review code provided by publisher.
Negatives
Bland.
Nothing new or exciting.
Vs. levels feel unfair.
Doctor is one profession that Mario really shouldn't pursue.