Release Date
September 19, 2017.
There's no greater series of sports games than 2K's take on the NBA, and every year they manage to improve everything that makes them so fantastic. Whether it's through the visuals, gameplay tweaks, or new modes, 2K seems to listen to the fans. NBA 2K18 is magnificent on the court, both watching and playing, and all of the pre and post-game analysis is spectacular, along with the commentary throughout each game, but it still features a weak story in MyCareer, one that in actual fact doesn't even need to be there. Regardless, it's the best basketball game out there, and there is no sign that it's quality is ever going to slow down.
There really is nothing bad to say about playing NBA 2K18. Movement with the ball is superb, and this year dribbling is much more fluid, allowing better control on and off the ball. It's easier in pick and rolls, and freeing yourself up from a marker will be easier to do if you're making use of the positional play of your teammates. Shooting is much more dynamic, and making a shot in the right conditions has a huge impact. Fadeaways or lay-ups under pressure have more chance of missing if the heat is applied, but clear 3-pointers or jump shots fall in smoothly.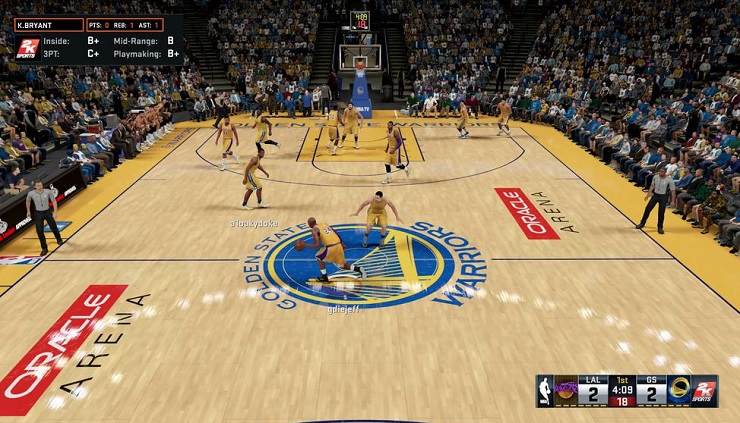 Visually, it's a dream. Players share the same movement as their real-life counterparts, with tattoos and facial quirks matching up as well. It's actually quite amazing how well Visual Concepts has got this right, and seeing it in action is remarkable. The pre-game analysis from Ernie, Kenny, and Shaq returns and makes for some genuinely funny interactions, much like when listening to them in real life. Dave Aldridge is back on the sidelines, and during breaks a whole range of players have recorded interviews that play, providing added realism. Singers perform the national anthem, fireworks and half time shows are glorious, and the commentary is once again on point and surprisingly current. It's barely been a month since the dramatic Kyrie Irving – Isaiah Thomas trade, and within seconds of playing the season opener between the Cavs and the Celtics, the trade and it's circumstances were being discussed.
My only real problem with recent year's entries has been the weak MyCareer modes, especially when they try and tell your story through poorly acted cutscenes and terribly old hat basketball tropes. Whilst this year's MyCareer is a vast improvement, it still manages to slip up whenever you have to watch the characters interact. You play as a guy called DJ, and after a while out the game, you enter into a basketball tournament where your skills impress a talent scout (for the team you selected as your favourite upon start up). This sets off a chain of events that eventually gets you a try out for said team, and a spot in the NBA. The supporting characters in the story are awful. Tasty, your best friend is one of the most annoying characters I've ever seen, and your agent is a bumbling idiot, but once you strip away these segments and get to exploring the rather wonderful 'Neighborhood', it all feels worth it in the end.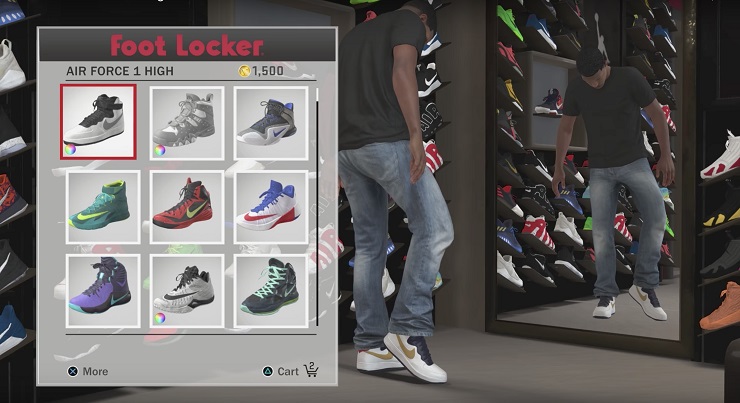 The Neighborhood is a social hub of sorts – somewhere where you get to play basketball in many different ways. Enter a dunking or scoring contest, play basketball on one of those arcade basketball machines at the 2K store, or start up a Pro Am team with four other players. The best place to play ball, though, is on the Proving Grounds. Take a quick trip through the subway (or by walking the long way round), and you'll get to take part in 2v2 or 3v3 games with other players, which can feature some of the most tense matches you'll play. Like with many online basketball games, certain players will always drive to the basket, and if your specific skill is to shoot a 3, they'll seldom pass which can be annoying.
Elsewhere in the Neighborhood, you can get a haircut or a new tattoo, buy official NBA apparel from the NBA Store or get some new boots from Foot Locker, train at the gym, or go run some drills at the basketball academy. Your goal is to get from level 60 all the way to 99, and you do so by getting good, working hard, and winning your games in the NBA (which can be selected whenever you want from your menu). It's a slog, but worth it when you start to see the improvements in your own game. You can spend real money to get better, and many will see this as the only way forward due to the difficulty in progression.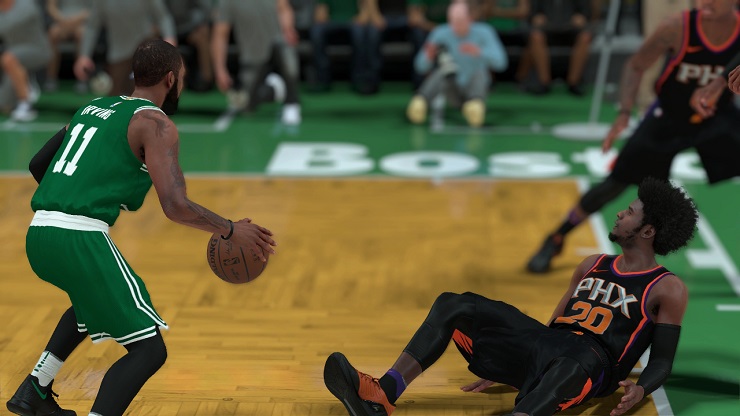 The MYGM mode also has a story mode, which sounds quite cool until you start to play, and whilst the same detailed options are still there, the presentation is poor. You become GM six years after your basketball career ends due to a terrible injury. When meeting up with players or chatting with the owner, there's no voiceovers, just walls of text and mouths moving. It's kind of off-putting and seems completely unnecessary. Maybe next year this'll get more attention, but it seems that 2K could've done without this. The mode is fantastic as it is, and it should have left this story element out of it.
Elsewhere, NBA 2K18 is bursting with content. MyTeam is back, and just as well-presented and addictive as ever. There are also some new features that give you even more ways to play, such as the Pack and Playoffs, and Super Max modes. Pack and Playoffs allow you to pick a team of five players and a coach through a kind of draft, where you open packs and select certain cards from them. This can be great if you get the players you want, but once you make your decision you're shown who you missed out on. Sure, I got Damon Lillard, but dammit, I missed out on Draymond Green! Super Max feels a bit like a NBA fantasy league as you're having to select players within your salary cap, so the need to pick smart is key. You'll then face off against other players of a similar ability to earn points to purchase more card packs.
NBA 2K18 is incredible, let down only by its weak attempts at a story, some long load times in MyCareer, and the reliance on microtransactions to reach that elusive 99. Thankfully, playing basketball has never been better, from the perfect gameplay to the presentation of each match, I'm in heaven. MyTeam has seen some wonderful additions, the soundtrack is great, and the inclusion of the greatest teams in NBA history to play with in a variety of modes makes this year's NBA 2K game the best ever.
Positives
Gameplay is excellent
Neighborhood is full of variety
The inclusion of classic teams is great
Presentation of games
Commentary is amazing and current
Negatives
Story is terrible in MyCareer
Load times can be long
Difficulty in level progression
If you're looking for not only the greatest basketball game but the greatest sports game in existence, this is definitely it. A huge improvement on last year, let down only by its weak attempt at a story mode.