Release Date
June 28, 2016.
I'm not familiar with what life behind bars is like, or running a prison on a shoestring budget, but playing Prison Architect definitely gives you an idea of the struggles, obstacles and dilemmas you'd likely come up against. You can take the reins of a massive high security compound or a smaller laidback jail, dealing with corruption and suicide, executions and riots. Everything you could possibly witness is a part of Prison Architect and it's brilliant, featuring a lovely art style and some great sound design.
The thing that surprised me the most about Prison Architect is the personal side it shows off. In Prison Stories, you get to learn everything you need to know about the game through 5 isolated stories (with little story threads throughout) about criminals and employees of the different prisons you take the helm of. In the first story, you learn the basics of powering your prison through an inmate on death row, about to be executed for murdering his wife and her lover. Through beautifully drawn snapshots and simplistic cut scenes, you begin to understand why he did what he did, what the consequences are and a chance to witness everyone's point of view.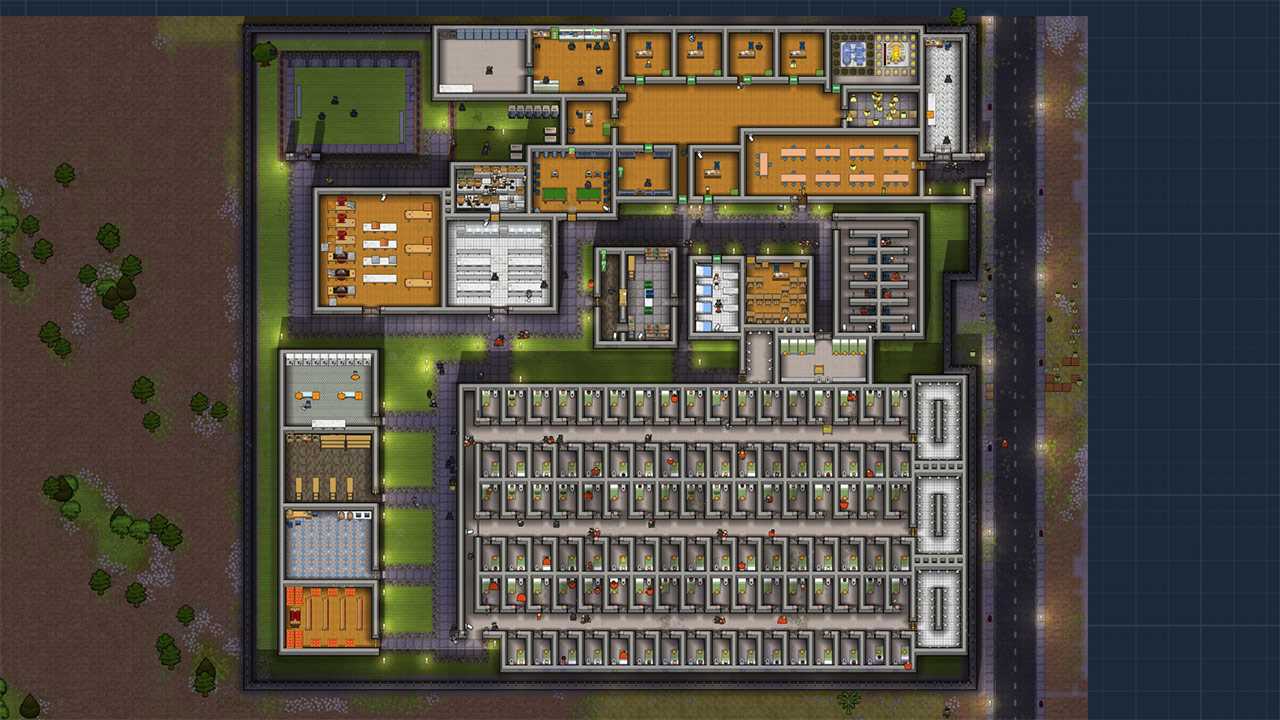 These stories do a great job of educating you, not only showing you what everything does and how everything works, but adding another way for you to play the game. There is a hell of a lot to learn here and you really need to pay attention. There's a to-do list you can check back on to see what you've been tasked with, and pressing the square button over certain developments let you know what items are missing, but sometimes there's plenty of information thrown your way. When it comes to building a prison from scratch, unless you've taken notes, a visit or two to the internet will no doubt fill in all the gaps you've missed.
There are two modes outside the main story that allow you to play the game without these stories and without tutorials getting in the way. In Prison Architect mode, you are in full control, building everything from the ground up. You'll be responsible for building the jail cells, powering the complex, feeding the inmates and much more. If you can't remember everything you've been told in Prison Stories, you can be employed as a warden in a pre-existing prison that already has most of the key features in place. You can still add to the prison and change anything you want to, it just saves you a good few hours in setting it up in the first place.
Playing the game is both complex and fulfilling; knowing the basics really does help you in the long run and a bit of common sense goes a long way. You have four main options at your disposal, with each one offering multiple strands: reports, construction, prison running and emergencies. The detail the developers have gone into is remarkable and the options for how you run your prisons are endless. In construction, you will build the basic foundations, select which room you want to build on them and fill them with the relevant objects. For example, if you're building a kitchen, you need enough cookers and fridges to make the food, with a power supply running under the room and a water supply so you can wash up afterwards. Knowing the needs of your prisoners will tell you where you may need to improve, as going into the red on certain factors can eventually resort to a full scale riot.
You have to hire enough staff for the entire prison, ranging from janitors, riot guards, chefs and workmen. The workmen build everything, the janitors wash the clothes and clean up after everyone and the chefs cook the food. All of your employees have a wage and you need to make sure you can afford to pay them. There's almost a skill tree of sorts in the form of the Bureaucracy option. Through this you can pay for new abilities to be learnt such as giving all guards tazers and building on the efficiency of prison security.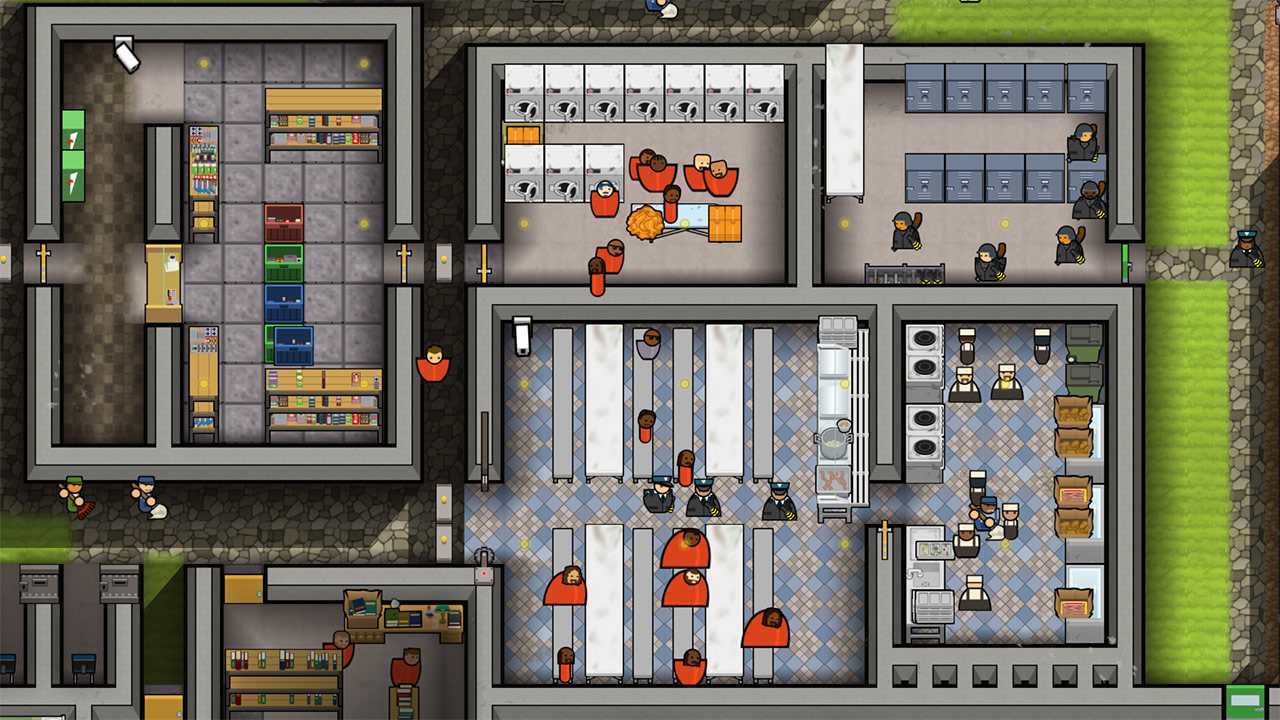 The welfare of your prisoners is in your hands and how you deal with that determines the kind of person you are. I treated the majority of my prisoners reasonably well; most had TVs in their cells, and I opened up workshops for them to take their mind off things, with a yard that had plenty of gym equipment in. I had an issue where their laundry wasn't getting washed and they got pretty pissed off, breaking out in a mini riot. In response, I hired a small group of riot guards and sent them in to stop the scuffle. Of course, you can treat the prisoners poorly, but doing so can cause fires, great amounts of damage and plenty of unnecessary deaths. There's also the emotional side of things and how strict you are can be the difference between success and everything falling apart.
Prison Architect is a great strategy game that has been ported really well from PC. There are occasional problems when moving the camera around your prison and zooming in on specifics, but the controls are straightforward, useful and easy to become familiar with, especially the ability to speed things up when you've just scheduled a ton of construction work. The World of Wardens is also a really cool feature, letting you download and experience user-created prisons from all over the world. The sheer amount of options is staggering and it'll take some time before you get to grips with everything, but I'm positive you'll adore the details when deep in a contraband pandemic or a full-on riot.
Review code provided by publisher.
Positives
So many options help to keep you interested
Prison Stories are surprisingly emotive and personable
So many outcomes
Negatives
A lot to get used to
Observing large complexes can be awkward to do
Prison Architect is a fantastic strategy sim which highlights both the difficulty of running a prison and keeping a lot of prisoners happy.