It's time for round 8 of the Re:Port series that looks at Switch ports of games that were either on other platforms before or just at the Switch version of a specific game. This week there's more otome, bullet hell, platforming, and hooking. We have Subsurface Circular (Nick), Flinthook (Adam), Danmaku Unlimited 3, The Men of Shoshiwara: Ohgiya, and Bleed (All Mikhail) so grab a nice coffee (preferably black) and get ready for new Switch port reviews.
Flinthook
Originally released in 2017 on PlayStation 4, Xbox One, and PC platforms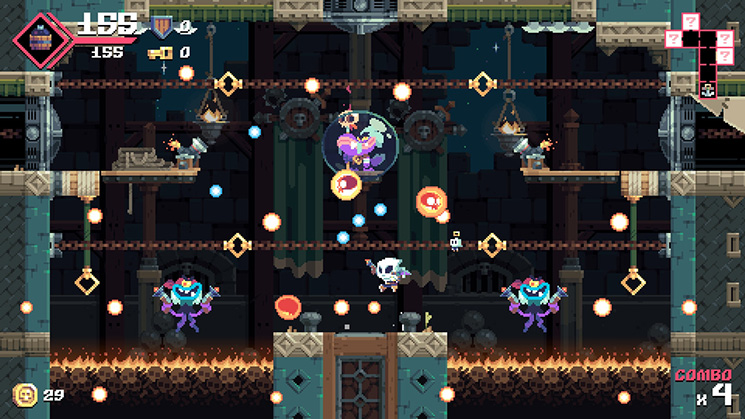 Flinthook is a game I've been banging on about for a while because it's fantastic. You already know that, because you've read our review, but look, if you haven't picked it up already I won't sit here typing from my YouTuber's gaming chair and claim it's the perfect game on Switch, because although it's absolutely fantastic on Switch, it's only better if you take into consideration a few caveats.
Firstly, the joycons aren't ideal for this kind of game. They've got a short throw distance and while they're adequate, they aren't the replacement for an Xbox One controller, DualShock 4, or – crucially – the Switch Pro Controller. The chances are that by now you've purchased one, and good on you (they're fantastic), and further chances are that you carry it with you if you're going to be travelling ,and I'm here to tell you in this long winded way to do so, because with the Pro Controller it's even better.
The second caveat is that it's perfect on Switch if you do a lot of travelling and prefer your gaming on this particular console. It doesn't do anything special on Nintendo's machine, but it's still an absolutely stellar game.
As the ballet of enemy attacks cut through the peace and quiet of your space-pirate dungeon marauding; failing, then upgrading, and failing again, you'll lose yourself in the artwork, sound design, and general gameplay. This is a brilliant title, and one I'm happy to see moving to every console possible. Buy this game to support meticulous design, and condemn mediocrity by doing so. Flinthook is marvelous, it's outstanding, and although it's bloody hard, it's rewarding. It deserves another slice of love to be poured upon it nearly a year after initially hitting our gaming devices.
8.5/10
Subsurface Circular
Originally released in 2017 for iOS and PC.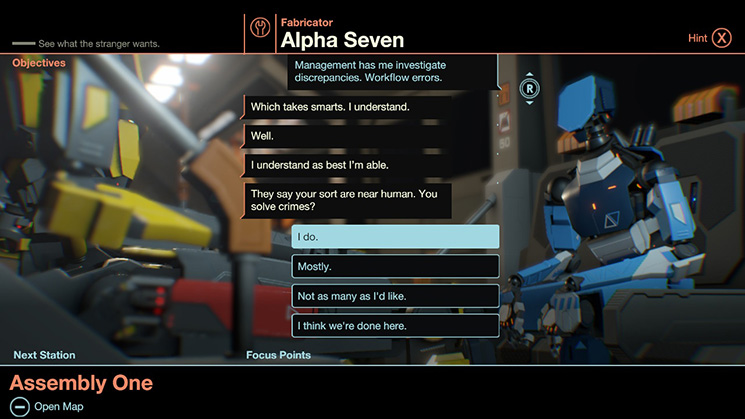 The world of Subsurface Circular is a subway in a futuristic London, you are a detective Tek (robot) who rides the train and talks to other Teks as they board to obtain information on cases. On this particular day a relatively immemorable Tek requests your help to find their friend, and despite your programming you choose to help.
What follows is a text adventure where you talk to the Teks as they come and go, obtaining focus points for discussion and using those to solve certain blocks so that other Teks will talk to you. While it's lacking in action the writing is fairly gripping as you learn about the world as it is now, the struggles of these Teks as they find themselves generally hated by humans, and the ones who are disappearing. There's a lot of parallels with current events, and the plight of the Teks mirrors how migrants are treated in the west, even to the point of anti-Tek groups (think the BNP or Britain First).
Subsurface Circular is fairly short, and unless you try many different forms of conversation you should have it finished in two hours. It's good, but there's a moral choice at the end that doesn't really pay off, especially when you can come back afterwards and try the other option and in effect get the same result. But, like a good book, what's here is great for its run-time, and it's a good game for its budget price.
8/10
Danmaku Unlimited 3
Originally released on iOS, Android, and PC platforms in 2017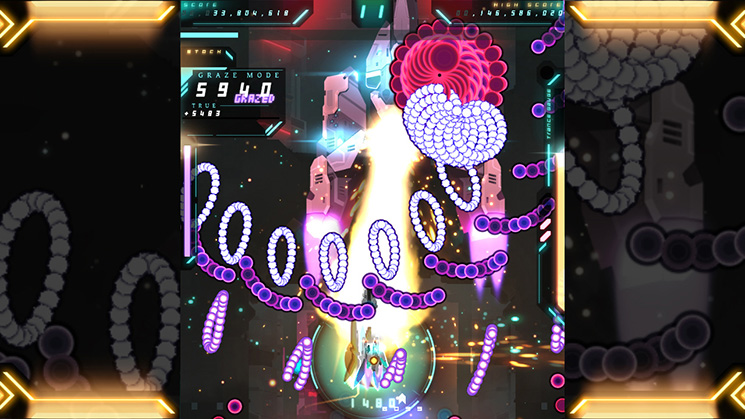 Shoot 'Em Ups are a dime a dozen these days on all platforms and even the Switch has quite the collection through Psikyo classics and arcade archives. I've been quite into the genre and have all the ones available on Switch but was always waiting for one particular title to release. That game is Danmaku Unlimited 3. When I was just getting into these games, the iOS single handed control shmups were great. I eventually got and played a ton of Danmaku Unlimited 3 on iOS which is an excellent release on its own.
Danmaku Unlimited 3 is a gorgeous game with precise controls and Blankfield's soundtrack for it is sublime. It is a bullet hell game so expect a colourful feast for the eyes with neon colours as you slowly manoeuvre your ship in between the free space.
The Switch version is like the Steam version where you can play it in landscape with the actual game interface being like a rectangle in portrait mode in the middle. You can also rotate the UI and play it in TATE mode and you already know I love doing that with the Hori Playstand I have and this works brilliantly. While I would have liked better use of HD Rumble and a touch screen mode (this was on iOS initially so it isn't unrealistic to expect it for a mobile port).
Overall it looks and runs great. This is the definitive version for me and if you've ever wanted to feel like an arcade badass, this is the game to get. As a shmup, I'd say this is also a great entry point into the franchise and it is finally available on Switch after being announced a while ago.
9.5/10
Bleed
Originally released on Xbox Live Arcade and then ported to PlayStation 4, Xbox One, PC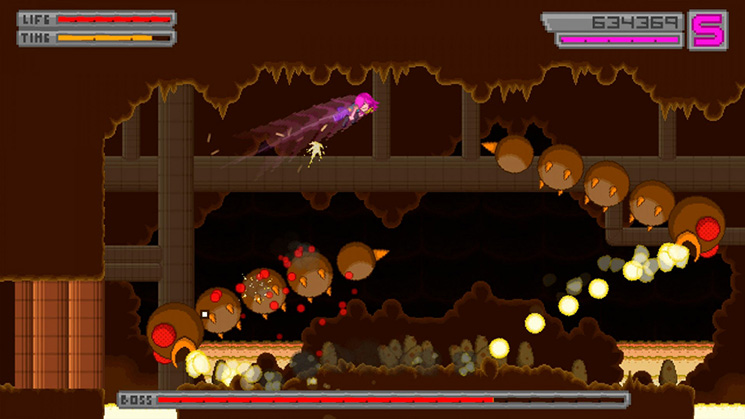 I had always heard a lot about Bleed when the PS4 port was announced and it always looked interesting in gameplay videos. Bleed from Bootdisk Revolution and Digerati Distribution is an action platformer with a very interesting control scheme. You play as Wryn who wants to become the Ultimate Video Game Hero (no this is not a Danganronpa reference). Instead of relying on face buttons to jump or shoot, you use the trigger to jump and air dash and the right analog stick to aim and to shoot.
The Switch version looks and plays great in both handheld and docked modes. I didn't think I'd be able to play it well with the Joy-Con setup on handheld but it just worked really well. Even though combat is a big focus with enemies becoming seemingly impossible to deal with as soon as the third story level, the air dash mechanic combined with bullet time slow downs makes for an awesome experience. It requires full controllers for co-op though. You can't do single Joy-Con co-op (which is understandable given the analog requirements) as far as I tried. One oddity is how HD Rumble seems missing while you play in handheld with Joy-Cons connected to the system but works when they are detached. I also ran into one random screen flicker issue when a ton of stuff was happening on the screen that lasted for less than a second.
I'm glad this has such a great portable conversion because it is absolutely worth playing if you enjoy those pickup and play experiences like Super Meat Boy. It even has video capture to share those epic moments. The checkpoint system is lenient as well and while it does get super difficult, it is well worth your time and money. The sequel is out on Switch as well and I'll look at it for the next Re:Port.
8/10
The Men of Yoshiwara: Ohgiya
Originally released on iOS and PC platforms in 2016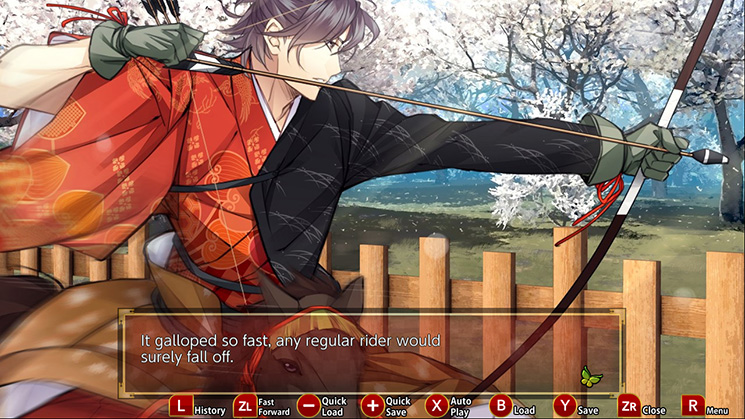 D3 Publisher brought Otome to the Switch with The Men of Yoshiwara: Kikuya a few weeks ago. They are back with a new entry from Dogenzaka Lab with Ohgiya. If you aren't aware, Otome games are ones catered to a female audience and this Otome visual novel improves on Kikuya in many ways but is also a step back in some ways. While the PS Vita has the most quality Otome games, PC and other platforms are slowly building up a library.
As with the previous game, The Men of Yoshiwara: Ohgiya is a single premium purchase on Switch with all content available and no in game purchases. Once you finish the prologue here, instead of having an experience that changes what route or what bachelor's story you get into, you have the option to play whichever one you want in the Character select screen. When it comes to the story, this one has better character development and better character art. I was hoping the music would be better or more varied because it gets quite tiring listening to the same songs looped with less variety. The issue of the interface to skip or save being present below the dialogue box is still persistent in this entry as well sadly.
In a lot of ways this is improved from Kikuya in a lot of important ways even though it isn't as content rich. The lower asking price definitely helps. If you only have a Switch and want to sample the Otome genre, this is a nice entry point.
8/10