F1 2012 Preview – What a Life
Opening a racing game with "What a Life" by Noel Gallagher's High Flying Birds has a powerful impact; the adrenaline is already pumping before you've even hit the start button.
That's not all there is to F1 2012. Sure, there's a hefty career mode full of racing the fastest cars going, but for this year's iteration of the game, Codemasters have decided to ease the player in, with the Young Driver Test. Exactly as it sounds, this precursor to the real action is part tutorial and part attempt at helping the newcomer feel fully immersed in the driving experience.
After picking an allegiance and popping your name in, you'll start out slow, with an engine tuned-down so that you can control it easier, having to stop in a red zone. Slowly but surely you'll graduate up the trials and by day two you'll be dealing with KERS and DRS before you know it, though it doesn't actually explain what they are too well, if truth be told.
In amongst these mini-trials, there are also tutorial videos you'll get to watch that explain tyre wear among other things. Finally, after passing the wet weather trial (the wet courses feel fantastic, and create incredible tension for the racer) and your first full dry lap with a full speed car, you'll be a fully fledged F1 driver and be let loose out into the world.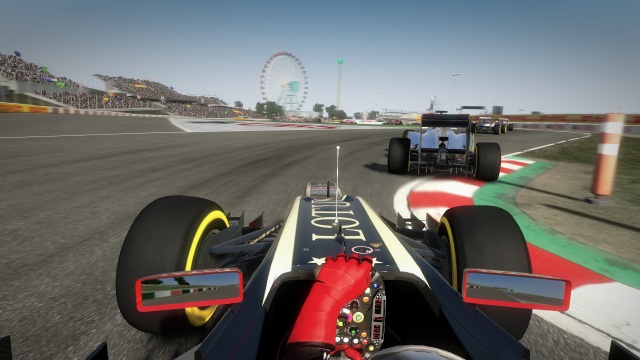 Visually, F1 2012 feels like a step up, though not a dramatic one. Wet courses look superb and the multitude of car views you can choose from all look great. However, the racing is where Codemasters truly ply their trade and boy, have they ever outdone themselves.
The racing feels incredible. There's really no other way to say it. A more consistent than ever frame-rate helps the feeling of speed, of course, but this is as close to driving a real F1 car as most of us will get; a great wheel set-up and F1 2012 and bob's your uncle, you're set. F1 cars are sensitive beasts, and if you hammer the accelerate trigger (or pedal) you're going to crash, as you'd expect. The cars feel twitchy in just the right way, every corner giving immense satisfaction when rounded just right, it's a beautiful feeling.
New to F1 2012 is the Champions Mode, which is a great option for people wanting a break from the standard career or co-op career modes. Basically, Champions Mode allows the player to take on pre-defined challenges from F1 seasons gone by. Ranging from simple tasks such as trying to catch and overtake Kimi Räikkönen, all the way up to "The Ultimate Challenge", which requires you to race all 6 Champions and beat them in Austin, Texas. Each of these challenges have a selectable difficulty (easy, medium and hard) so they can be tailored to your personal skill level.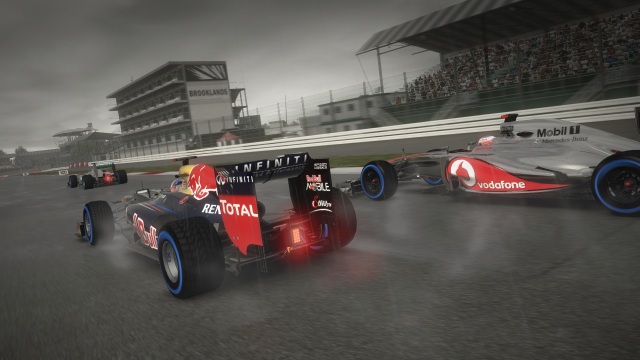 Champions Mode also contains full commentary, really giving the player the feeling that they are recreating the events as they happened.  All of this happens whilst you're getting instructions from your pit crew, informing you of the goings on in front and behind of you. Even though this kind of feature has been done before in other titles, it's a welcome inclusion, and a lot of fun, whilst also presenting quite the challenge at times.
Not forgetting the usual features like Time Attack and Time Trial, along with the ability to just have a quick-race, and F1 2012 is a pretty hefty looking package, even if the meat of the gameplay will be found in the career modes.
F1 2012 looks to be another stellar racing title from Codemasters who, yet again, show that they know how to put out a serious driving experience. With GRID 2 announced now and F1 Race Stars showing the lighter side of racing, they really do have some incredible titles that fully justify the Codemasters Racing label. As for this particular title however, F1 2012 looks like it could be the best yet.
F1 2012 will be released on September 21st, 2012 for Xbox 360, PlayStation 3 and Windows PC. A demo will be released for the title in early September.