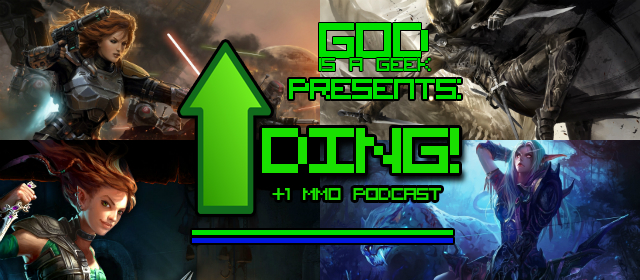 It's Saturday morning and that means that there's a new episode of your favourite MMO podcast avail… Wait a minute, Saturday? That's right! If you heard last week's podcast then you'll know that Ding! is going fortnightly, hopefully this move will mean that we've got a lot more interesting things to talk about, but that doesn't mean we're going to leave you high and dry; not in the least. During the weeks that an episode of the main Ding! podcast doesn't air, we're going to drive to bring you a video to satiate the MMO fix that we all have. So here goes…
On the 39th episode of Ding!, and the very first episode of WeekenDing!, we join Calvin who went it alone to talk to Star Trek Online's Community Manager, Brandon Felczer about the new features in STO's Season 7.
Covered in this video is the UI improvements, Reputation System, Foundry Spotlight updates, Fleet Embassy Outposts and a special tour of New Romulus. Brandon talks us through the new Fleet Actions, Events and STFs, as well as the brand new ships.
If you want to get in on the discussion, or just leave us some questions to talk about on next week's show, then comment in the box below, and don't forget to rate and review the podcast in iTunes!
See you next week for the main Ding! podcast!
You can subscribe to Ding! on iTunes and Feedburner, Stitcher or follow the show on Twitter, @DingPodcast.
Ding! is a part of the GodisaGeek Podcast Network. Every Friday there will be a new episode.