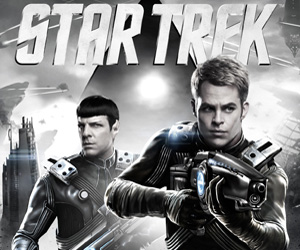 Trekkies the world over have received an early Christmas present as Namco Bandai and Paramount Pictures have revealed the release date for Star Trek: The Video Game. The game, which which takes place between the original 2009 reboot and the sequel Star Trek Into Darkness, will come to Europe and Australasia regions on April 26 of next year, and North Americans will be playing it three days earlier on April 23.
Along with the release date, we now what those eager Star Trek fans will get when they pre-order the game at participating retailers. The Elite Officer Pack will feature some exclusive gear for Star Trek favourites Kirk and Spock;
–          Stealth Pack – Kirk and Spock stealth uniforms, plus Starfleet Type IV Stealth Sniper Rifle and extra ammo
–          Brawler Pack – Kirk leather jacket costume and Spock Vulcan Science Academy costume
–          Kelvin Pack – Kirk and Spock U.S.S. Kelvin uniforms, plus U.S.S. Kelvin Hand Phaser
–          Academy Pack – Kirk Academy Uniform, Spock Officer Dress Uniform, plus Academy Phaser
–          Kobayashi Maru Pack – Kirk and Spock Kobayashi Maru uniforms
Whoever has seen the game can't help but rave about it, it seems. Star Trek fans have been hoping for a decent game that uses license for an awful long time and when Marianne Krawczyk – who was instrumental in the God of War trilogy – is behind writing duties, they might finally get what they want.
Star Trek: The Video Game will be released on April 26 2013 in Europe and April 23 2013 in North America for Windows PC, Xbox 360 and PlayStation 3