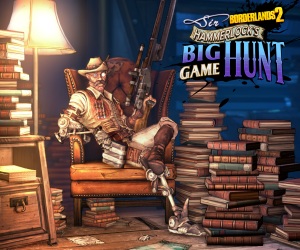 It's fair to say that with Borderlands 2, Gearbox Studios could be crowned king of DLC. The previous add-on, Mr Torgue's Campaign of Carnage was absolutely brilliant, so hopes are high that Sir Hammerlock's Big Game Hunt will be equally as good.
Released worldwide today for Xbox 360, PlayStation 3 and Windows PC it will cost you either 800 Microsoft Points or £7.99, or if you've got the season pass, it'll be free.
The ever wonderful Randy Pitchford describes this new DLC best:
Claptrap needed work and Sir Hammerlock needs help, so Borderlands 2 players are called to action. Sir Hammerlock's Big Game Hunt is a new, original campaign expansion to the Borderlands 2 experience featuring awesome new content including a new fan boat vehicle that can be rigged with a badass flamethrower to help fight tons of new beasts and tribal enemies and take their loot.
Check out the launch trailer, the opening cinematic and some new screenshots, if you're not already convinced that this'll be a must buy.
Borderlands 2 is available now for Xbox 360, PlayStation 3 and Windows PC.